Median fees needed for transactions on Ethereum are affordable in the current state of the network sitting around $5.5 for each transaction. It's a considerable dump from the high gas fees needed for transactions about one month ago. It's not clear if the gas fees stay the same for a long time. It's the reason many experts suggest users complete their transactions while the gas fees are at affordable levels.
The current gas fee calculation is published by Santiment, based on the ETH Price/ Median Fees (USD) chart in this platform. The tweet says:
"#Ethereum's median fees have quietly come back down to an affordable $5.50 per transaction. This is a far cry from the $34.18 per transaction level that the $ETH network was demanding near its #AllTimeHigh just one month ago."
Ethereum gas fees are very important in analyzing the stats of the network. The metric goes up when there is congestion in the network. For example, almost every time that the price is going high, more people may tend to buy ETH and cause network congestion. It means more gas should be paid for each transaction to settle. As mentioned above, gas fees went high to about $34.18 per transaction in the time that Ethereum was reaching and passing an all-time high. It resulted in many users halting their transactions to wait for a more affordable gas fee.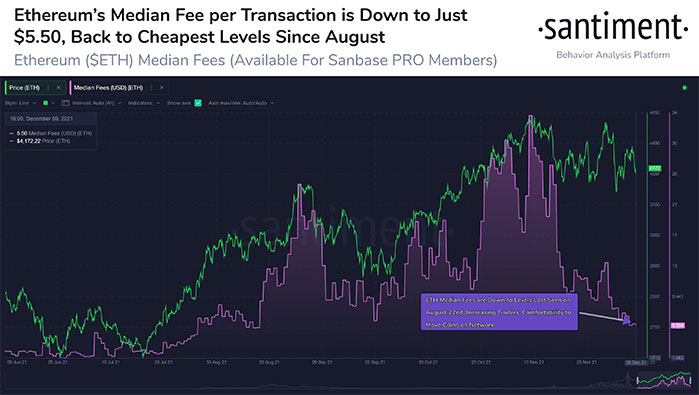 Many experts believe high gas fees are the reason many users consider using alternatives like Polygon, BSC, or others. As a comparison, the current gas fee needed for the fastest transaction on Polygon is currently about $0.013, which is a fraction of the gas fees needed on Ethereum. Besides, the gas fees have very little volatility on Polygon and often stay the same. BSC has a higher transaction fee and is currently $0.22. Anyhow, it seems still lots of users prefer making transactions on Ethereum. Besides, many experts believe Ethereum will stay the first choice for very big and valuable transactions, although many users may migrate to other networks like Polygon.
Etherum gas fee was very lower some months ago. Looking at the charts, we see it has been sitting on the $1.63 line in mid-July when the ETH price was about $1.7K. Anyhow, there is a strong relationship between ETH price and gas fees on the Ethereum blockchain. Maybe the Ethereum 2.0 and new consensus system can solve this relationship and even result in reverse migrations to Ethereum.