Average daily transaction values are on the rise on the Ethereum network giving Bitcoin run for its money. Following a surge in transaction value especially for stablecoins, Ethereum will soon surpass Bitcoin as the leading network for value transfer. This information has been shared by blockchain analytics firm Messari in its recent report on the health of the blockchain arena.
According to the report released on Wednesday, Messari revealed that the average daily transaction value on Ethereum has been on an uptrend while Bitcoin's has been on a steady decline. This is thanks to the growing popularity of stablecoins especially those on the Ethereum network led by Tether [USDT] and Circle's USDC.
The increase in daily transaction value on Ethereum with a subsequent decrease of the same in Bitcoin can be attributed to the launch of the Tether token on the Ethereum network, previously having been only available on the Bitcoin-based Omni blockchain. Ethereum has a higher throughput figure which means transactions are confirmed faster than on Bitcoin which may have contributed to the shift in stablecoin transactions in 2019.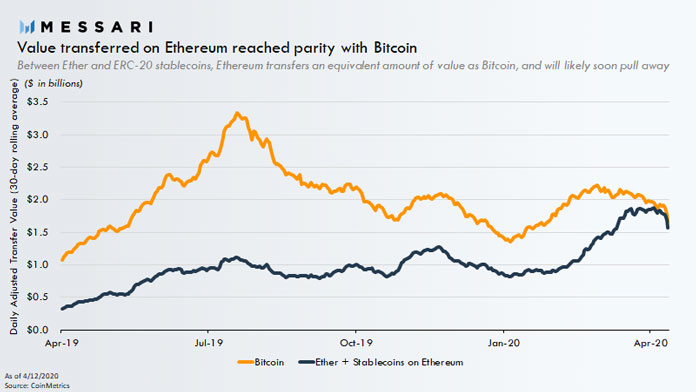 Additionally, the global Coronavirus pandemic may have contributed significantly to the ballooning of value transfers especially for stablecoins in the first quarter of 2020. Messari reports that Q1 2020 growth for stablecoins close to matched their growth in the entire fiscal year of 2019.
The market cap of stablecoins rose by $2.4 billion in Q1 2020 in comparison to 2019' $2.6 billion. Stablecoins have grown in importance on the Ethereum network, accounting for over 80% of all transactions on the network. Tether grew in market value to temporarily occupy the third spot above Ripple's XRP.
Messari also reports that Tether was not the only winner in the last quarter. Binance's native stablecoin BUSD, as well as Circle's USDC, have also seen considerable usage surges in tandem with Tether's. Not to be outdone, Huobi's and Paxful's HUSD and PAX stablecoins are also high gainers in the last quarter.
Messari attributes their gains to their probity to liquidity given that their respective native platforms also saw increasing gains in the number of users and transaction value. "Exchange integrations are critical drivers of growth," concluded Ryan Watkins, head of Messari.
The Coronavirus pandemic shook global economic markets and saw investors shift their investment strategies leading to plummeting stock markets. Bitcoin was not spared of this fear as more investors swapped their bitcoin holdings for the stable value of stablecoins such as Tether. Watkins posits that stablecoins are still showing signs of further growth metrics as the pandemic presses on.
"Stablecoins are on pace to quadruple their growth in 2019, which could bring a flood of new liquidity to Ethereum's ecosystem and further solidify its position as the dominant stablecoin platform," he wrote on Twitter.
---
If you found this article interesting, here you can find more Ethereum News