Rocket Pool, an Ethereum liquid staking pool, accomplished a new milestone hitting $1 billion in total value locked (TVL) on February 9. Its native token Rocket Pool (RPL) recorded exponential gains zooming more than 25% in the last seven days.
As the highly anticipated, "Shanghai Upgrade" closes in, Ethereum staking platforms such as Lido Dao (LDO) and Rocket Pool (RPL) have hit nitro boosters, despite a downtrend in the crypto market due to the Securities and Exchange Commission's (SEC) crack down on crypto outfits.
Recently, Kraken, one of the leading cryptocurrency exchanges agreed to shut down its crypto staking program under pressure from the SEC and cough up nearly $30 million in fine for not registering its staking services.
Following the predicament, Bitcoin (BTC) tanked below $22K mark, hitting a daily low of $21,700. At the same time, Ethereum (ETH) along with major altcoins plunged with the global crypto market cap dropping more than 3% in the last 24 hours.
Rocket Pool Witness Upswing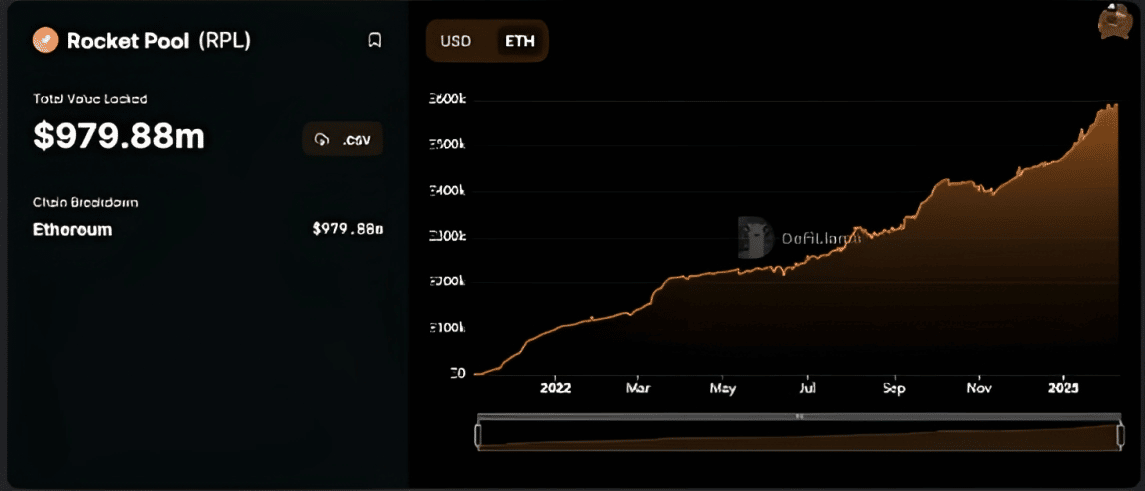 According to DefiLlama, Rocket Pool (RPL) hit $1 billion in TVL, less than two years after the decentralized finance (DeFi) protocol launched its mainnet on Novenber 2021.
The move pushed Rocket Pool in the third position in terms of TVL shares held by participating protocols in the Ethereum liquid staking market. Darren Langley, General Manager at Rocket Pool expressed his excitement over the company's latest achievement, describing it as a "milestone they are proud to reach."
. @Rocket_Pool had a 39.05% increase in TVL over the past month and now has a TVL of over $1 billion pic.twitter.com/vZWBhuPdbF

— DefiLlama.com (@DefiLlama) February 10, 2023
SEC Crackdown on Crypto Staking Platforms will Benefit DeFi Protocols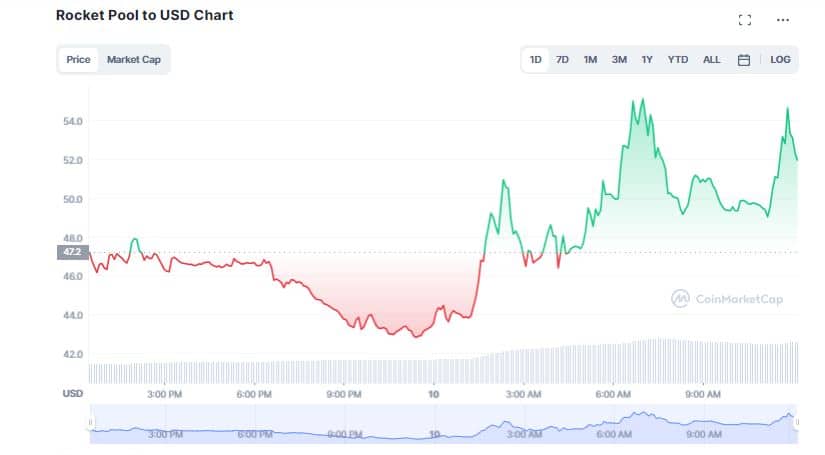 Following the development, Rocket Pool (RPL), gained more than 12% in the last 24 hours to trade at $52.71. The digital token increased nearly 28% over the past seven days. Rocket Pool is an Ethereum liquid staking pool that focuses on lowering the entry barrier for investors willing to stake their tokens. It makes it easier for participants with smaller capital and hardware to take part in the Ethereum staking process.
As per a new Bloomberg report, experts believe the recent U.S. Securities and Exchange Commission (SEC) crackdown against crypto staking wll benefit decentralized finance protocols such as Lido, Rocket Pool, and StakeWise services, if they can avoid a similar regulatory action by the SEC or other regulators in the future.
Austin Campbell, an adjunct professor at Columbia Business School, specified crypto staking crackdown is a good news for on-chain direct staking and decentralized platforms in the short term. In a statement, Henry Elder, head of decentralized finance at Wave Financial said,
"This is a huge gift to decentralized staking providers like Lido, Rocket Pool, and StakeWise. Their competitive advantage is an innate resistance to regulatory action — something that mattered little in the absence of such action."