Ethereum prices are printing lower lows when writing. ETH is down three percent at spot rates and nearing the psychological $1k level. The pullback from the $1.25k level proves that last week's gains were a dead cat bounce, a possible entry for sellers to double down.
Notably, the momentum is shifting to favor sellers as per arrangement in the daily chart, calling into question the strength of the uptrend and whether buyers will plug the drain and slow down the sell-off.
Still, even with the contraction of ETH prices, buyers stand a chance if prices are above 2022 lows at around $880.
Will ETH become a Security with PoS?
Some macro factors may puncture bulls' efforts and force prices even lower in the medium term. With inflation rising and traders tightening their purses until market conditions improve, ETH bulls may have to wait until there are clear loading signals.
Traders are already looking at the highly anticipated transition from proof-of-work to a staking model, making Ethereum more energy efficient. Even though this transition has been received positively, critics say this shift will make ETH a security.
It is an argument the CEO of MicroStrategy, Michael Saylor, and later Samson Mow, have voiced recently. Their viewpoints have, however, been responded to by Charles Hoskinson and Vitalik Buterin, the co-founders of Ethereum. Both argue that a staking system is efficient and reliable, like a proof-of-work model, and won't make their token an investment contract.
Ethereum Price Analysis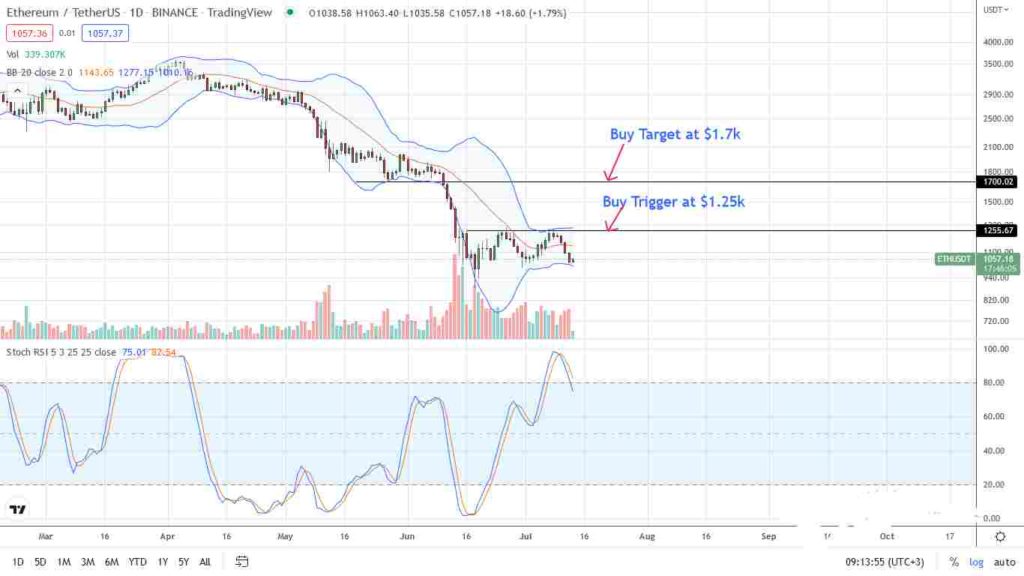 From the daily chart, ETH is down three percent in the last trading day. It is printing lower lows, dropping towards the $1k level after contracting from the $1.25k resistance line.
At spot rates, sellers are in control from a top-down analysis.
However, ETH buyers stand a chance if prices are held above the $880 level primary support and 2022 lows, as mentioned earlier. If prices recover and selling pressure is contained, ETH may bounce.
On the flip side, a close below $880 may draw more sellers, and in that case, ETH would likely slip to August 2020 highs of $480—or lower, in a bear continuation formation.
Technical charts courtesy of Trading View
Disclaimer: Opinions expressed are not investment advice. Do your research.
---
If you found this article interesting, here you can find more Ethereum News.