Ethereum, like the rest of the crypto markets, is under immense selling pressure. Currently, the coin is steady, adding three percent in the last 24 hours but is trailing the USDT and slipping from last week's highs.
Technically, there is still hope for traders because prices are still within a bullish breakout formation. Per the formation in the daily chart, the immediate support lies at the resistance of the previous $275 trade range at $1.25k.
However, provided prices are steady above this liquidation line, bulls will stand a chance. Currently, prices are pinned inside the July 25 bear bar but the uptrend is valid following gains on July 16.
Ethereum Development is On Course
Traders are holding on to fundamental factors as the trigger for the next leg up.
Thus far, Ethereum is progressing and striking critical milestones in its roadmap. After facing scaling challenges at the height of the last bull cycle, Ethereum developers' plan to focus on resolving scalability through off-chain scaling solutions is bearing dividends.
Optimism does a lot of stuff on-chain. Managing all of these interactions securely can be a bit of a headache.

That's why we built Drippie, a trust-minimized Ethereum-native conditional transaction system.

— OP Labs (@OPLabsPBC) July 25, 2022
The launch of Optimism, Arbitrum, and the release of specialist platforms like dYdX relieved the primary layer of pressure, overly helping to force Gas fees lower. In a tweet, OP Labs, the development team behind Optimism, said it is releasing yet another tool, Drippie. The conditional transaction system on Ethereum will drastically improve the operational efficiency of the layer-2 protocol.
Ethereum Price Analysis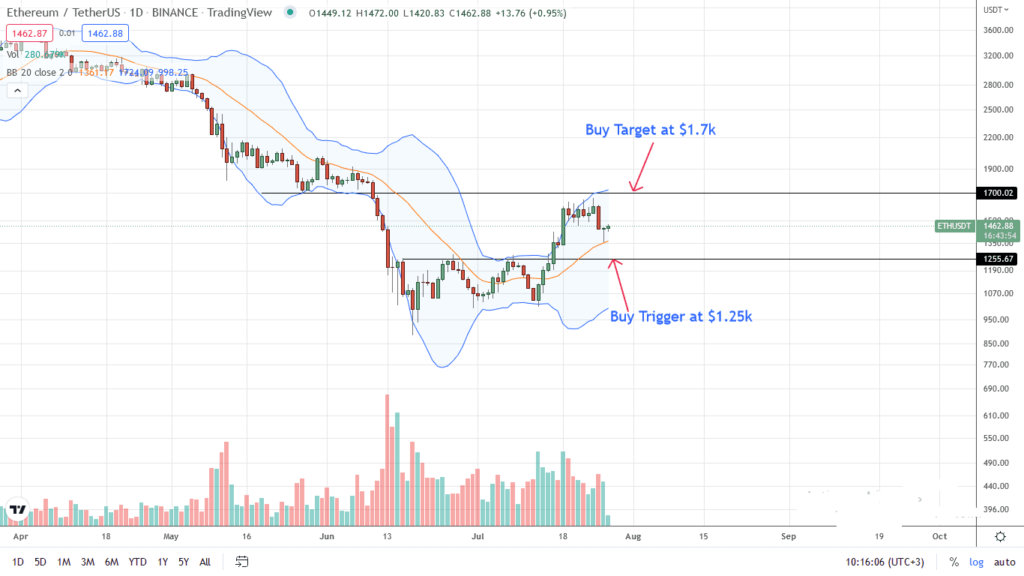 ETH is down 15 percent from recent highs and in red territory as sellers pin down bulls. Notably, there is a three-bar reversal pattern signaling bears in the daily chart. Even so, the July 26 bar has relatively low trading volumes versus the July 18 bull bar meaning buyers have the upper hand from an effort versus results perspective.
At the same time, despite the selloff, ETH prices are pinned within the July 18 conspicuous bar suggesting strength.
Since the short-term macro factors seem to favor sellers—across the board, aggressive traders may still unload on every attempt higher towards $1.6k—or July 25 highs– with targets at $1.25k, riding the retest. Deeper losses below $1.25k back into the late June 2022 trade range may pour cold water on bulls' Optimism.
On the flip side, unexpected gains building on July 18 bull bar pumping prices above $1.7k would likely drive ETH towards $2k—or better—in the medium term.
Technical charts courtesy of Trading View
Disclaimer: Opinions expressed are not investment advice. Do your research.
---
If you found this article interesting, here you can find more Ethereum News.