Ethereum and crypto prices are bouncing back, snapping to trend as the situation in Ukraine worsens. After a cool-off over the weekend, the recovery of crypto and ETH prices on February 28 saw the pendulum swing to favor bulls.
As per the candlestick arrangement in the daily chart, ETH buyers have the upper hand and could add to their longs, racing above critical resistance levels in the days ahead.
The War in Ukraine supportive of ETH Prices
Fundamentally, the Ukraine-Russia conflict brings to the fore the true utility of ETH and cryptocurrencies. Digital assets are censorship-resistant and fit for moving value instantaneously across borders.
While some countries endorse the banning of Russia from the global SWIFT network, affected individuals in Russia and Ukraine are opting for cryptocurrencies for cross-border remittance. The global cryptocurrency community has joined hands amid the turmoil, cumulatively donating tens of millions of dollars in the past week alone.
MetaMask won't Release its Native Token
Meanwhile, the creators of MetaMask, a browser wallet that's ostensibly being used to forward donation, and at the heart of DeFi and NFTs, have said they won't launch any tokens following the likes of Uniswap and Ethereum Name Service (ENS).
In an interview, Jacob Cantele, MetaMask's lead of operations, said they are instead interested in progressive decentralization and won't want to release a token that would place them in loggerhead with regulators.
Ethereum Price Analysis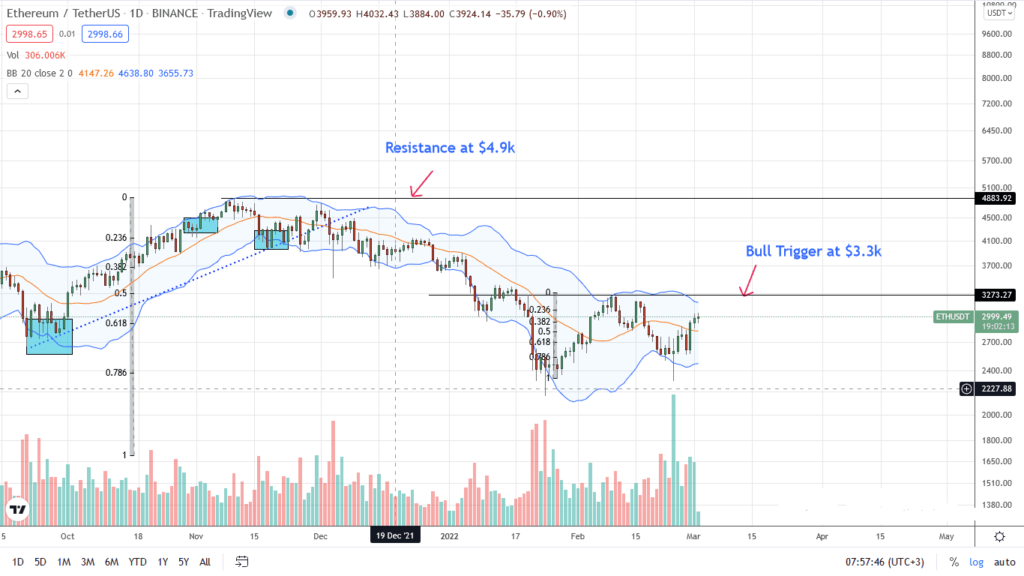 The Ethereum price is up 26 percent from February 2022 lows when writing, bottoming up. Even still, the failure of buyers to break above the $3k psychological resistance line in confirmation of the February 28 bull bar is capping demand, potentially preventing risk-averse traders from doubling down.
From the price formation of the ETHUSDT in the daily chart, buyers have the upper hand. The bullish engulfing pattern of February 28 confirms buying pressure from February 24 while also reversing losses from February 17 to 21.
Based on this arrangement, aggressive, risk-off traders may find entries in lower timeframes above $2.5k to load the dips, targeting the $3.3k resistance level in the near term. Conversely, unexpected deep losses with high trading volumes unwinding gains of February 28 could be the building blocks for another wave down to 2022's lows of around $2.3k.
Technical charts courtesy of Trading View
Disclaimer: Opinions expressed are not investment advice. Do your research.
---
If you found this article interesting, here you can find more Ethereum News