Ethereum is still dangling above a key support line after posting deep losses in the past few weeks. Nonetheless, as weak hands liquidate, ETH address with billions of coins appears to be doubling down on every pullback as per statistics.
Another encouraging signal in the past few days is the increasing number of ETH holders. Encouragingly, the number of addresses with over 0.01 ETH seems to maintain an upward trajectory.
🐳 #Ethereum's #billionaire addresses (holding 1m to 10m $ETH) have shown nice price alpha, historically. Currently, these addresses hold 21.6% of all $ETH. They have accumulated 2.2% more of the supply over the past 6 months despite the price correction. https://t.co/DVFx8xFHLq pic.twitter.com/j4C1WQ2asd

— Santiment (@santimentfeed) March 7, 2022
Ethereum Has Solid Fundamentals
Based on what's lined up for the project, Ethereum's steps are closely watched by both retail and institutional adoption. It is especially the case because of their planned transition to Eth2 and adopting a staking system in place of the energy-intensive and inefficient proof-of-work consensus algorithm.
Although the latter has been the heart of legacy blockchains, most are now adopting alternatives as criticism rise when governments and non-profits sink billions towards conserving the environment.
Eventually, once Ethereum transit, the network would be better positioned to resolve scaling problems and drastically lower the cost of on-chain transactions. Fluctuating Gas fees explain why competing smart contracting networks like Solana have gained ground.
Shrinking DeFi Dominance
Records indicate that the share of Ethereum's DeFi dominance, for instance, has reduced to 55 percent as those with higher scalability and throughput gain ground. Still, according to analysts, overtaking Ethereum and the EVM would be hard due to its first-mover advantage.
Ethereum Price Analysis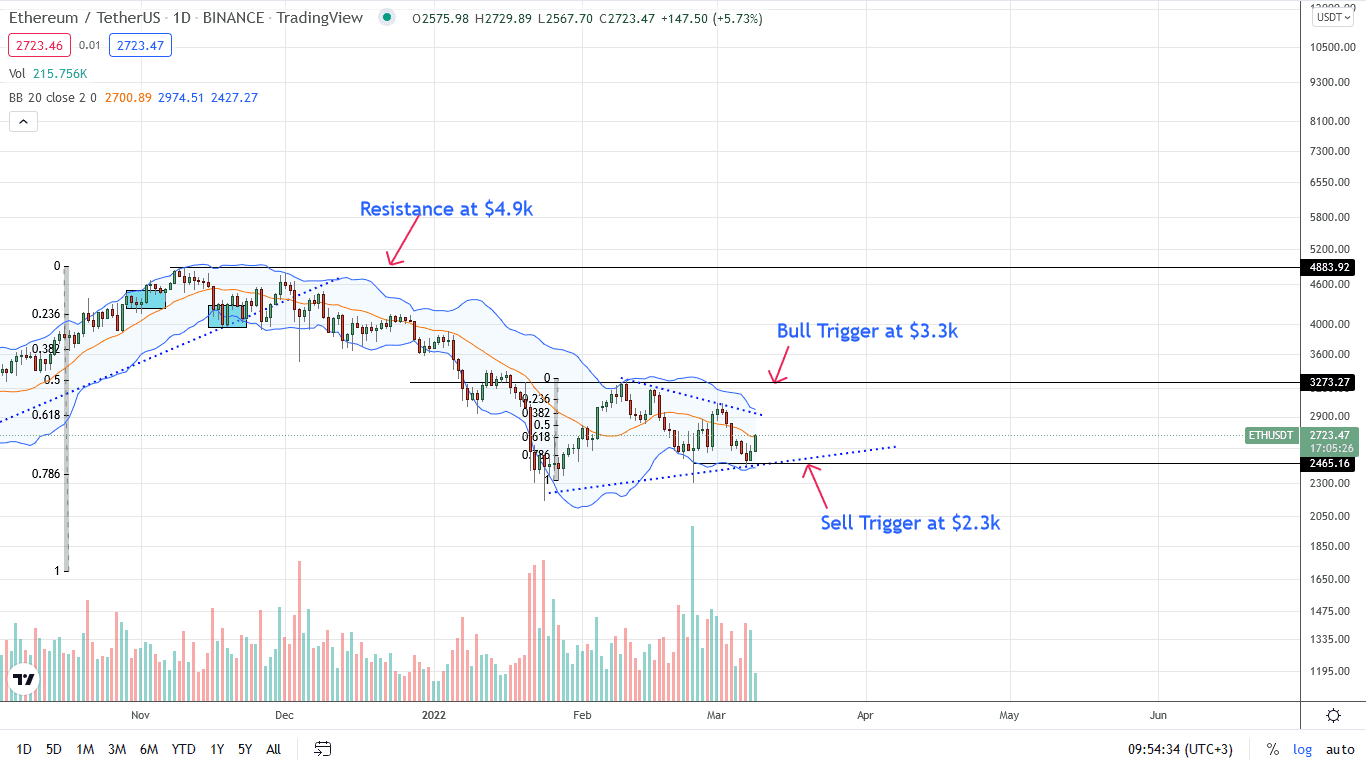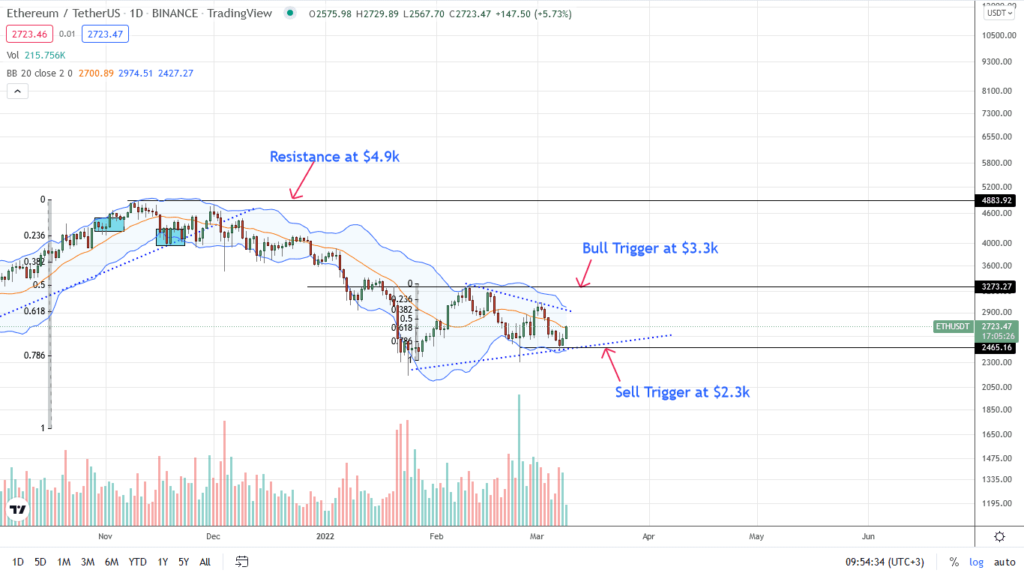 As per the formation in the daily chart, ETH buyers seem back to be in control after gains of early March 9. Despite weakness of the first week of March, the resurgence in early this week could be encouraging pointers of strength.
Notably, the close above $2.5k and reversal of losses posted in the second half of the first week of March could be the basis of another leg up, drawing traders angling for a retest of $3k and even $3.3k in the days ahead. Based on this formation, aggressive ETH bulls may load the dips as long as prices trend above $2.5k.
Even so, risk-averse traders could find more entries above $3k and $3.3k if bulls take charge or below $2.3k should sellers press back, unwinding recent gains. Unexpected losses below $2.3k could be the trigger for the next wave of dumps towards $1.8k.
Technical charts courtesy of Trading View
Disclaimer: Opinions expressed are not investment advice. Do your research.
---
If you found this article interesting, here you can find more Ethereum News