Ethereum prices are down five percent on the last trading day, pulling back from a critical resistance line as per the formation in the daily chart.
Currently, the coin's price is reacting from $1.7k and reversing gains posted on August 7. These are hints of weakness, resulting in a double bar formation, possibly marking local peaks.
Even so, ETH is up 100 percent from 2022 lows at spot rates and remains one of the top-performing assets. A close above $1.7k may trigger demand, helping draw more buyers into the equation and propelling the coin to new monthly highs.
Ethereum Gas Fees Drop
The general resurgence of Ethereum prices is a net positive for trader sentiment, encouraging activity on the pioneer smart contracting platform. Following the drop of prices from Q4 2021 peaks, Gas fees also slumped, dropping from over $50 to cents when writing.
This development may spur activity in the days ahead, especially as blockchain and smart contracting solutions find adoption across the board. Protocols, primarily gaming and metaverse-related projects, are sensitive to on-transaction fees and would shift to alternative, EVM-compatible networks offering lower or near-zero on-chain fees.
Chainlink to Endorse Ethereum PoS, and not Forks
On the development front, several projects, including Chainlink, the most adopted decentralized oracle service provider, have declared their support for Ethereum ahead of the anticipated upgrade, the Merge.
In a statement, Chainlink said it wouldn't support any Ethereum spin-offs using the proof-of-work consensus mechanism. This endorsement is a reiteration of the community's commitment to successfully seeing the layer-1 network transit.
Ethereum Price Analysis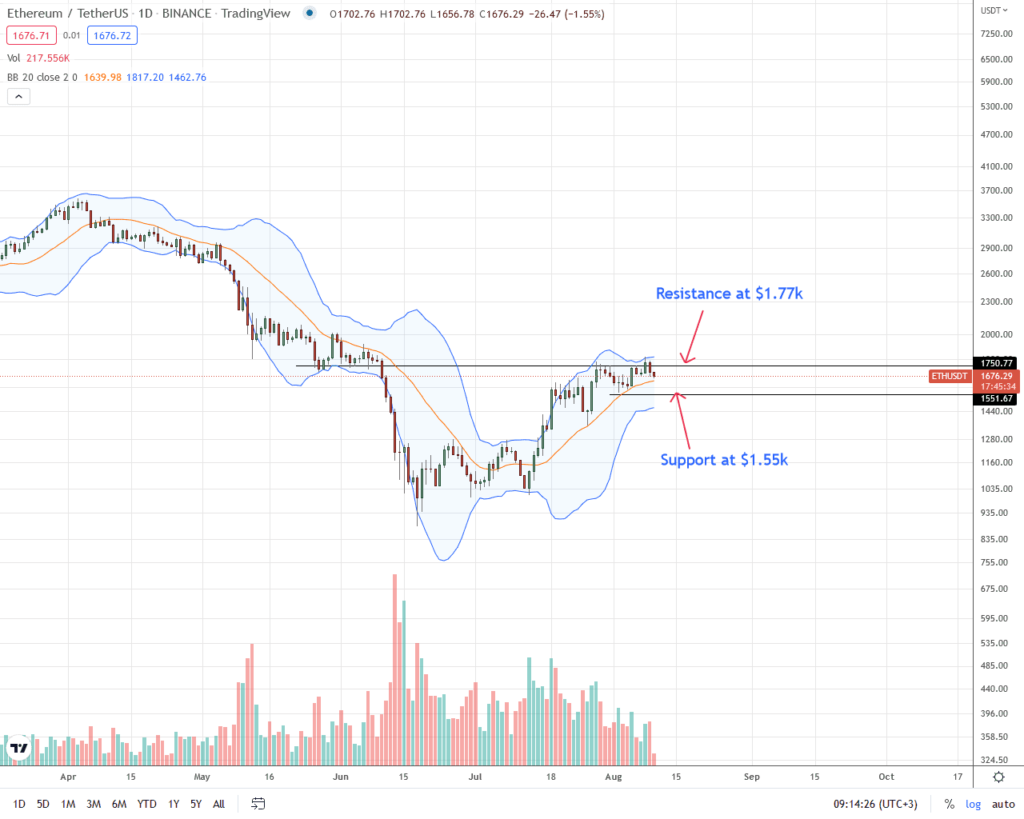 ETH is down five percent in the last 24 hours, recoiling from recent highs as prices react from $1.7k. Overall, the coin remains within a bullish formation, having doubled from 2021 lows when writing. Still, provided prices are trending above the August 5 bull bar, ETH remains within a bullish formation.
Notably, ETH bulls have the upper hand from an effort versus result perspective, meaning aggressive traders can search for entries in lower time frames, ideally above the dynamic 20-day moving average.
A close above $1.7k with rising volumes and a wide-trade range ideally mirroring gains of August 5 may propel the coin towards $2.3k in short to medium term. Conversely, any confirmation of August 9 losses and prices contract below the middle BB may see ETH drop to $1.55k and even towards $1.4k in the medium term.
Technical charts courtesy of Trading View
Disclaimer: Opinions expressed are not investment advice. Do your research.
---
If you found this article interesting, here you can find more Ethereum News