Ethereum prices are under pressure at spot rates. The failure of buyers to close above the $1.7k resistance level and build on gains from early last week is bearish. Thus far, ETH is down five percent on the previous trading day and at break even week-to-date.
Ideally, buyers would be in control if there are sharp reversals of recent losses. Notably, a push above $1.25k and the middle BB with rising trading volumes will be a welcomed relief for buyers. This move would mark the beginning of an ETH recovery after the coin fell 75 percent from April 2022 highs.
Morgan Stanley maintains that Ethereum will Struggle with Scaling even after Proof-of-Stake
Thus far, several factors proponents are looking at the PoS migration as a demand catalyst. Analysts maintain that this system would reduce selling pressure on ETH since there will be no selling of coins to cover gear maintenance and electricity costs.
Even so, for the energy efficiency advantage, Morgan Stanley, in a report, remains dismissive, pouring cold water on whether Ethereum would scale to meet rising demand from users.
However, Morgan Stanley is not convinced that the upcoming Merge will relieve the network of ultra-high demand and keep trading fees. Instead, in their assessment, the global bank is positive that the only thing Ethereum will become is energy efficient. Additionally, they project that there would be a reduction in the demand for GPUs, forcing retail prices lower and slashing chipset manufacturers' revenue.
Ethereum Price Analysis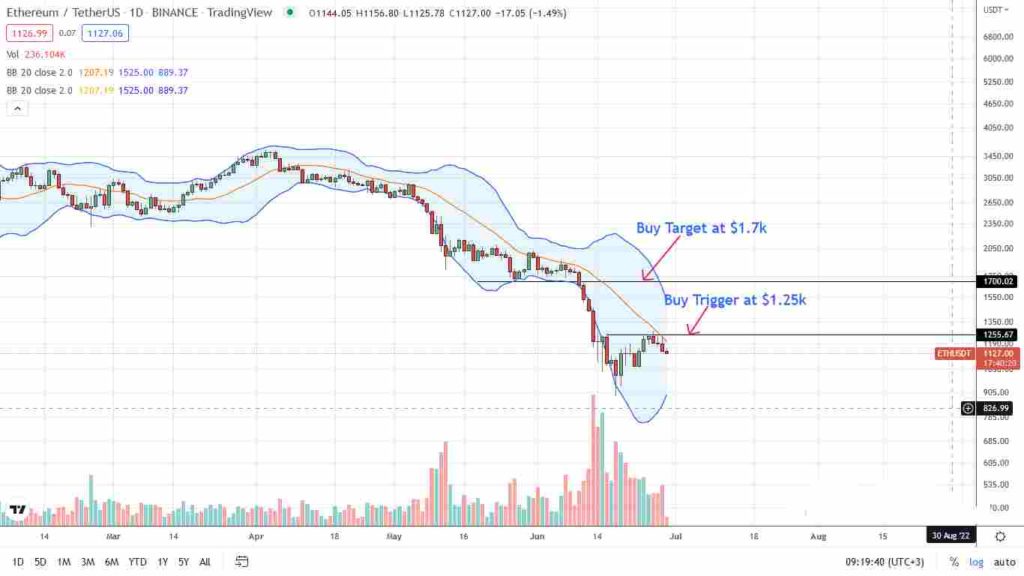 At spot rates, Ethereum prices is, as mentioned earlier, down five percent versus the greenback as bears flow back, squashing attempts of higher highs registered early this week.
Since bulls didn't force prices higher, sellers appear to have the upper hand from a top-down analysis. While risk-off buyers may seize the opportunity to load the dips since prices are within the bullish range from June 23 to 25, there could be more opportunity for buyers above the $1.25k and middle BB resistance levels. In this case, ETH may rise to retest May 2022 lows at $1.7k.
This bullish preview is, however, valid as long as prices are trending above $1.05k or June 23 lows.
Any correction below this reaction level may force ETH towards 2022 lows at $930.
Technical charts courtesy of Trading View
Disclaimer: Opinions expressed are not investment advice. Do your research.
---
If you found this article interesting, here you can find more Ethereum News