There are many faces to crypto. It may be stepping on governments and central banks tuft. However, their value proposition is too hard to ignore.
While Ripple is being sunk by the United States Securities and Exchange Commission (SEC), the Ethereum price is at a two-year high, trading above $700 with analysts optimistic of even more price gains in the next year.
Fixing Scalability
Fanning fundamentals include what developers have in mind in 2021, especially regarding software improvement and cementing the platform's position as the home of DeFi. On that road towards efficiency, Vitalik Buterin has released an updated version of Sharding that will be implemented in the Proof-of-Stake that Eth2 is running on.
Together with Layer-2 solutions–of which Optimistic Rollups—an off-chain option that supports smart contracting, is pulling ahead of other solutions, it will have a multiplicative effect. This option is not only ingrained as part of the Rollups roadmap but is also one approach that developers are taking to address the high transaction fees, temporarily slowing down global adoption.
Hash Rate and Price surge
Meanwhile, reflecting increasing coin prices, the Ethereum hash rate rose to an all-time high above 300 TH/s, according to data streams from Etherscan.
Hash rate is a measure of a network's computing power.
However, it is competitive given the currency auctioning system that will be changed if EIP-1559 is implemented. Hash rate tracks prices.
Accordingly, it contracts and expands depending on price levels. While ETH prices rallied above $700, the TVL of DeFi protocols rose to above $15 billion.
Ethereum Price Prediction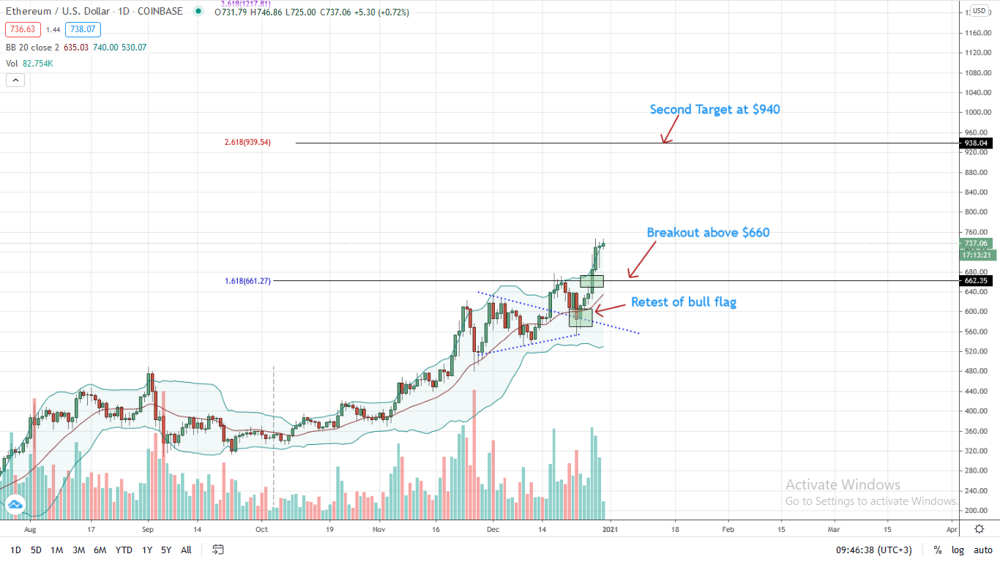 The Ethereum price is steady, trending within Dec 28 high low with light trading volumes. At the time of writing, the coin up 17 percent in the last week of trading, adding three percent on the last day.
From the daily chart, the ETH/USD is trading within a bullish break out pattern after gains of Dec 28. It builds on the close above the bull flag, confirming buyers of Nov 2020 and setting the ground for possible further gains above $750 to $1k.
Notably, the underlying bull momentum is high. Bars are banding along the upper BB, hinting at demand in lower timeframes. At the same time, the divergence between the upper and middle BB points to high volatility.
Technically, every low could offer a loading opportunity for buyers. In the immediate term, last week's high of around $660 is the support line. A retest with lighter volumes inside Dec 28 high low may be an opportunity for aggressive traders aiming at $940 from an Effort versus Results point of view.
$940 is the 2.168 percent Fibonacci extension level of the July to Aug 2020 trade range.
Sharp losses below $660 could deflate bulls' attempt to drive prices above $900.
Chart Courtesy of Trading View
Disclosure: Opinions Expressed Are Not Investment Advice. Do Your Research.
---
If you found this article interesting, here you can find more Ethereum News