Latest Ethereum [ETH] News
The thing with a community-driven, decentralized and open-source systems is that they are resilient. Such projects often thrive despite deliberate attempts to muzzle and clip their influence.
When China banned crypto and ICOs exchanges went under and with VPN networks and shell exchanges, trading went on unabated. While India's RBI is restraining willing banks under their oversight from allowing BTC trading, the peer to peer cryptocurrency trading is now lucrative business.
In either case, these jurisdictions are losing extra revenue but as long as they remain adamant and rigid failing to evolve with current technologies, cryptocurrencies shall take root in other economies and as the ship departs, they shall be playing catch up.
While the US SEC come hard on ICO projects offering token securities and flashing lights on crypto exchange operators they accuse of creating a market place for securities without an operating license, Binance—the world's largest exchange by trading volume is sinking $3 million to an OTC Trading Desk, Koi Trading.
According to reports, this trading desk employs AML and KYC rules, have an extensive relationship with several banks and most importantly have their vision and mission statement aligned with those of Binance who are also trying to build a crypto infrastructure allowing for seamless exchange or transfer of value.
ETH/USD Price Analysis
Weekly Chart – ETH/USD price prediction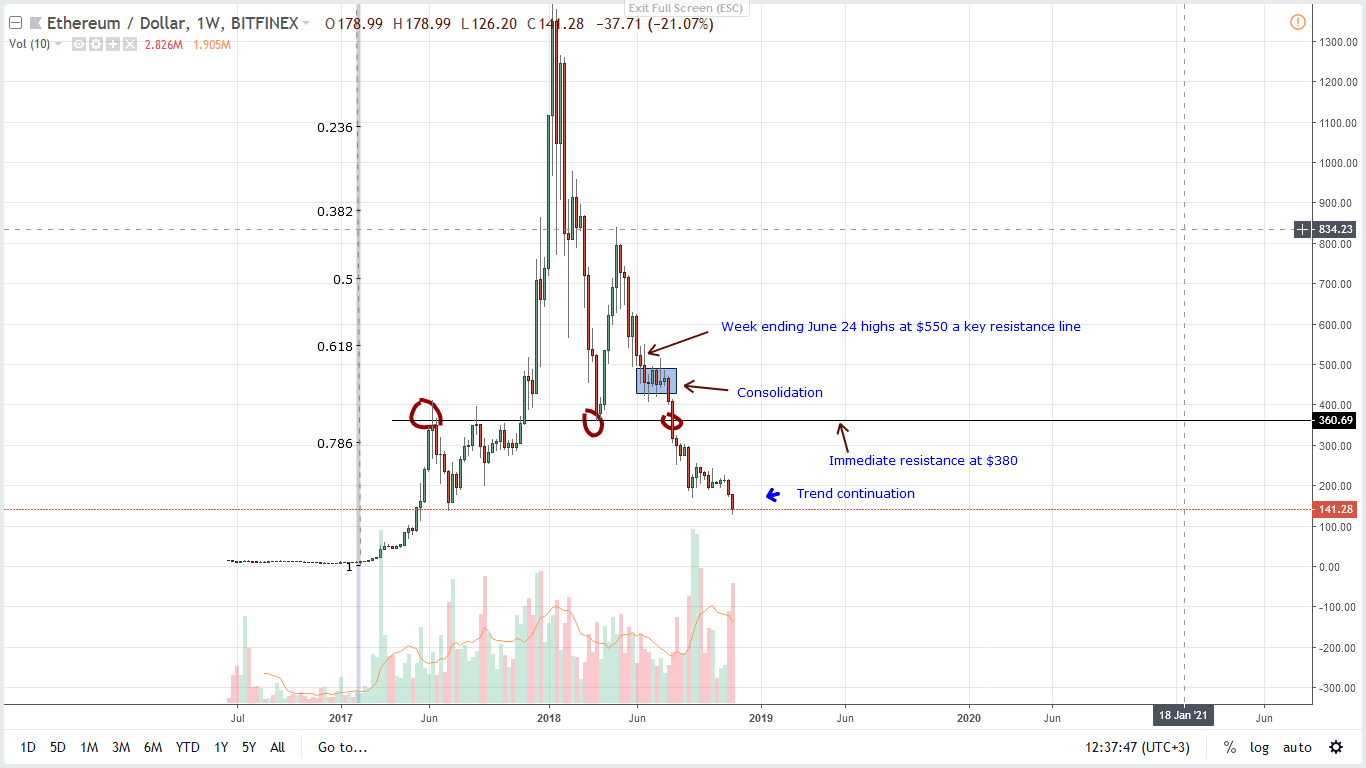 Thing is, talks of performance is misplaced and a reminder of deep losses especially for investors who bought at tops. In this time frame, it will take a lot of convincing for traders to exit their shorts and fade the market. After all, there are several supporting developments—fundamental and technical.
On the charts, it's clear that the path of least resistance is southwards and as long as prices are trading below $250-$300 Oct highs then it would be recomendable to sell on every high in lower timeframes. After all, our ETH/USD trade conditions have been met following last week's strong close below the lower limit of our main support line at $160. Now that there is a whole bear bar below $160, the only logical approach is to unpack ETH on every pullback in lower time frames with targets at $100.
Daily Chart – ETH/USD price prediction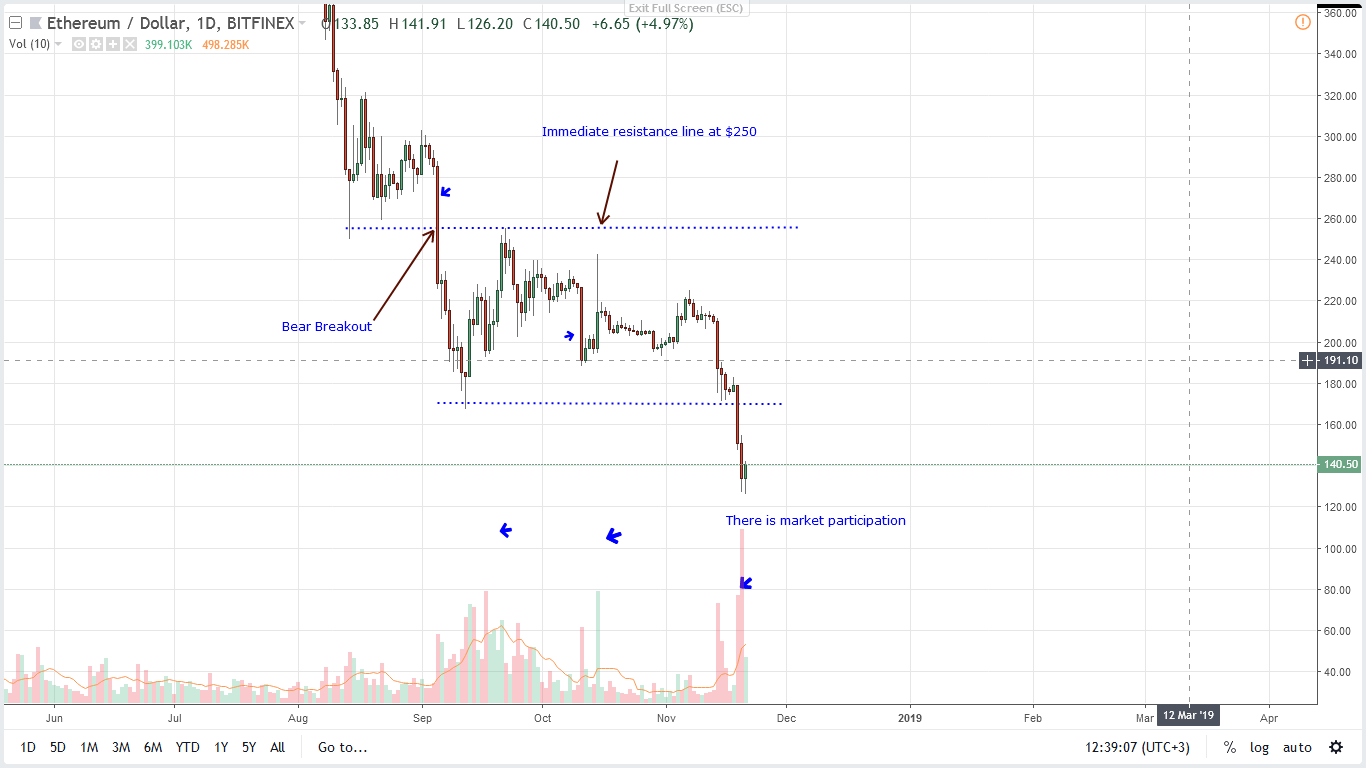 Thanks to the last two days declines, ETH/USD is down 35.7 percent in the last week but pretty stable in the last day. It is up five percent but we expect bulls to drive prices above yesterday's highs perhaps to $150 or $160—our immediate resistance and breakout level in coming days. That is why we recommend holding off shorts.
To fine tune entries, traders should switch to the one-hour chart and wait for sell signals to print before shorting with first targets as mentioned above. Fitting stops will be around $160-$170.
All Charts Courtesy of TradingView
Disclaimer: Views and opinions expressed are those of the author and aren't investment advice. Trading of any form involves risk and so do your due diligence before making a trading decision.