Latest Ethereum [ETH] News
Undoubtedly, we are neck-deep in a bear cycle—encouragingly prices may be bottoming. History is detailed and shows that crypto prices do move in cycles that sync well– believe it or not, with the halving cycle of Bitcoin.
Now, faced with free falling prices and starved projects, Consensys was forced to lay off staff while others closed shop—and it was nothing new, the unexpected bear shock did rock businesses pushing many to the brink.
At the moment though, it appears as if prices are recovering and seven days after Constantinople disappointment, the ETH market is slowly but surely on an uptrend rejecting prospects of lower prices. While the network will try for the fourth time to upgrade at block height 7,280,000, crypto observers project that the future will not be graded by how fast or scalable a platform is but how regulatory friendly and complaint it is with existing polices.
While a fast and scalable network improves user experience, Ethereum will maintain its edge if there are adjustments to make the platform ideal for projects to launch regulatory complaint STOs. At the moment, laws around tokenization and crypto remain fuzzy and when governments react by stripping demand off ETH by banning ICOs for example, it's the end users and bag holders who suffer.
ETH/USD Price Analysis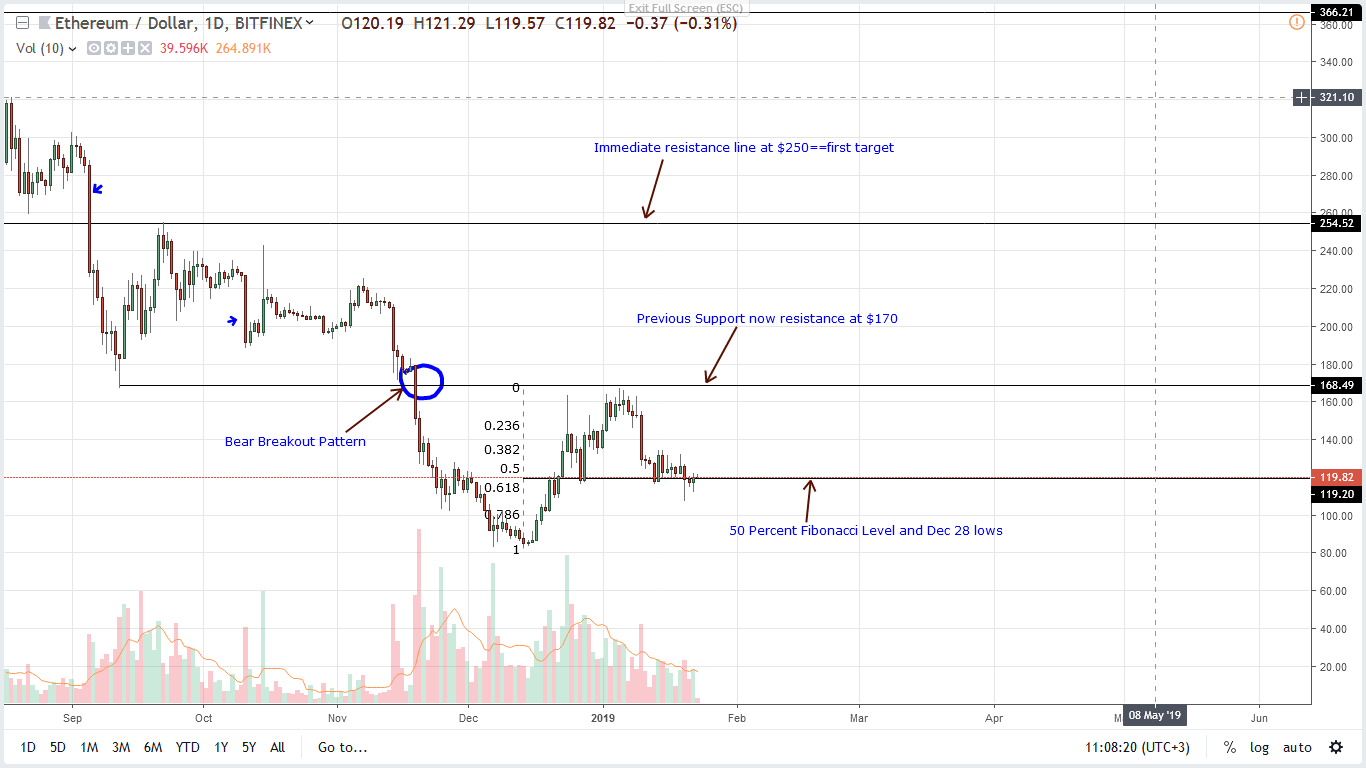 At spot prices, ETH is up 1.7 percent off the main support line at $120. And this is net bullish for coin holders waiting for prices to expand above $170 before buying on pull backs. From general price layout, there is a general conviction that buyers will take over in the short-term.
First, notice that despite strong sellers on Jan 20, buyers didn't cave in and instead subsequent demand lifted prices from lows to above Jan 28 lows. Even so, traders should wait for a clear break above $135 and complete reversal of Jan 20 losses as a double bar bull reversal pattern prints.
When it does and prices rally above $135, aggressive traders can begin buying at spot or at pull backs—racking in those maker fees, with first targets at $150 and $170. However, should sellers take charge and reverse yesterday's gains as ETH collapse below $115, odds are prices will drop towards psychological $100 and later $70 or Dec 2018 lows.
All Charts Courtesy of TradingView — BitFinex
Disclaimer: Views and opinions expressed are those of the author and aren't investment advice. Trading of any form involves risk and so do your due diligence before making a trading decision.