The Ethereum community is known for its intensity, especially when it comes to development and improvement of the source code.
The platform is one of the most decentralized, just like Bitcoin, and has the support from executives heading some of the most influential regulatory bodies in the United States.
This endorsement, combined with the first mover advantage being the first smart contracting platform in the globe, gives it an edge over competing networks.
It is also the home of DeFi.
According to the chair of the US Commodity Futures Trading Commission (CFTC), Heath Tarbert, DeFi is revolutionary and its disintermediation could help the global economy steady in times of a crisis.
In a fire chat during an event organized by CoinDesk, he said:
"The whole idea of DeFi really is, number one, it's obviously revolutionary, and I think at the end of the day could lead to a massive disintermediation of the financial system and the traditional players. It could potentially even reduce systemic risk in some ways because we don't have the finance system concentrated in these large globally, systemically important institutions."
However, while the SEC commissioner Hester Pierce is of the view that most DeFi governance tokens may qualify as securities, Heath considers most DeFi tokens as possible commodities that must comply with laws specified by the agency.
Going forward clarity is required and guidance now that the network is preparing for Eth2 Phase 0 Beacon Chain mainnet launch.
According to one of Eth2 developers, Ben Edgington, the deposit contract date will be announced any day from now.
Ethereum Price Analysis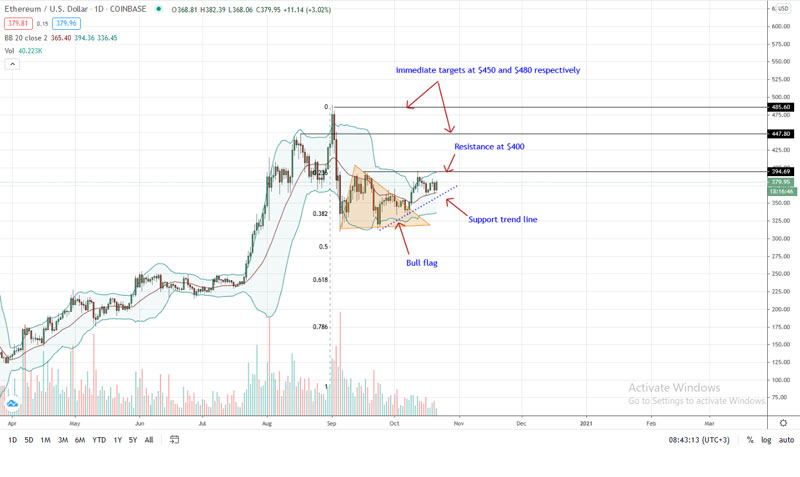 The Ethereum price is wavy, down against BTC in the last day of trading but paring losses with the USD. While buyers are confident, expecting higher highs, the Ethereum price is still consolidating below $400, a primary resistance and liquidation level, over 50 days after bears drove prices from August peak.
From the daily chart, prices are in consolidation with caps at $400 and $320. As long as prices consolidate inside this $80 zone, buyers have a chance. However, if there is a price shock as bears take control forcing prices below $320, odds of ETH sinking to $250 ahead of the Beacon Chain will be high.
Traders should watch the reaction at the minor support trend line and whether the break below—in case bears take over, is with high trading volumes confirming Oct 20 losses. A follow through with high participation will likely trigger a dump towards $350 and $320.
Conversely, a high volume break above $400 could be the impetus for $480 or better.
---
Chart courtesy of Trading View
Disclaimer: Views and opinions expressed are those of the author. This is not investment advice. Do your research.