The Ethereum market is fragile and participants fearful. At 30 on the Fear and Greed index, traders seem to be pulling back.
Fear Dominate
According to observers, the market fear is at September 2021 level. The good news is that a refreshing rally followed the drawdown of late Q3 2021 in October 2021.
While this is yet to be determined, ETH liquidity is suffering.
Subsequently, traders are taking a wait-and-see approach, unsure of which path the crypto market will turn in the next few days and weeks to come.
For what there is, Ethereum is fundamentally sound since the network is moving billions every month.
At the same time, the long-term plan is to eventually arrest the spiraling Gas fees problem brought about by high block space demand.
In the short term, traders have to contend with high Gas fees due to this ultra-high demand for block space due to the widespread proliferation of DeFi and NFTs.
The Ethereum Client Incentive Program
Meanwhile, the Ethereum Foundation has announced the Client Incentive Program to ensure that "client teams have a long term incentive to maintain the network."
According to Aya Miyaguchi, the program symbolizes the appreciation of the Ethereum community for the teams who have remained committed, building and maintaining the public goods that keep Ethereum running.
The program will reward client teams with ETH-denominated rewards, unlocking over time.
Ethereum Price Analysis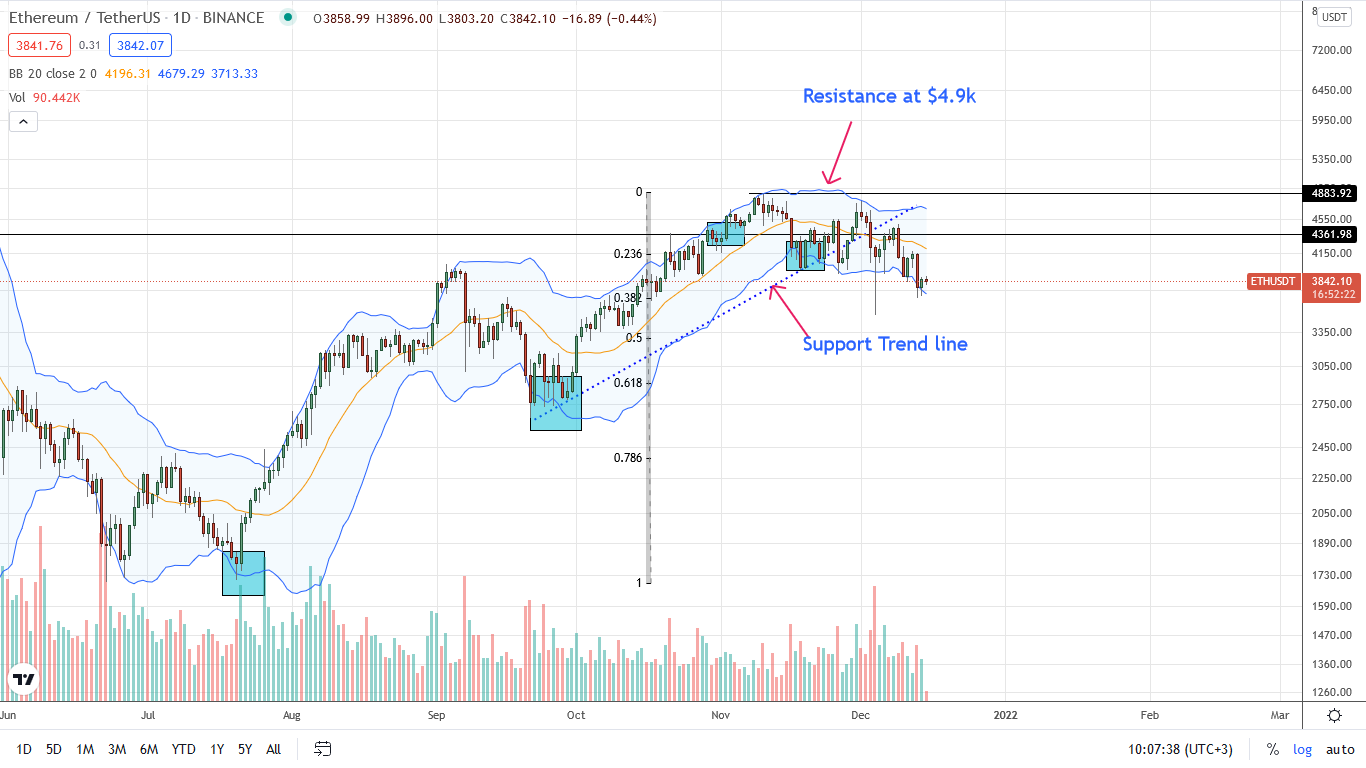 The Ethereum price is down 28 percent from peaks, trading within a bear breakout pattern.
The intense selling pressure of the past few trading days limits the upsides, forcing ETH lower.
Specifically, the December 13 bear candlestick dashed hopes of immediate recovery, forcing the coin below $4k.
Therefore, in a bear breakout pattern, every high may offer unloading opportunities with targets at $3.2k in the short term.
This formation is subject to reaction at spot rates and whether sellers will further stretch buyers, adding to losses of December 13.
As it is, more profound losses below $3.6k may fast-track the dump towards $2.9k—the 61.8 percent Fibonacci retracement level of the H2 2021 trade rage.
On the flip side, gains above $4.2k and December 13 highs may breathe life to Ethereum bulls, aiding in recovery towards $4.5k—or better.
Technical charts courtesy of Trading View
Disclaimer: Opinions expressed are not investment advice. Do your research.
---
If you found this article interesting, here you can find more Ethereum News