Ethereum dominance recorded a new ATH and is showing very positive signs compared the Bitcoin's declining trend. There are many reasons behind the surge of ETH dominance in 2021 and what pushed BTC's dominance near 40%. Some believe the dominance of Bitcoin may decline more, resulting in other altcoins continuing to rise. Delphi Digital published a new analysis about these metrics next to other stats like recovering hashrate on both Bitcoin and Ethereum networks.
Bitcoin dominance is one of the most important metrics when analyzing the cryptocurrency market. It shows the amount and percentage of Bitcoins circulating in the market. The dominance was mostly above 50% for Bitcoin, but after many promising altcoins emerged in the market, the dominance started to decline. Anyhow, when Bitcoin dominance starts a declining trend, it can show an attractive situation for altcoins, especially Ethereum.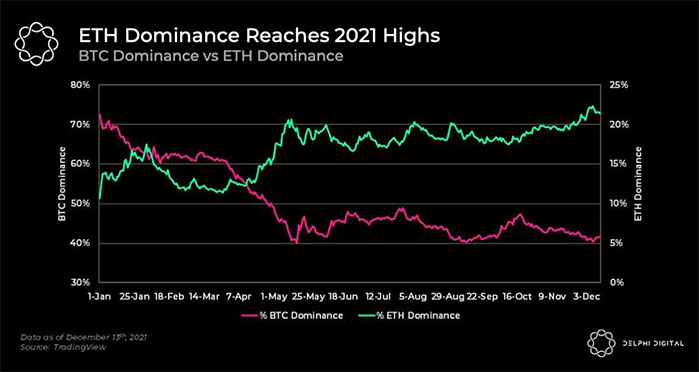 The latest respot from Delphi Digital shows a downtrend for Bitcoin dominance compared to an uptrend one for Ethereum. According to the tweet:
"$ETH and $BTC have both performed well in 2021. However, as the year went on, ETH edged out BTC, as reflected by market cap dominance. ETH's dominance went from ~11% at the start of the year to ~21% today. BTC dominance, on the other hand, started at ~73% and is at ~42% today."
Based on the analysis, Ethereum's dominance about doubled in 2021. Because of many new projects launching in this network and attracting new users, the dominance performed very well. DeFi, NFT, and gaming industries had the biggest effect on this metric even though Ethereum alternatives like Solana and Polkadot performed well this year.
There is no clear prediction about Bitcoin and Ethereum dominance in the coming months. But the declining price of BTC may result in more migrations from Bitcoin to Ethereum in the near future. Anyhow, Bitcoin has had many strong recoveries from low dominances in the past.
Another important metric to analyze in Bitcoin and Ethereum networks is the hash rate. BTC's hash rate plummeted after China banned mining in the country. But the metric recovered strongly and is now at the high of 180M TH/s five months after that incident. On the other hand, the Ethereum hash rate recovered very faster. It went back to previous stats in under two months and is showing a strong trend. Anyhow, when Ethereum 2.0 launches and migrates the PoW protocol to PoS, we can expect many metrics changes in this network.