Latest Ethereum [ETH] News
Regulation and cryptocurrencies go hand-in-hand. The simple fact digital assets are global and powered by distributed nodes make them censorship resistance. It is an attractive feature, the main value proposition that keeps drawing value for ETH, Bitcoin and other high liquid assets like XRP for example.
For a long time, the US has been supportive of cryptocurrencies and as they gave way for innovation, an inalienable right that analysts argue is protected by the First Amendment, recent rhetoric from Mnuchin, the US Secretary of Treasury, and Donald Trump, the vocal President of the US, is a source of uncertainty.
It is permeating through the market but now, the UK's Financial Conduct Authority, the main regulator of the UK market is clarifying their position on what ETH, BTC and XRP are.
Saying these assets have "non-security attributes", the independent regulator that is autonomous from the influence of UK politicians, even compared ETH to XRP.
"Tokens may have mixed features that may overlap with the above categories, or change over time. For example, Ether can be used as a means of 'payment' (exchange token) on the Ethereum platform, and can also be used to run applications (utility token). XRP has similar features."
ETH/USD Price Analysis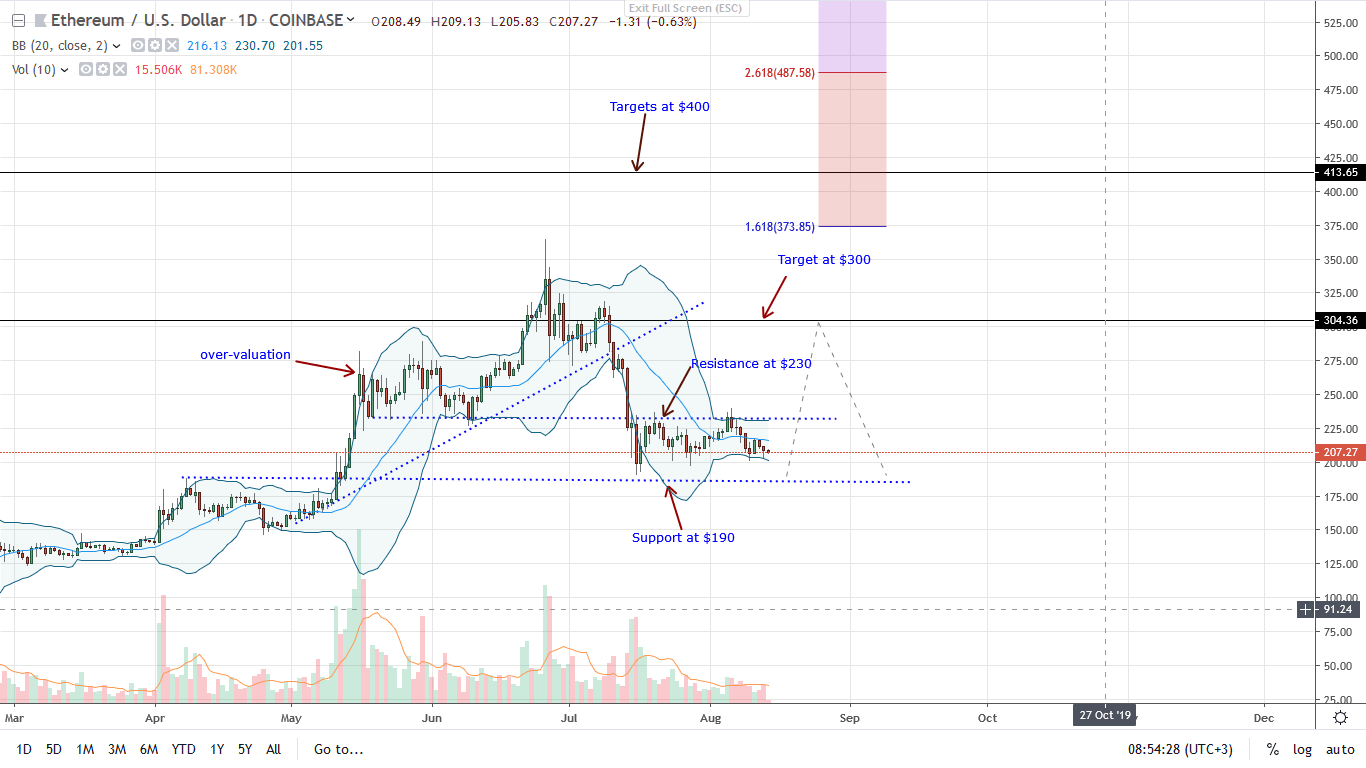 Presently, ETH is bleeding, shedding 8.3 percent from last week's close and commanding market share of 7.91 percent. Largely dominated by BTC, ETH is still under pressure, consolidating below $230. Since buyers have a chance from a top-down approach given the trend direction set by May 2019 bulls, combined with fundamental factors, buyers can buy the dips.
However, because of recent draw down and the failure of buyers to breach and reverse losses of July 16, odds are prices will sink in days ahead. The projection is based on the effort versus result point of view and the inability of bulls to clear $230 roughly 30 days after the conspicuous bar printed.
From previous ETH/USD price analysis, any sharp losses below $190, the immediate support level, could see ETH tumble to $100 in a bear trend continuation set in motion by late June losses. On the flip side, any up-thrust above $230 at the back of high trading volumes exceeding 405k of July 27 will be a precursor for $300 and even June 2019 highs at $365.
Chart courtesy of TradingView—Coinbase
Disclaimer: Views and opinions expressed are those of the author and is not investment advice. Trading of any form involves risk. Do your due diligence.