Latest Ethereum (ETH) News
The future is interoperability and to that end, developers within the wider blockchain fraternity are looking for ways of connecting siloed public and enterprise grade blockchains.
Obviously, there is need of interoperation and there are platforms that are dedicated towards making this feat possible. From the Ethereum's point of view, the impending connection with Ethereum Classic via Metronome will not only allow cross-chain transactions to be effected faster and safely but there is room for growth in the sense that dApp developers of the two chains can work on projects aware that they are free to launch on either chain. But it seems the bug is spreading.
Now a gaming startup is hard at work trying to connect Bitcoin's Lightning Network with smart contract-powered Ethereum. The startup, Blockade Games, was successful in activating an Ethereum smart contract after sending a LN transaction from the Bitcoin network.
With the trials on the Rinkeby TestNet complete, they plan on deploying it on the mainnet using real ETH. All these, according to their CTO Ben Heidorn, is part of the larger plan of adding support for LN on the Neon District, a game that runs on the Ethereum platform.
ETH/USD Price Analysis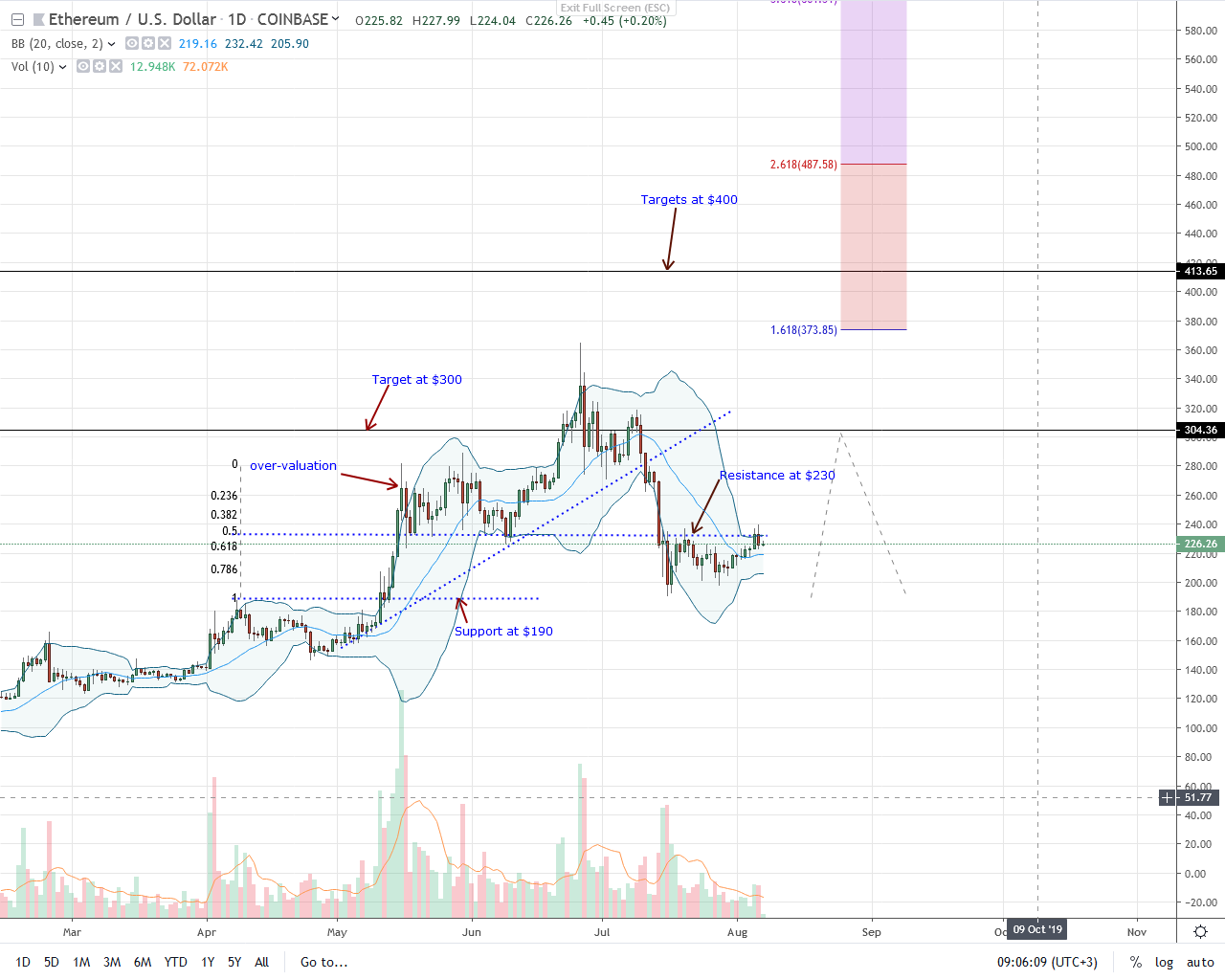 In an uptrend, ETH bulls are in control. However, what should not escape traders is the correction in progress. From the chart, not only is it evident that buyers are attempting to press higher with clear resistance at $230, but that bears are not budging.
Unless otherwise there is a strong confirmation of Aug 5 bull bar, resulting in a strong break out above $230, sellers will always be in control. Ideally, and for buy trend continuation reflective of superb gains of Q2 2019, the close above $230 ought to be with high trading volumes exceeding 405k of July 14.
Note that the bar, despite recent gains, has been capping ETH bulls for the last three weeks, and that from an effort versus result point of view is bearish for ETH. That is why it is imperative that buyers close above this resistance level, $230, with high participation.
If that happens, then traders are free to buy the dips while aiming at $300 with a fitting stop loss just below $230. On the flip side, it yesterday's bear bar is confirmed and sellers press lower, odds are ETH will gravitate towards $190 in a move that shall confirm drastic falls of late June and losses of July.
Chart courtesy of Trading View—Coinbase
Disclaimer: Views and opinions expressed are those of the author and is not investment advice. Trading of any form involves risk. Do your research.