Latest Ethereum (ETH) News
Changing hands at $257, Ethereum (ETH) is the top performing asset in the top-10. But this was largely expected. Behind this success are a range of supportive fundamental as well as price action factors including the success of Bitcoin. If anything, Bitcoin's expansion is behind the overwhelming success of Ethereum (ETH) thanks to their positive price correlation. After rallying from $4,500 to $8,300 from where it peaked, ETH bulls found momentum and at one point surged 55 percent week-to-date sometimes last week.
However, performance has more to do with what the future holds for the king of smart contracts. For one, there is development towards Serenity and towards that goal, the community plans for one more hard fork in Istanbul scheduled for Oct 19. There, not only will the cost of smart contracts decrease as various EIPs are implemented but with ProgPOW, Ethereum developers are directly tackling the threats of ASIC mining centralization instead fostering distribution and complete decentralization via affordable but more efficient GPUs.
Meanwhile, statistics have it that the number of monthly active developers contributing for Ethereum is higher than those in Bitcoin and competing platforms including Tron and EOS. That alone is an indicator that hint of the depth of participation and the readiness of the community to shield Ethereum's position as a go-to platform for projects ready to launch their dApps. Although its TPS is low, studies now reveal that the projects are attracted by the community around the battle-tested Ethereum platform.
ETH/USD Price Analysis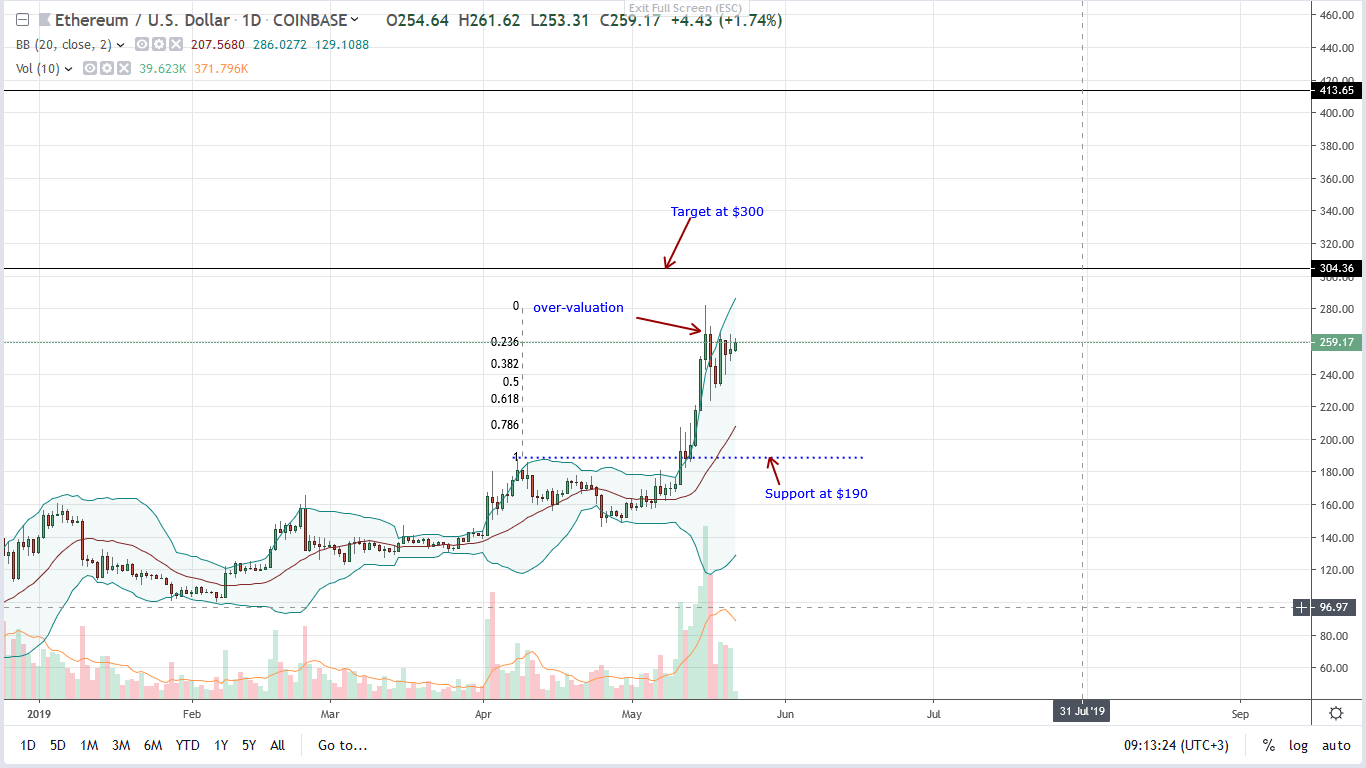 Up 3.2 percent in the last day, ETH is stable against the green back. However, with bullish fundamentals and favorable technical candlestick arrangement, the path of least resistance is northwards and bulls are getting ready.
Notice that and as reiterated in our last ETH/USD trade plans, buyers are in control and trading within a bullish breakout pattern with targets at $300 and $400. There are hints of our relentless buyers are. From the chart, notice that after the temporary fall and immediate correction of May 15th and 16th overextension by the wide-ranging bear bar of May 17th, the reaction was immediate as ETH snapped back to trend.
A simple Fibonacci retracement tool revealed that ETH reversed from the 61.8 percent Fibonacci retracement level, an important reaction point. All the same, buyers can load on dips with targets at $300. However, for cautious traders, any break above $300 with above average volumes would usher in the next wave of higher highs with targets at $400 and later $450.
All Charts Courtesy of TradingView—CoinBase
Disclaimer: Views and opinions expressed are those of the author and aren't investment advice. Trading of any form involves risk and so do your due diligence before making a trading decision.