Latest Ethereum [ETH] News
The Ethereum overseer has his reservation for centralized exchanges. He obviously detests the power they wield. True, blockchain is underpinned by the principles of decentralization and transparency. Therefore, while there is consensus that centralized exchanges are vital for the general health of the sphere, blockchain builders should first of all strike a balance and design a system that draws the most juice from the blockchain trilemma.
Vitalik Buterin, the overseer of perhaps one of the world's most successful network is however skeptical of centralized exchanges and has zeroed in on Binance. Binance has their skeletons. From country hopping, failing to comply with the NY Attorney General (AG) queries and controversially delisting Bitcoin SV because of Changpeng's differing opinion with the outspoken Craig, their power, in the words of Vitalik needs to be checked. While speaking to a You Tuber, Vitalik said:
"Obviously BSV is a complete scam, but the delisting from Binance – that was interesting. There are arguments in favor of it, but then there's also an argument that this is a centralized exchange that's wielding a lot of power."
The ramp is the largest in the world by adjusted volumes. However, the latest hack could encourage others to attempt to bring down the exchange. Obviously if the exchange goes down and hackers manage to suck funds, it could end up being catastrophic to the ecosystem.
ETH/USD Price Analysis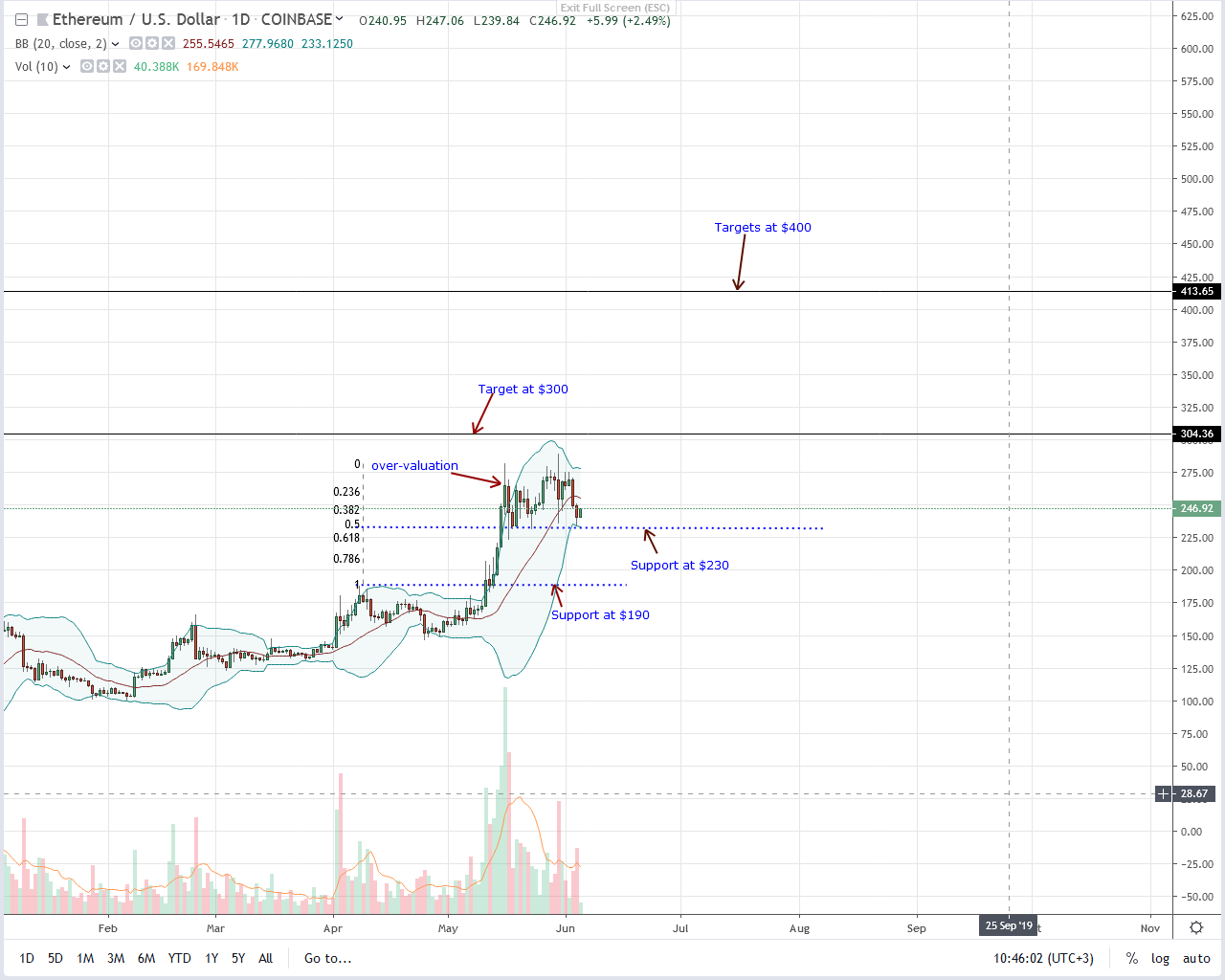 At the time of press, Ethereum [ETH] is reeling from yesterday's shock. The coin is down by double digits, shedding 10.5 percent in the last week but pretty stable in the past 24 hours. Despite the mauling, it's safe to say ETH bulls are in control.
That's unless of course there is no liquidation below key support lines. From the chart, ETH is ranging against the USD with clear supports at $230 and resistance at $290. Although traders expect ETH to snap back thanks to fundamental events like upcoming freeze, trend continuation will only print out once ETH surge past $290 and $300.
Accompanying the uptick should be high trading volumes exceeding those of May 30th of 410k. Similarly, drawdown below $230 ought to be at the back of high participation, invalidating our trade plan as ETH bears aim at $170 in a typical retest.
Chart courtesy of TradingView—Coinbase:
Disclaimer: Views and opinions expressed are those of the author and aren't investment advice. Trading of any form involves risk and so do your due diligence before making a trading decision.