Latest Ethereum [ETH] News
The stage is set, market sentiment is shifting and bulls are technically in charge. As buyers flow back, Ethereum as a platform is cementing itself as a go-to smart contracting arena. It is easy to see why.
First, Vitalik and Joseph Lubin are the pioneers in the space. The proofed a concept and the roll out of the first smart contract, autonomous and, improved Bitcoin allowing for tons of activities to be done.
Not to be outdone, and taking advantage of the open source nature of Ethereum, JP Morgan did improve and through Quorum, there is an enterprise grade, permissioned blockchain for companies to enjoy the benefits of blockchain but in a closed set-up.
Since they are incorporating a privacy feature that reports indicate will obscure the amount and sender of the transaction visible in their Zether Protocol through an extension, it is obvious JP Morgan has clients and willing to keep them within the platform.
The Zether protocol is unique in that it is not only compatible with Ethereum smart contracts but with similar arenas meaning there is a degree of interoperability as it will also find use in Quorum.
It should be noted that Zether incorporates zero-knowledge proofs that Vitalik also proposed saying Ethereum, should it be upgraded, could scale on-chain without layer-2 solutions.
ETH/USD Price Analysis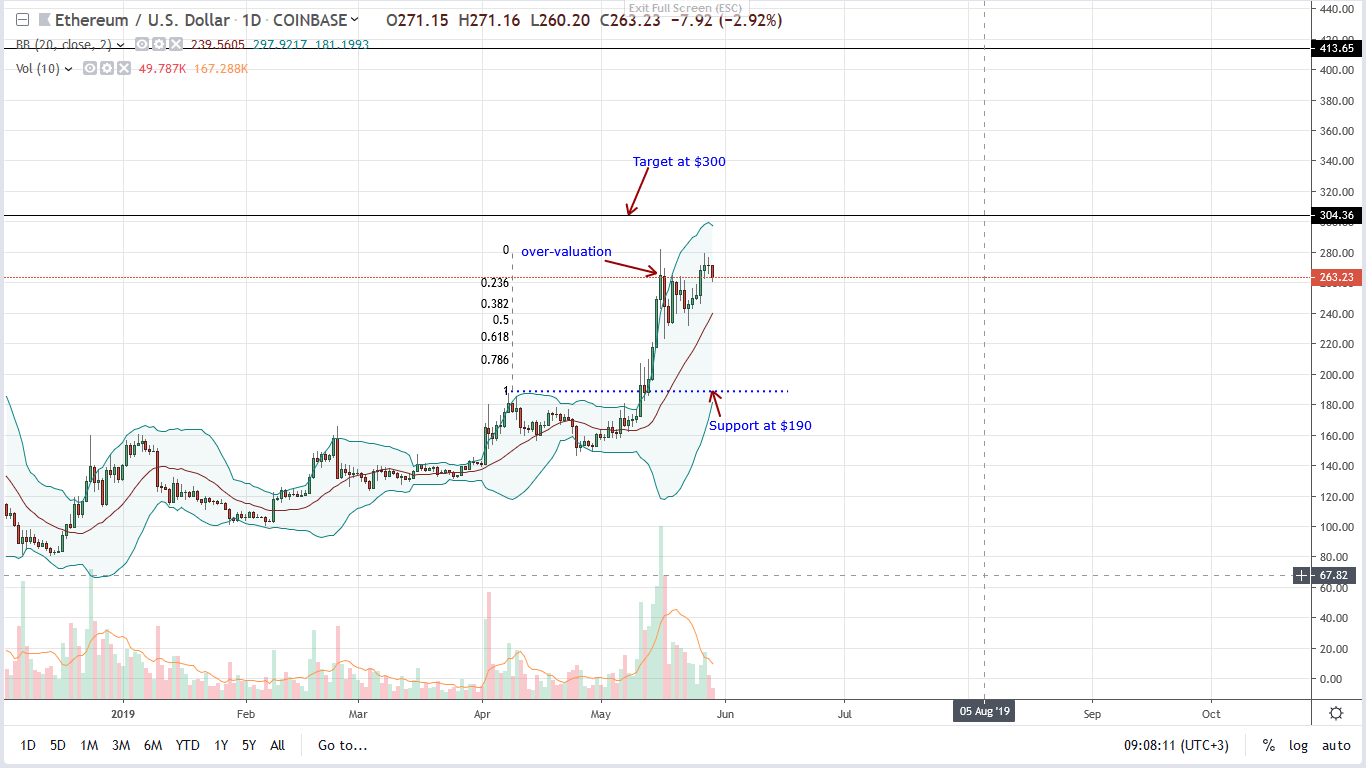 Firm at second place, ETH is up 2.9 percent week-to-date but losing traction and down 1.9 percent in the last day. Even though there is a slight correction, it is no doubt that buyers are in control and fundamental factors alone are the primers that would set the base for $300 and even $400 as mentioned in the last week.
At the moment though, there is a congestion, a consolidation below the all-important $300. After yesterday's doji, sellers pressed lower during the Asian session. What we now have is a three-bar bear reversal pattern within May 15th-16th high low and at this pace, if today end up bearish, odds are prices will slide to the middle BB at around $230 or the 61.8 percent Fibonacci retracement of May trade range.
Conversely, gains above $275 or May 16th high could see ETH expand beyond $300.
All Charts Courtesy of TradingView—CoinBase
Disclaimer: Views and opinions expressed are those of the author and aren't investment advice. Trading of any form involves risk and so do your due diligence before making a trading decision.