A decade of Blockchain Development
It's only 11 years into blockchain and the technology is promising to be rewarding for early adopters. Not from a monetary point of view but from how incorporation will bring more efficiency, speed and transparency.
Ethereum is building a decentralized world computer on top of the internet, that is, web 3.0. By doing so, investment has been democratized as participants, drawn from around the globe, are easily sink their monies into potential projects without third parties intervention thanks to smart contracts.
Vitalik's Quest for Scalability
While Ethereum has been successful, considering the depth of liquidity and developer participation, the project's co-founder Vitalik Buterin is dissatisfied and looking to shift the network's consensus protocol to a proof of stake.
Supporters are adamant that the network, from which there is no mining is more energy efficient, secure and since validators or forgers have to own ETH to mint new coins, there will be demand for the asset from the very beginning.
Phase 0-the Beacon Chain, begins in Jan 2020
Advantageous for ETH owners who have had to contend with sliding prices in late Q3 through to Q4 2019, there could be a window for opportunity as the year comes to a close.
Already, Istanbul Testnet has arrived early and as network developers prepare for activation of Phase 0 in 2020, investors could take strategic positions, ramp up and prepare for ETH's evolution into a store of value, and alternative to gold and BTC.
ETH/USD Price Analysis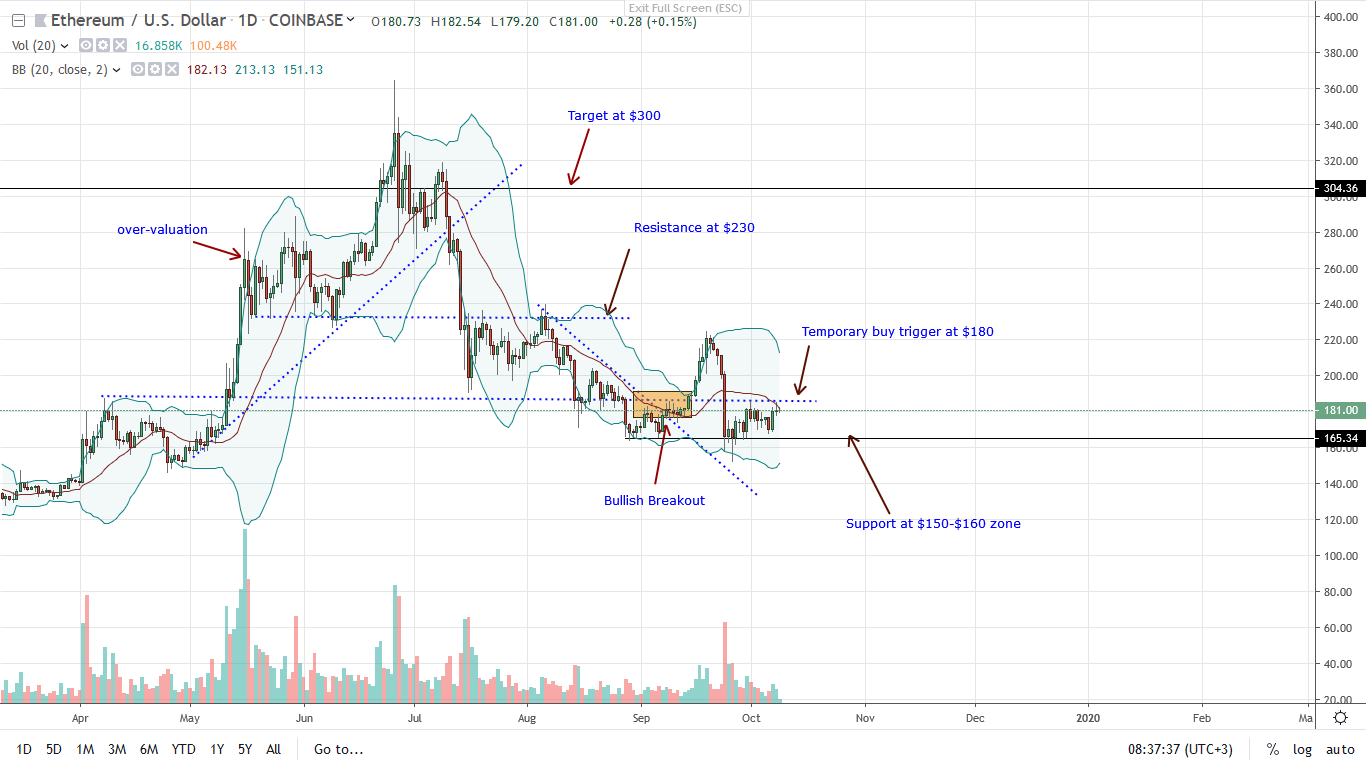 ETH prices are stable. As bulls are in control, odds are prices will edge higher in the next couple of days for simple reasons.
First, while the bear candlestick of Sep 24 could define the immediate term price action, the fact that bears have failed to push lower in the last couple of days means bulls have a chance.
Second, despite consolidating prices and signs of weakness, ETH is trading in a bullish breakout pattern against the USD thanks to development of early Sep 2019. In light of this, risk-off trader can buy the dips with a stop loss order just below the $150 support.
On the flip side, there will be opportunity for risk-averse and patient traders once there is a high-volume break and close above $180. Ideally, this close above should be with high participation exceeding $405k of Sep 24. If that is the case, ETH could rally to $230 and later $300 as mentioned in previous ETH/USD price analysis.
On the other hand, steep losses below $150 with high participation levels could see ETH tumble to $130, $100 and even $70 as bears of Sep 24 flow back.
Chart courtesy of Trading View-Coinbase
Disclaimer: Views and opinions expressed are those of the author and is not investment advice. Trading of any form involves risk. Do your research.