The Blockchain Trilemma
Obviously, there is value in a public chain. Not only can one alter the source code but contribution is a global affair therefore rigorous, and fast.
Add that to next-gen transparency and sometimes speed and security, and blockchain is a viable option for enterprising individuals or businesses looking to capitalize on blockchain's popularity.
However, there is one big obstacle. That of scalability. Scalability is one of the platform's challenge that Vitalik and team seek to resolve through a series of updates in their road to Ethereum 2.0. Towards that ideal goal, the community must agree on several contentious inclusions availed through Ethereum improvement proposals (EIPs).
Istanbul Arrives Early
In the second stage of Metropolis, Istanbul is important as it will complete Constantinople paving the way for Phase 0, or the Beacon Chain. Its Testnet was set for early January. Good news is that Istanbul Testnet is coming early thanks to unusually fast confirmation times.
Fast-tracked, ETH prices are responding positively, edging higher as a result. Activated on Ropsten Testnet on Sep 30, developers expect network efficiencies and other performance streamlining once it is launched on the mainnet.
Nonetheless, Ropsten Testnet temporarily split according to keen network observers, with miners confirming transactions on both chains. This was pointed to poor coordination, and unexpected activation. The Testnet had been projected to be launched today, Monday, October 2, but in the end it was launched two days earlier, on September 30, which became a source of confusion.
ETH/USD Price Analysis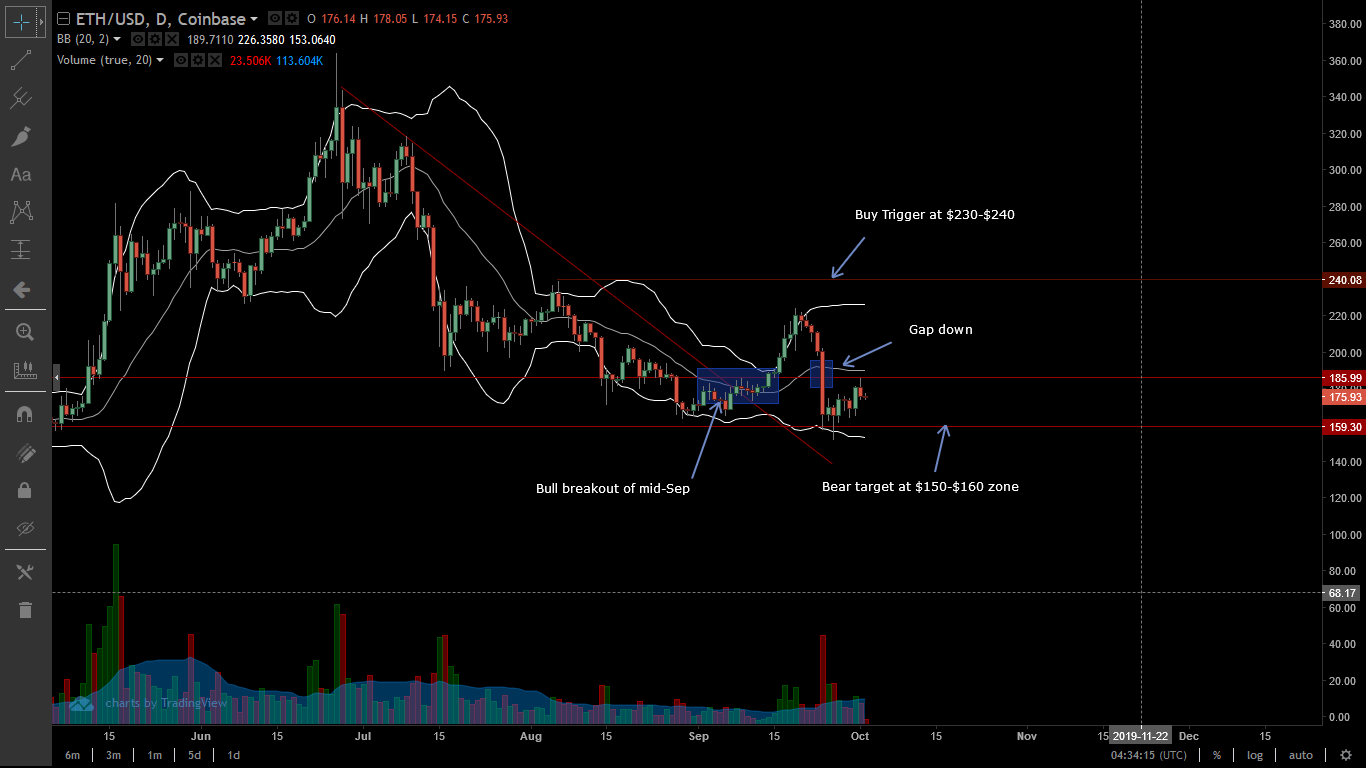 At the time of writing, ETH is stable in the last day. It has thus far managed to stabilize against the green back in the past week, even gaining against BTC. In the daily chart, there is a clear three-bar bullish reversal pattern from the main support level at $150-$160.
Even so, prices are still consolidating inside the humongous Sep 24 bear candlestick with a clear disparity in trading volumes. In days ahead, the best course of action for aggressive traders is to buy at spot levels with stop-loss orders just below Sep 30 lows of around $145.
First target will be at $240 as traders capitalize on a classic bullish breakout pattern above the two-month resistance trend line in early September.
Alternatively, there is an opportunity for traders to buy after ETH prices close above $200 as losses of Sep 24 are reversed, ideally with increasing trading volumes. In both case, $240 will be the first target while the ultimate target will be June 2019 highs of $365.
On the flip side, steep losses below $150 could see ETH tumble to $130 and later $100 especially if the breakout bar is with high trading volumes exceeding $405k of Sep 24.
Chart courtesy of Coinalyze
Disclaimer: Views and opinions expressed are those of the author and is not investment advice. Trading of any form involves risk. Do your research.