Latest Ethereum [ETH] News
Bears are vicious and as Steemit and ConsenSys restructure, ETCDEV is throwing in the towel and cannot continue working in this "mess". In a statement, the group of ten coders who describe themselves as a "leading Ethereum Classic development company" and credited for creating several tools for coders as well as for maintaining Classic Geth said they "cannot continue working under the current situation".
This is partly because of their failure to raise funds from the Ethereum Classic community or from external investors allowing them to maintain some of Ethereum Classic critical infrastructure.
Though this is totally unrelated to the Ethereum platform—which we must admit that is also suffering from serious price draw down and is down more than 90 percent from 2018 peaks, it could end up being confusing for the crypto curious and the newbies in this space thanks to the "Ethereum" tag.
This is unfortunate and even if other development partners of ETC as IOHK—through Charles Hoskinson, ETC Co-op, ETC Labs and several other volunteering developers are still working on the project, the exit of ETCDEV could hurt and even stall progress. With this exit, we cannot be sure how Geth will be maintained.
Meanwhile, Vlad Zamfir—a prominent Ethereum developer is worried about safety than scalability which the team is desperately trying to solve. While affirming that the network is secure and the EVM work as specified, he said there are no measures in place for safety as what's in place are "disclaimers and tools".
ETH/USD Price Analysis
Weekly Chart – Price prediction ETH/USD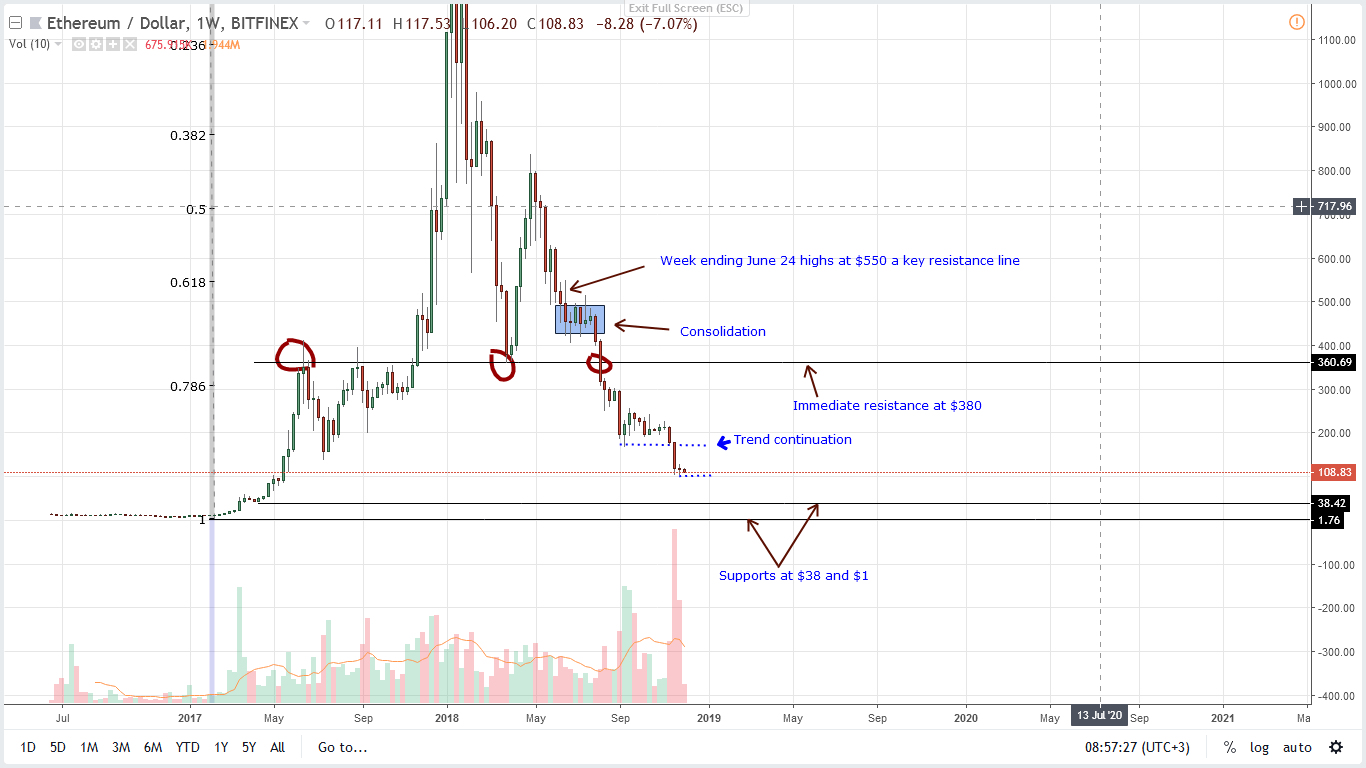 Technically, ETH/USD is bearish and even though there are hints of support in lower time frames, ETH could end up collapsing to new 2018 lows more so if prices drop below the all-important, psychological round number at $100.
Of course, ETH is at a precarious position and with a full bear bar printing below previous support now resistance at $160 and the failure of last week's bulls to erase those gains and even print above $130, there are real risks that the bear breakout pattern of which current price action is at could draw sellers and prices drop below $100 towards $1.
Daily Chart – Price prediction ETH/USD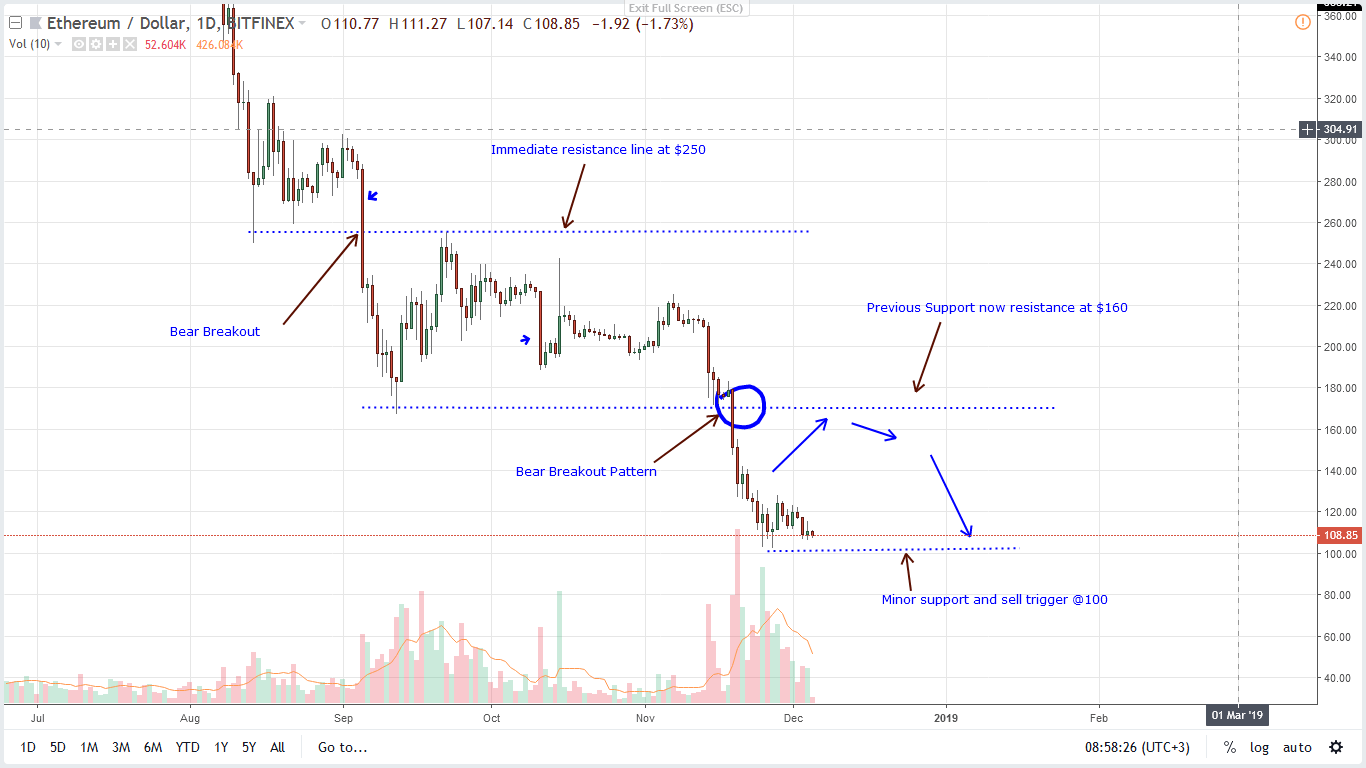 Back to the daily chart and it is even clearer. Although there is stability as bulls appear to reject lower lows below $100, what we need for aggressive traders to fade the trend is strong gains above our minor resistance line at $130.
If that prints out and there is a rally above $130, then the three-bar bull reversal pattern set in motion by Nov 25 high-volume bull bar rejecting lower lows and confirmed by Nov 28 bull bar could be confirmed ushering in the next wave of buyers aiming at $160, $250 and even $400.
Conversely, and as aforementioned, should ETH bulls falter and fail to hold at $100, the resulting drop would be catastrophic to coin holders—ICO treasuries might panic sell, stake holders and even miners who might even switch off their rigs.
All Charts Courtesy of Trading View
Disclaimer: Views and opinions expressed are those of the author and aren't investment advice. Trading of any form involves risk and so do your due diligence before making a trading decision.