Latest Ethereum [ETH] News
It's true that the market has been unforgiving. By dropping upwards of 85 percent, it means the maverick young founder, Vitalik Buterin has to contend with a $470 million in unrealized losses after prices peaked from $1,400 in late 2017 and dropped to as low as $105 earlier this week. Well, this didn't seem to faze Vitalik and as he channel his energy towards improving the network throughput, the 187 transactions from his accounts isn't hinting of panic sells. As such supporters, developers, ICOs and investors should hold steadfast.
But even with this, some projects as Aragon that managed to successfully draw funds from Ethereum after a success ICOs did unload some of their ETH stash. Aragon which describes itself as a platform where you can "freely organize and collaborate without borders or intermediaries" did unload 51,934 ETHs—that roughly $5.3 million at spot prices. Other notable projects that liquidated their coins include Status—28,000 ETHs and Hero—21,000 ETHs.
Nonetheless, bears continue to bite but still CoinBase now have their over-the-counter desk specifically geared to address institutional level investors. With this option, participants can trade off exchanges and there would be more convenience especially if CoinBase goes ahead and integrate delayed settlement and custody services.
OTCs are perfect for whales or investors with large amounts of coins which they wish to dispose. At these desks they can confidently do so without the risk of losses resulting from slippage, front running and other volume-related risks.
ETH/USD Price Analysis
Weekly Chart – ETH/USD price prediction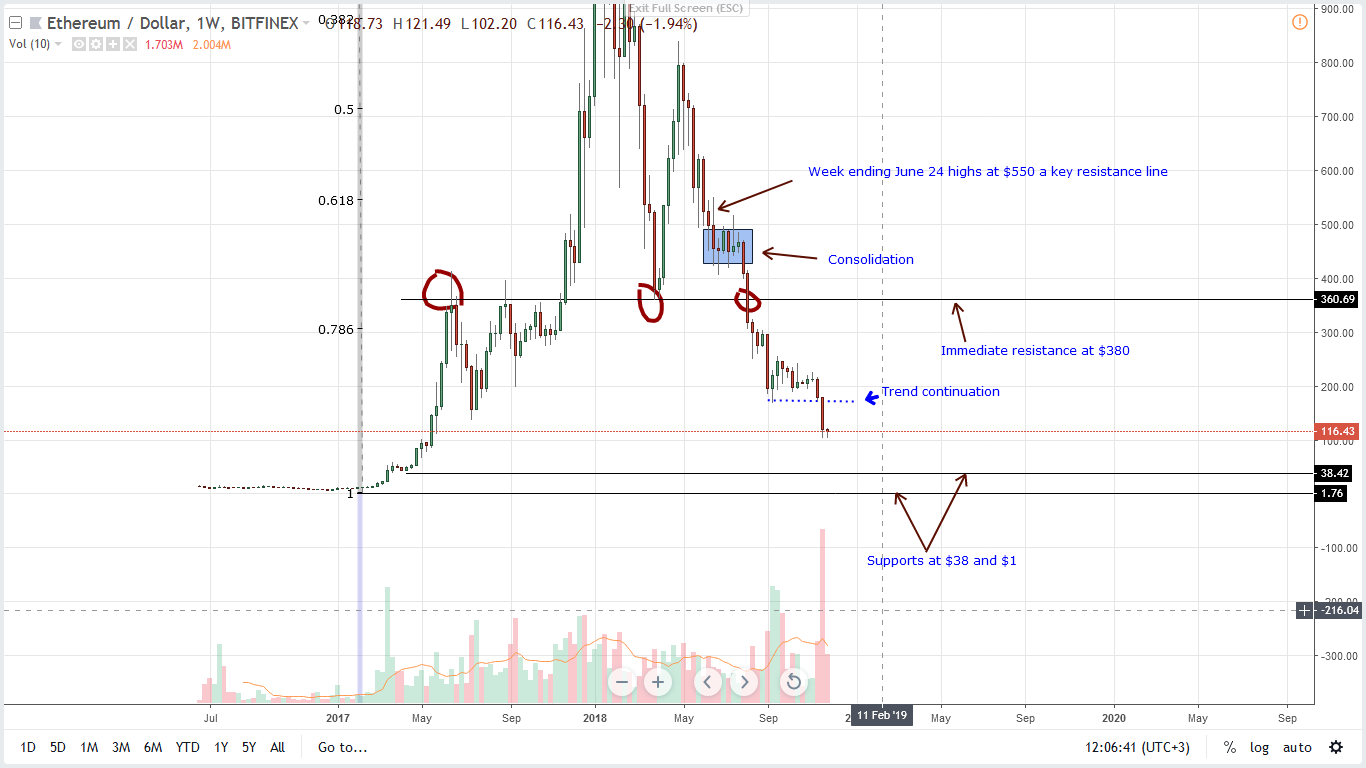 Back to price and ETH is down 11 percent—which is better than 28 percent losses of Monday—in the last week and up a massive eight percent in the last day.
Though this is welcomed and could be the much-needed catalyst to spur expansion towards $130 and later $160 reversing this year's losses, conservatives are not yet convinced since ETH/USD is trending within a clear bear breakout pattern triggered by losses of early August and confirmed by week ending Nov 18 losses.
If anything, the only time we should recommend risk-on or conservative type of traders to fade the current bear trend is when we have high volume breaks above $160 or even $200—on the upper limit. Otherwise, if that doesn't print and bears resume trend confirming last week's losses we might as well see ETH/USD collapse below $100 and free fall to $50 or even $2.
Daily Chart – ETH/USD price prediction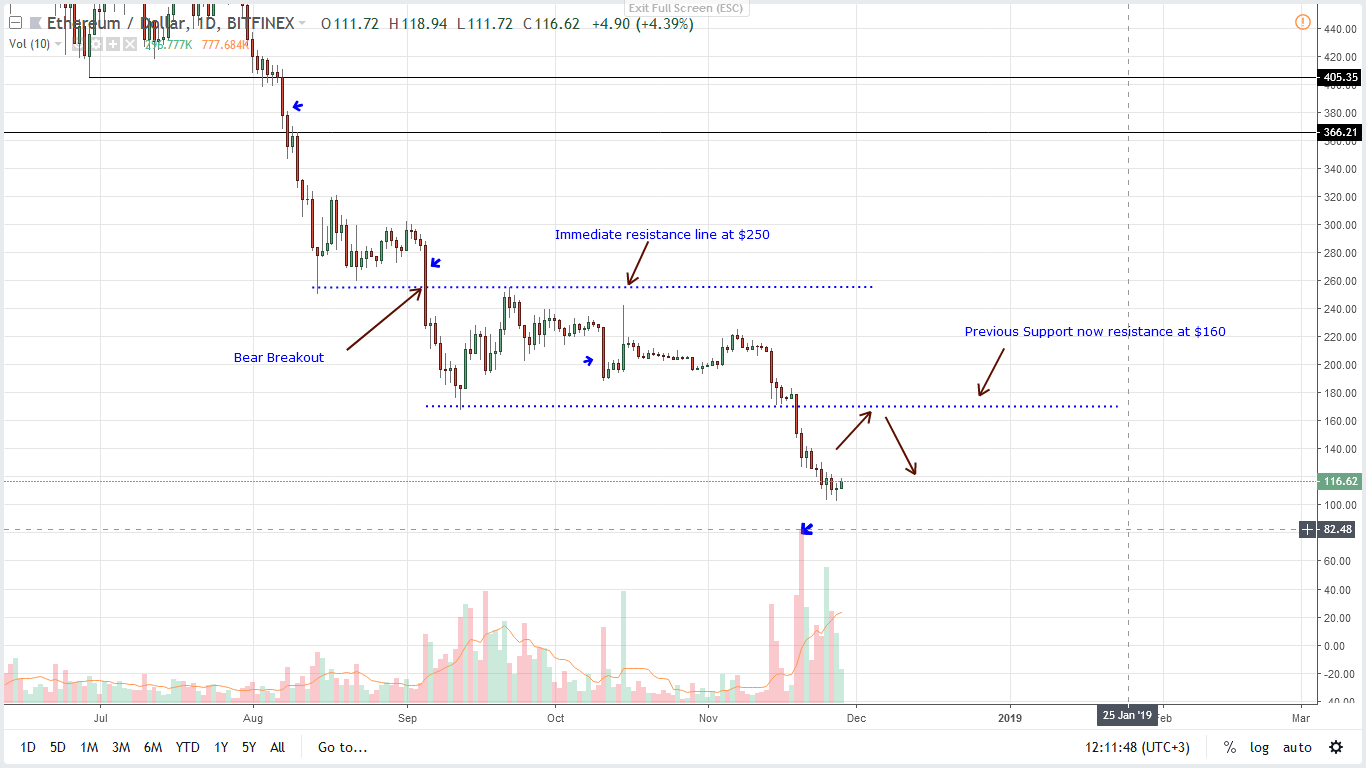 As visible from the daily chart, yesterday's pin bar might as well usher in the next wave of bulls and a recovery. But, before we settle for longs, today must close a bull ideally closing above our minor resistance at $130 or Nov 24 highs.
Thereafter, ETH aggressive traders shall begin buying at spot with first targets at previous support now resistance at $160 as aforementioned. It's going to be a tall order and that's why if prices happen to close below Nov 27 lows at around $100, ETH could race to our not-so good targets at $2. However, it would be morale boosting if prices edge past $130 and later $160.
All Charts Courtesy of Trading View
Disclaimer: Views and opinions expressed are those of the author and aren't investment advice. Trading of any form involves risk and so do your due diligence before making a trading decision.