Latest Ethereum [ETH] News
There is development, yes, that is not debatable. As the space matures, users will decide which platform flourish and which withers off. Of the many smart contracting platforms, Ethereum is a stand out.
Creators are hard at work, rolling out new features that would, in the long run, cement its spot as the leading platform where projects can seek for funds and even launch smart contracts. Even so, that is not to say Ethereum is as popular.
As a matter of fact, the asset is down the ranks in China's CCID and if it fails to take off, unveil Ethereum 2.0 on time satisfactorily addressing scalability concerns, Ethereum and Vitalik Buterin reputation stands to drastically fall.
According to a report to gauge the popularity of cryptocurrencies—especially Bitcoin, Ethereum and Monero, in Reddit, it was found that Ethereum and Monero are not as popular as initially though. In a Pacific Northwest National Laboratory finding titled, Characterizing Speed and Scale of Cryptocurrency Discussion Spread on Reddit, researchers said cryptocurrencies can be disproportionately used by criminal elements for their political and economic motives.
Their conclusion was that Ethereum posts had a longer lifetimes adding that "moderately subjective posts across all three coins trigger larger, longer, and more viral discussion cascades within both focused and general communities on Reddit."
ETH/USD Price Analysis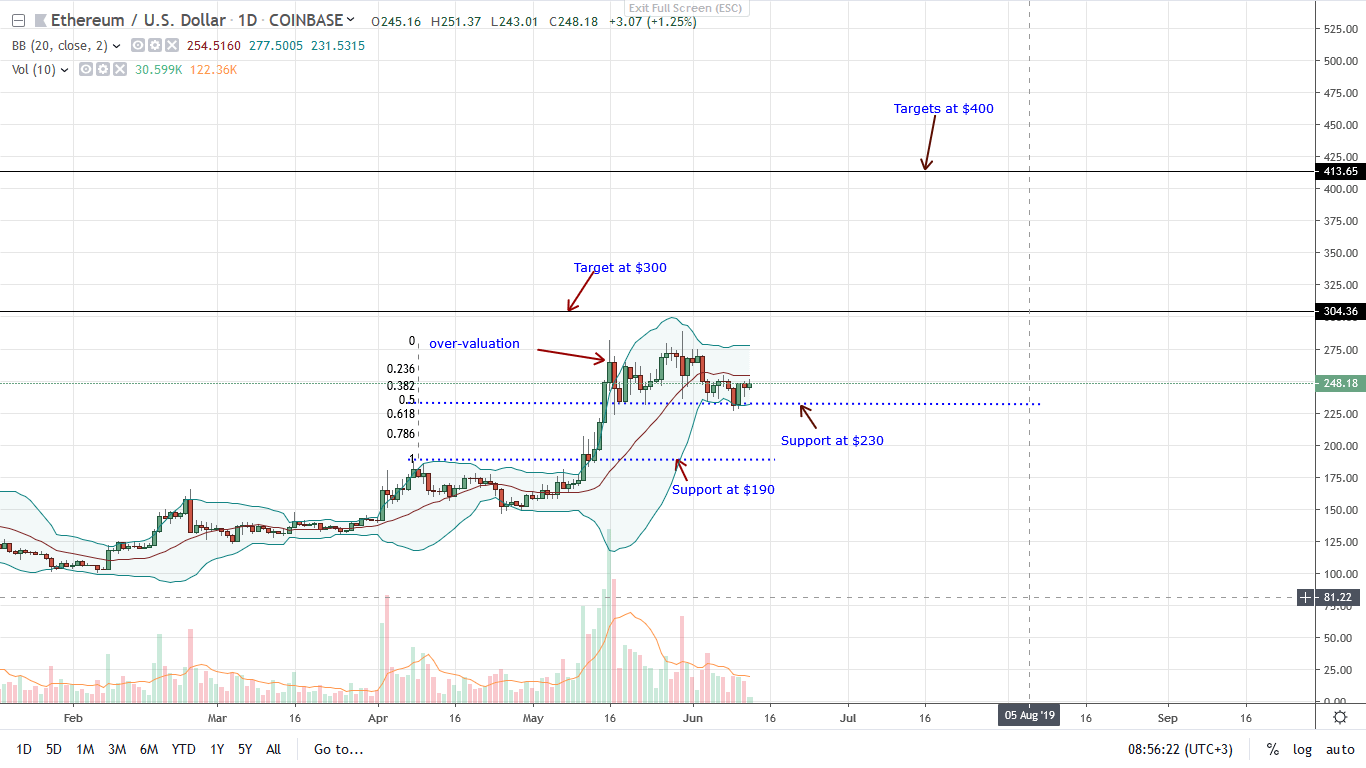 Meanwhile, Ethereum [ETH] is stable in the last day but under pressure from last week's close. However, in light with previous ETH/USD trade plans, buyers are in control. All the same, in light of recent doldrums and the failure of buyers to step up, there is opportunity for bears to capitalize and wipe out May gains.
Before that happens, it all depends on how prices react. In days ahead, whether bulls will build momentum, catalyzing a rally above $190 at the back of high trading volumes would see ETH soar to $400 or higher as buyers flow back. On the flip side, any meltdown below $230 with equally high trading volumes could spur a selloff.
In that case, ETH could fall to the $170-$190 support zone. If there equilibrium at those levels and buyers shore prices confirming a retest, then savvy traders can buy the dips with targets at $300 and later $400. These are possibilities.
Therefore, before print out, any drop below $230 invalidates our stance while price surges above $290 or May high confirms our bias setting in motion that next wave of higher highs that will ease pressure on holders who endured last year's crash.
Chart courtesy of TradingView—Coinbase
Disclaimer: Views and opinions expressed are those of the author and aren't investment advice. Trading of any form involves risk and so do your due diligence before making a trading decision.