Latest Ethereum (ETH) News
Presently, there is a political firestorm around Facebook following their grand decision to prod the status quo with a stable coin backed by a range of fiat currencies. True, the idea is novel at best.
Even so, that is not to say Facebook, with a terrible track record on matters privacy, will fall in the first attempt. Perhaps waiting for an opportune time-and cautious, Samsung is temporarily keeping their plans low.
According to sources in South Korea, the electronic giant denied rumors of their plans of launching their native token. The rumor has been rife since the giant's decision to integrate a multicurrency wallet in Galaxy s10 smart phones.
Clearing the path and pouring cold water on prospects a filling at the Korean Intellectual Property Office (KIPO) by an individual categorizing Samsung Coin under the computer-related programs which classifies the coin as electronic money card as well as an electronic encryption device.
In any case, assuming Samsung goes against the grind, confirming rumors and launching their native token from Ethereum, not only with ETH edge higher due to demand-the coin will probably be ERC-20 compliant, but the resulting participation will likely lead to a network clog thanks to Ethereum's low throughput which in turn would cascade to high transaction fees.
Extending from this possibility, Ethereum developers are working towards creating a final remedy to scalability issues. Ethereum 2.0 will address these concerns as the platform eventually cements its position as a go-to smart contracting platform.
ETH/USD Price Analysis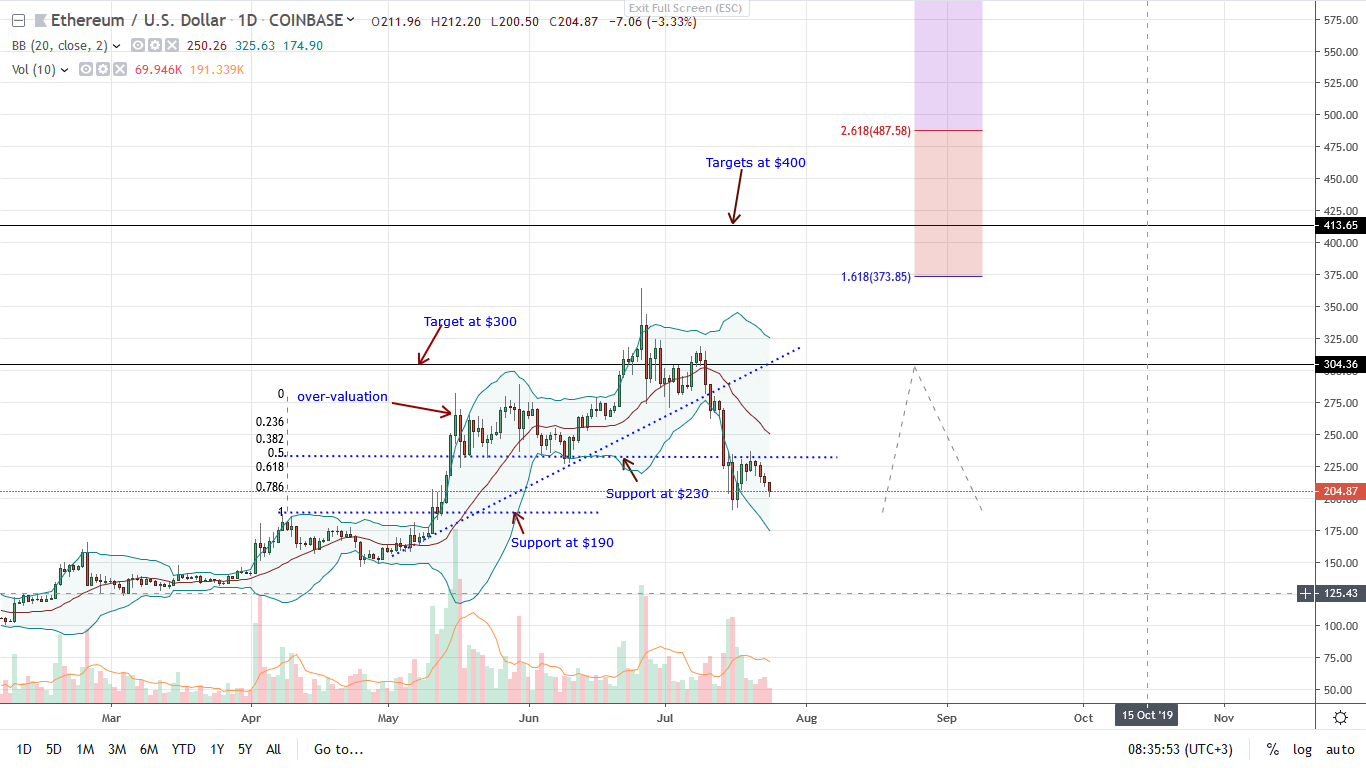 At the time of writing, ETH is clearly under pressure. Down 4.5 percent in 24 hours with controversies brewing around the likelihood of EIP-2025 inclusion during the next hard fork, bears have the upper hand.
Even though bulls have a chance from a top-down approach, losses of the last two weeks is a mark of exhaustion, a pause following stellar gains in Q2 2019. Therefore, in light of the above, savvy traders should find liquidation opportunities on every high with first target at $190.
Depending on the underlying momentum, bears can step up sell momentum forcing massive drawdowns to $100 or even 2018 lows of $70.
Reinforcing this assertion is hard bearish evidence from the weekly chart. There, not only is it clear that sellers are at vantage position and price action within a three-bar bearish reversal pattern off June 2019 highs, but the increasing participation and series of lower lows reaffirm the presence of sellers.
Therefore, unless otherwise there is a strong wave of demand lifting prices above $365 or June 2019 highs complete with high trading volumes exceeding 3.1 million of the week ending May 19, fitting stop limits for bears will be slightly above $230 with targets as aforementioned.
Conversely, sharp gains above $230 canceling this preview could see ETH prices float to $365 or better in days ahead.
Chart courtesy of TradingView—Coinbase
Disclaimer: Views and opinions expressed are those of the author and is not investment advice. Trading of any form involves risk.  Do your research.