Latest Ethereum [ETH] News
A lot has been said about cryptocurrencies, their disruption and generally, the future of the industry. It's interesting, and also unsettling, to learn that applications powered by what the leader of the second largest economy in the world, Xi Jinping terms as a necessary description is finding resistance in the US. Japan, and basically most SE Asia states are receptive of cryptocurrencies in one way or the other.
In the case of Ethereum, the distributed, smart contracting network is perfect in the sense that there is tokenization. By building on a network that is certified secure and borderless, limitless opportunities were opened.
True, one way or the other, there is a challenge with scalability. However, this is understandable because of the mere fact that Ethereum is a public chain. Because of the adequate distribution of nodes and the requirement for consensus before transactions are etched on the chain, there is limitation with throughput and by extension, scalability.
Luckily, the value proposition in Ethereum lies in its security and smart contracting. Ethereum has the native currency, ETH, that lubes the vast Ethereum ecosystem. For investors, the encouragement stems from the fact on-chain enhancement would not only make ETH valuable but through these developments, ETH becomes a triple-point asset.
1/ Ethernomics 101

Beyond the technical, most people don't know what Ethereum really is or the fundamental reasons why Ether is valuable

A thread…

— RYAN SΞAN ADAMS – rsa.eth 🏴🦇🔊 (@RyanSAdams) May 16, 2019
Through staking, ETH acts as a capital asset, just like the way one can invest in T-bills using the USD or the Euro.
Then again, it is a currency within the network and used for paying gas just like fiat is used for paying obligations within a given jurisdiction.
Lastly, when ETH is lent as collateral, it is more like money and borderless. Combined, this is exciting for holders as well as prospects searching for digital assets to invest in.
ETH/USD Price Analysis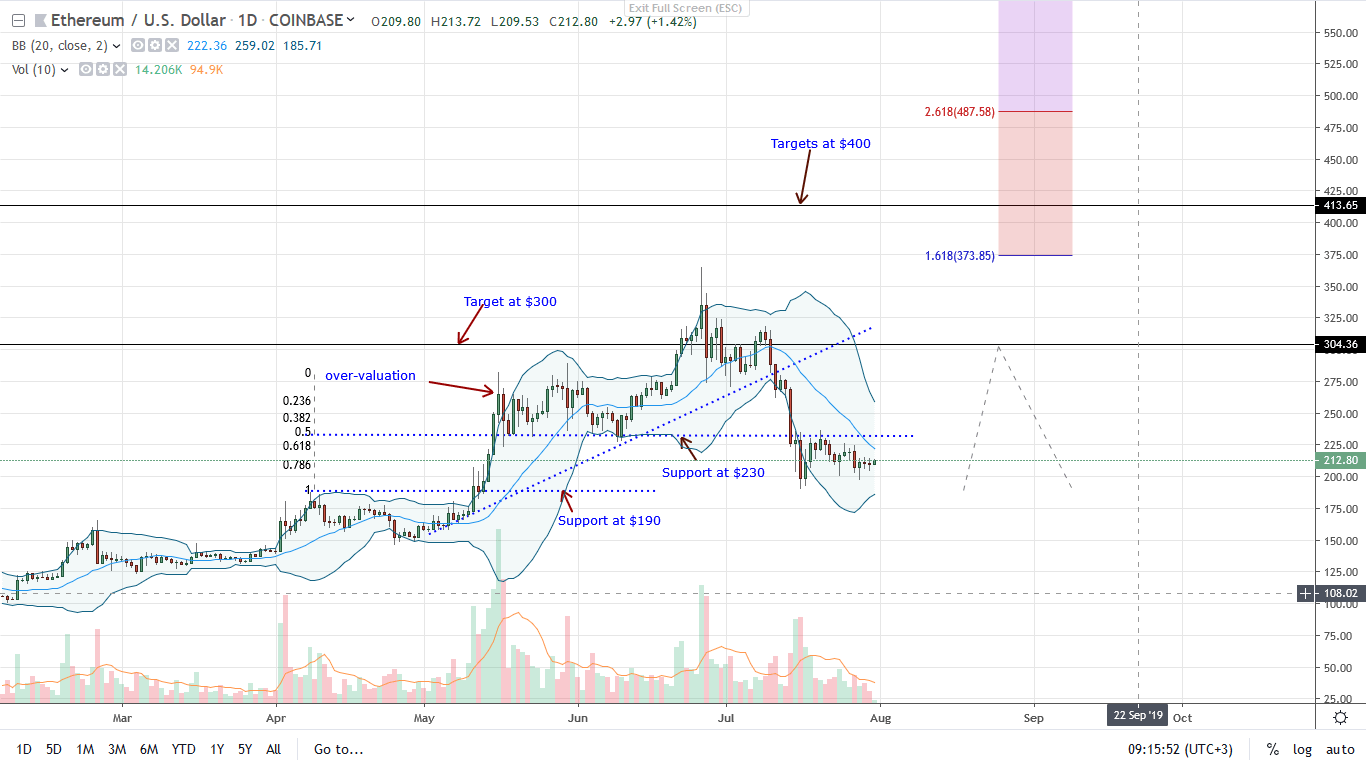 Coin trackers reveal that Ethereum [ETH] is relatively stable and up 2.3 percent in the last 24 hours. A relief for traders and holders, ETH is technically bearish and correcting after a stellar performance in Q2 2019.
Going forward, the best course of action for risk-averse traders is to short the retracement that retests $230 with targets at $190 as laid out before. Even so, that path is mainly dependent on participation, BTC prices and whether fundamentals will offer support or not.
Meanwhile, for risk-averse, conservative type of traders, better signals will print once there is a meltdown below $190 or if bulls flow back lifting prices above $230 in a bull trend continuation.
In any case, steep losses below $190 could see ETH rumble to $130 or worse Dec 2018 lows of $70. On the positive side of the equation, sharp gains above $230 would likely open the doors for $300 and June 2019 highs of $365.
Chart courtesy of TradingView—Bitfinex
Disclaimer: Views and opinions expressed are those of the author and is not investment advice. Trading of any form involves risk.  Do your research.