Latest Ethereum (ETH) News
There is this "air" of expectation, of development and of unshackling. Bears are threatening early Apr gains and therefore, for Elon Musk to tweet about Ethereum was somehow a venting hole for investors as well as traders. That a single-word tweet was enough to increase Ethereum search count as shown by Google Trend is a testament enough that Elon is indeed a tech influencer.
Why not? He's the brains behind Tesla, piloting autonomous driving, as well as, Space X—a company trying to colonize the outer space. Vitalik responded, highlighting some of Ethereum capabilities. Because of smart contracting, it's possible to register almost anything in the public blockchain. Smart-login, voting, smart governance, custody and even secure identity are some of the few opportunities that are yet to be fully exploited.
Although many are keen on price, it must be acknowledged that Ethereum is evolving into the world's largest computer. It is completely distributed, has the backing of regulators, leveraged by some governments—as Austria– and the native currency, ETH is more that a settlement currency. It is scarce and the network is evolving, dealing with bogging hitches like scalability while simultaneously wading off competition by retaining most developers contributing.
ETH/USD Price Analysis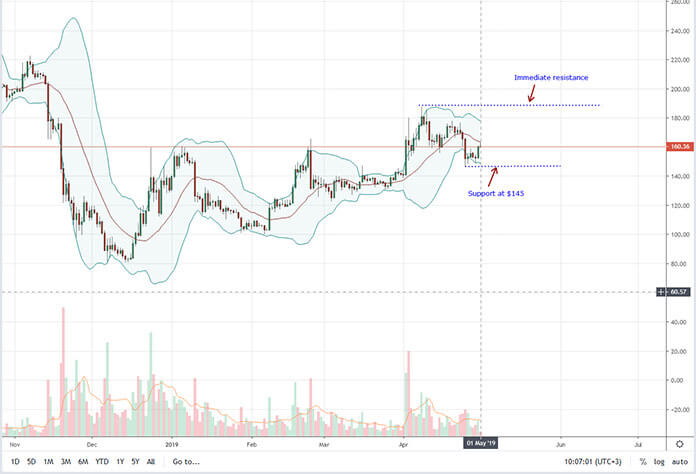 Price wise and Ethereum (ETH) price is down 5.9 percent but up 3.3 percent in the last week and day. However, what is interesting is technical development of the last few days. Although ranging and trending within a $15 range capped by $190 on the upside and $150 on the lower side, ETH is technically in an uptrend.
Even so, only risk-off traders can initiate long positions with stops at Apr-25 lows. The bar is bearish and has high transaction levels therefore anchoring our trade plan at least in the short term. For trend continuation, the under-pricing of Apr-25 slides has been corrected thanks to Apr-30 bull bar. But, before we recommend longs, there ought to be a full reversal of these losses as a three-bar bull reversal pattern print in a clear uptrend.
In line with our previous ETH/USD trade plan, we shall maintain a neutral but bullish stance aware that losses below $145 could see prices slide to $130 or lower wiping out gains of Apr-2 as bears of Q4 2018 flow back crashing optimism. On the reverse side, any surge above $190 with high volumes above 160k and 377k of Apr-2 could see ETH blast above $200 towards $250 and $300.
Chart courtesy of Trading View—BitFinex
Disclaimer: Views and opinions expressed are those of the author and aren't investment advice. Trading of any form involves risk and so do your due diligence before making a trading decision.