There is a damping effect going on as far as ETH prices are concerned. Despite adoption by governments and formulation of warm laws, prices are finding resistance at the lower limit of our resistance at $250.
Coincidentally, this is also the78.6 percent Fibonacci retracement level of Sep high low. From candlestick arrangements, ETH rallies depend on how prices react at $300 on the upside and at $200—the first sell trigger on the downside.
Latest Ethereum News
Here's the thing: Governments across the world are VERY bullish on blockchain and related Distributed Ledger Technologies (DLTs). In fact, several jurisdictions want to be trailblazers as far as blockchain is concerned and true to their word, they are passing supportive legislation to support this nascent and yet to be understood technology. Of course, for the 10 years blockchain has been around, it has demonstrated that it can be disruptive.
Ethereum on the other hand fashions itself as a world computer that can operate on its own ecosystem with ETH oiling the system. This fact alone is splitting the community and could be attributed to waning ETH bull momentum. Needless to say, market influencers and pundits alike acknowledge the shaping capabilities of Ethereum as a smart contracting platform.
In fact, all things constant, the smart contracting feature allowing for the creation of censor-resistant dApp gifts it value and therein lay its value proposition. From the very definition of what the platform functions, Ethereum foundation makes no mention of ETH. ETH as they say is a vehicle for paying GAS and with the economic abstraction debate, ETH as the only coin of settlement can be technically scrapped.
The community is not yet there but as development progresses from Constantinople through to Serenity where there will be scaling solution—probably ZK-SNARKs or Sharding or Plasma or Raiden or a single package incorporating all these options, the debate might rise again causing a price dump despite platform demand.
Ethereum (ETH) Price Analysis
Weekly Chart – Ethereum price prediction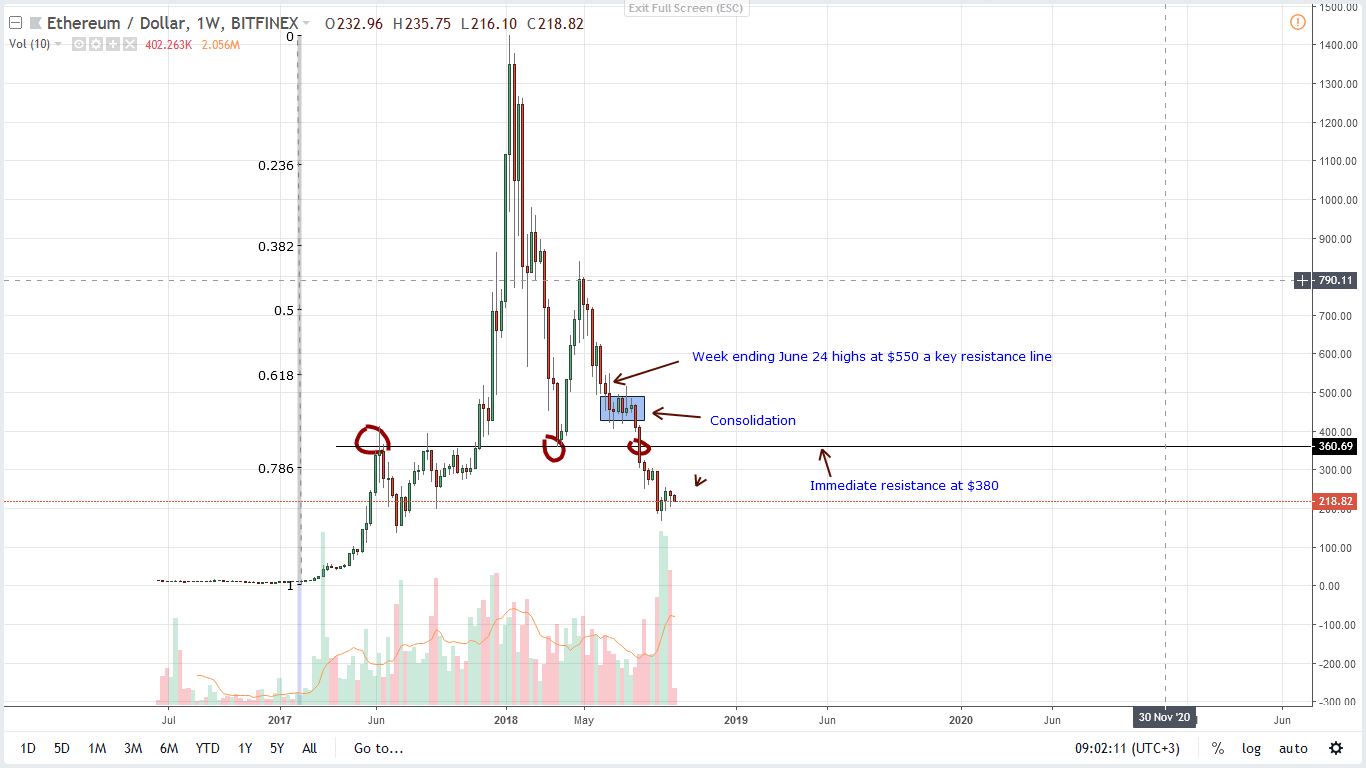 Uncertainty or doubt usually drains momentum and so far, FUD is impacting price negatively despite government level adoption—read Austria or Russia and Singapore. Price wise, ETH prices is up three percent but that is not enough to reverse gains of week ending Sep 9. Because of that our previous Ethereum trade plan is constant.
Aside from the low volatility, note that prices are below $250 and if this week end as bears then odds are we might see further depreciation as sellers of week ending Sep 9 jump in driving prices. After all, despite three weeks of persistent higher highs, bulls trade ranges were restricted and oscillating within a strong bear bar hinting of underling bear pressure.
Going forward, we recommend staying neutral until after there are surges above $250–$300 validating gains or losses below $160 or Sep lows triggering sellers.
Daily Chart – Ethereum price prediction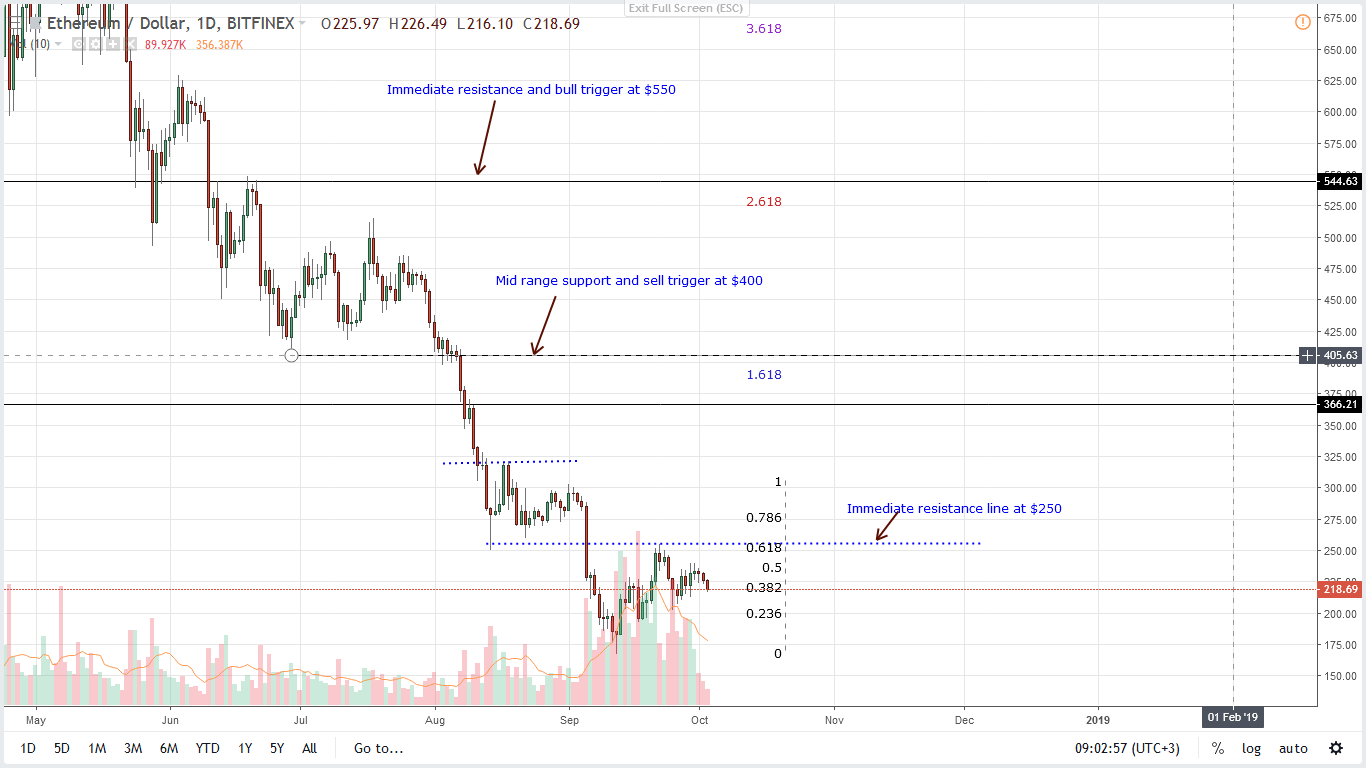 Once we draw a Fibonacci retracement line between Sep high low, we note that ETH prices are finding resistance for upsides at the 78.6 percent Fibonacci retracement levels. That's around the $250 mark from where Sep 22 bull bar slowed down and dipped.
Besides the ceiling, ETH is ranging inside Sep 27 bull bar and while this is technically bullish, the only confirmation can be if there are gains above $250 in days to come.
If not and ETH drop lower today, then it's likely that sellers will clear $200. From there, bears can jump in liquidating on every high in lower time frame with eyes at $150 and later $75.
Disclaimer: Views and opinions expressed are those of the author and aren't investment advice. Trading of any form involves risk and so do your due diligence before making a trading decision.