Although many L1 and L2 chains tried to tap into Ethereum's market share in 2021, the network is still showing a very good situation. There are many on-chain metrics showing Ethereum is still growing and keeping its top position in the market. According to the latest analysis by IntoTheBlock, the aggregate on-chain volume in this network saw a 36.4% rise in YTD compared. As we are in the last days of 2021, we can say this rise was for 2021.
There are many blockchains in the market that try to offer alternative solutions to Ethereum and increase their market share, especially in DeFi and relative sectors. Many L1 blockchains like Fantom, Solana, and Avalanche had a very good year in 2021, being successful in attracting more developers and users. They try better options regarding transaction speed and costs. But Ethereum is still the first choice, and those alternatives have a long way ahead.
IntoTheBlock says Ethereum is still the leader of the market DeFi sector. According to the latest tweet:
"As Ethereum remains the leader of TVL in #DeFi protocols, the transactional volume saw a remarkable increase in 2021 with +2.142b $ETH traded, despite the rise of other L1s."
Looking at the charts, we see that Ethereum had a promising year in 2021 in the price chart. ETH's price was about $650 at the beginning of the year and jumped up to $4800 in the recent ATH. Although the total volume in charts is somehow declining because of other L1 networks, the network is still in a good position regarding TVL and related metrics.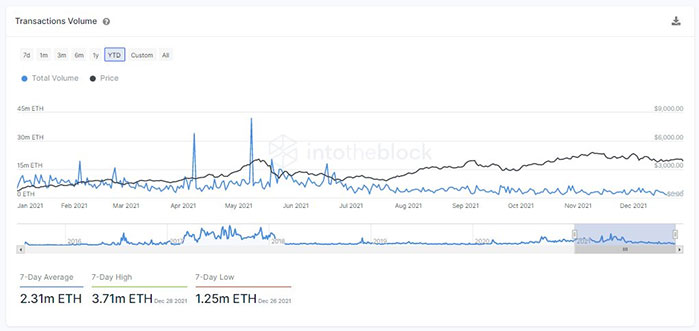 L1 networks aren't the only competitors or Ethereum. There are many L2 solutions on top of this blockchain that offer attractive solutions. But still, many developers and users choose Ethereum, especially for their DeFi activities. Another reason for the healthy state of Ethereum is the NFT market. Lots of marketplaces launched on Ethereum, attracting a huge number of users. Blockchain games are other reasons Ethereum is still growing. NFT and blockchain games were big hypes of 2021 and are still growing.
Although Ethereum is showing a promising situation in TVL and price movements, L1 and L2 alternatives have lots of chances in the coming year. Ethereum L2 is prepared for launch in the coming year that may attract many users looking for more efficient network services. But other L1 networks can grow in the meantime and increase their market share. They still need to grow their developer base and launch more products to show their reliability.