L2 protocols are gaining traction, but it seems the market is moving towards a new direction in terms of DeFi services. Platforms like Anchor Protocol, Terra, and Avalanche are breaking records in TVL metrics, and it can be a warning sign for Ethereum. The latest analysis from Delphi Digital focuses on comparing the current stats of L2 and L1 networks.
Total Value Locked or TVL is a very important metric when comparing DeFi platforms. The current stats show that both L1 and L2 networks are gaining momentum in this metric. In a nutshell, deposits are hitting new highs in Terra, Avalanche, and Anchor Protocol.
One of the most successful platforms in 2021 is Avalanche. This platform, next to Terra, has experienced considerable growth in the past months. Avalanche saw a significant surge since launching and providing ecosystem incentives in September and is still growing very fast.
Another surging platform is Anchor Protocol that hit over $10B in deposits. One f the reasons for this surge is LUNA price hitting new ATHs in the past weeks. Another reason for this surge is that UST stablecoin was integrated into Abracadabra. The recent MIM replenishes of Abracadabra money resulted in more deposits into Anchor, too.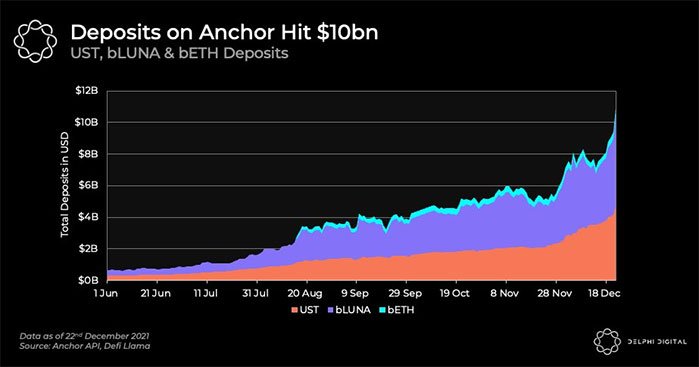 The growth of L2 networks was parallel with a hit on smart contract deployment on Ethereum. Deployments took a hit in June 2021. While there are still 250K contracts being deployed on Ethereum, the network is having challenges in competition with alternatives. The biggest reason for this hit is the familiar challenge of prices on Ethereum. The cost of deploying smart contracts on this network is still present and results in developers looking for alternatives like L2 networks.
Despite all of the above records, L2 networks are losing market share to L1 platforms. According to Delphi Digital:
"L2's are losing market share to L1's in recent months, despite the migration of DeFi protocols from Ethereum. Most expected L2s to become a hot-spot for developers and users who were priced out of Ethereum mainnet, but other L1s stole the limelight."
According to the analysis, migration from Ethereum hasn't resulted in market share growth for L2 networks. In fact, users and developers are considering other L1 networks as alternatives for Ethereum and not L2 networks. But the competition is still very serious, and new L2 alternatives may become successful in gaining users and developers. After all, the situation is good for most of the DeFi networks and bad for Ethereum.