New Jersey-based Ethereum-based enterprise-focused blockchain development studio OffChain Labs has released its propriety software dubbed Arbitrum on Alpha mode. The company made the announcement this week stating that the new software release will allow developers to launch decentralized applications running on the popular Ethereum development language Solidity but with the added advantage of utilizing a highly scalable sidechain solution. OffChain Labs offers a scalability solution that supports up to 500 transactions every second as opposed to Ethereum's main chain figures which currently stand at 15 transactions every second.
As part of its alpha release announcement, OffChain Labs said that it has secured an investment from popular American cryptocurrency exchange Coinbase's investment arm Coinbase Ventures. The announcement did not disclose the amount of money that Coinbase Ventures invested but it does add on to the seed fund of $3.7 million the startup raised back in April from Pantera Capital, Compound VC, and Blocknation.
Coinbase Ventures has invested in some of the most well-known and innovative companies in the space and we're thrilled to see that they share in our vision to make blockchains ready for prime time.
Said Ed Felten, the co-founder of OffChain Labs.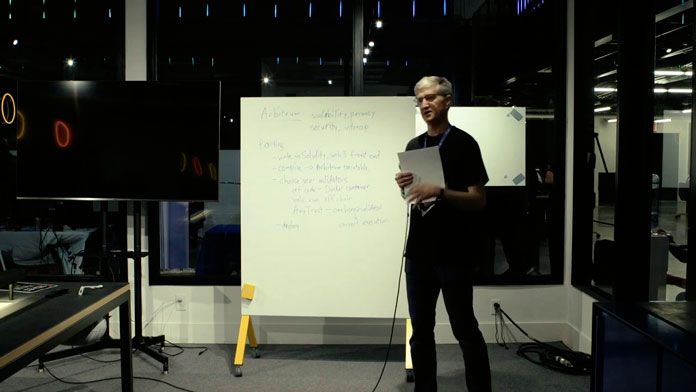 Arbitrum is really a scalability solution to Ethereum's scalability issues. Over the past few weeks, the problem has escalated due to the growing interest by investors using the popular Tether stablecoin which launched on the Ethereum blockchain a few months ago. Formerly only based on the Bitcoin influenced Omni blockchain, the controversial stablecoin has been on a mission to expand its support to several other blockchains including EOS, Tron and Liquid implementation. However, Ethereum is the most popular altcoin network which could explain the interest of investors to use the ETH-based Tether over the other variations.
With Arbitrum, developers will be able to code their dApps on the Solidity coding language but compile their codes using the Arbitrum compiler. The Arbitrum Sidechain then records transactions to the Ethereum main chain through the EthBridge thus enabling fewer transactions on the Ethereum main chain.
One interesting feature that Arbitrum introduces is the AnyTrust Guarantee. According to documentation, Arbitrum is designed to be so resilient that it could survive an attack on the network as long as just one honest validator is online. This means that dApps will still execute even though almost all the validators are trying to game the network. It's a bold promise that requires extensive real-world tests but if it proves to be actually true, it will be a great innovation in the right direction.
We believe that blockchains have a distance to go in terms of being enterprise-ready, with the primary issue being scalability. We've built a solution that enables dApp developers to improve the performance of their applications without any significant cost or development time.
Felten noted.