Similar to other top altcoins, Ethereum [ETH] hasn't managed to steer clear of consolidation. But traders should not miss the bullish narrative that is now taking shape.
Hints of decoupling from Bitcoin [BTC] faded as ETH failed to pursue an independent trajectory. After reversing much of its weekly gains, the crypto-asset has resumed an uptrend once again but technicals do not look promising. It is unlikely for Ethereum to escape the short-term dip. But there's still buying opportunity. Here's why-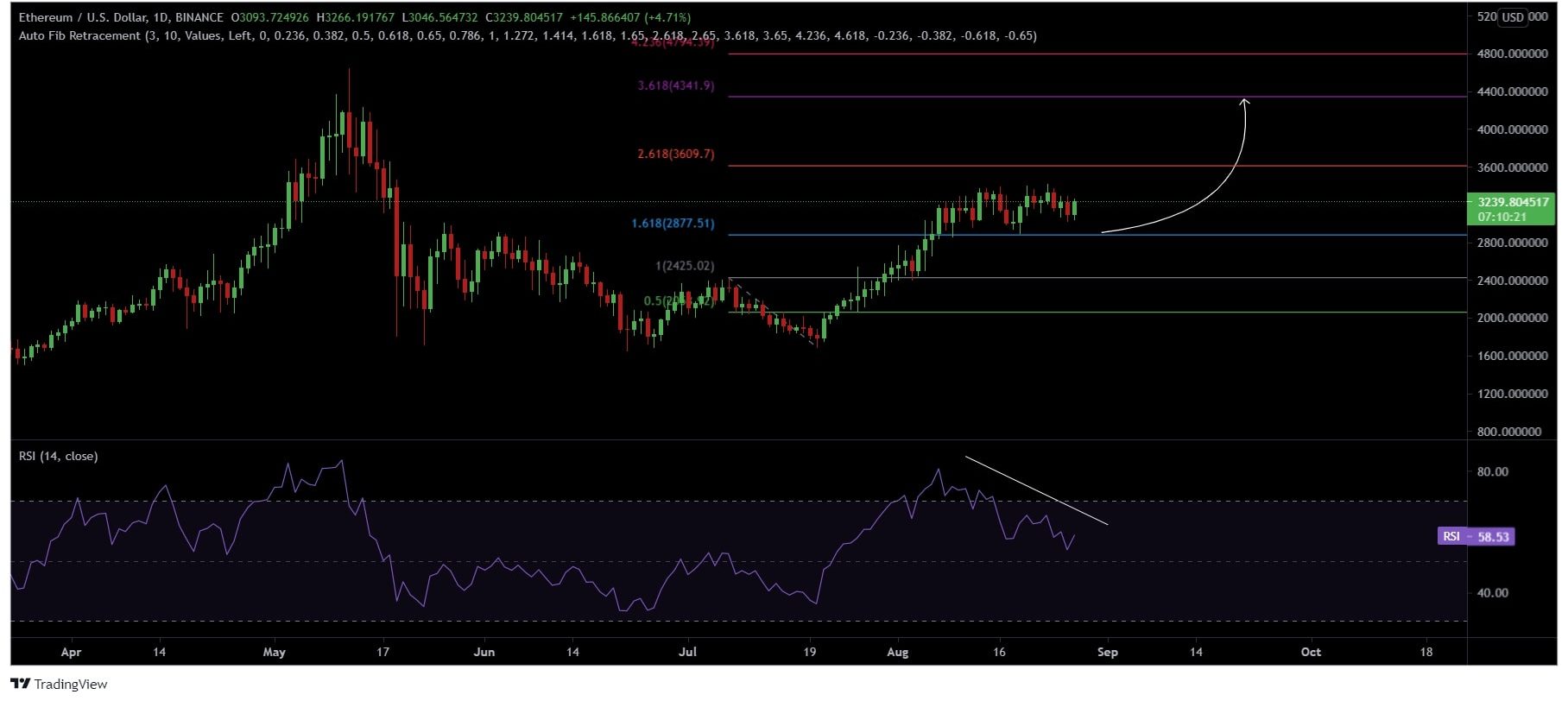 ETH bounced off a crucial resistance near $3,318 for the second time in a span of two weeks. The descent is likely to find support at the demand zone ranging from $3,110 to $2,877.
Further validating this trend was the formation of bearish divergence in the daily Relative Strength Index [RSI] that created an overbought reading followed by a lower high. If the buying pressure increases on the retest of the aforementioned support area, however, ETH will likely head to $3,609 and even target the $4,341 level.
Ethereum's dip buy opportunity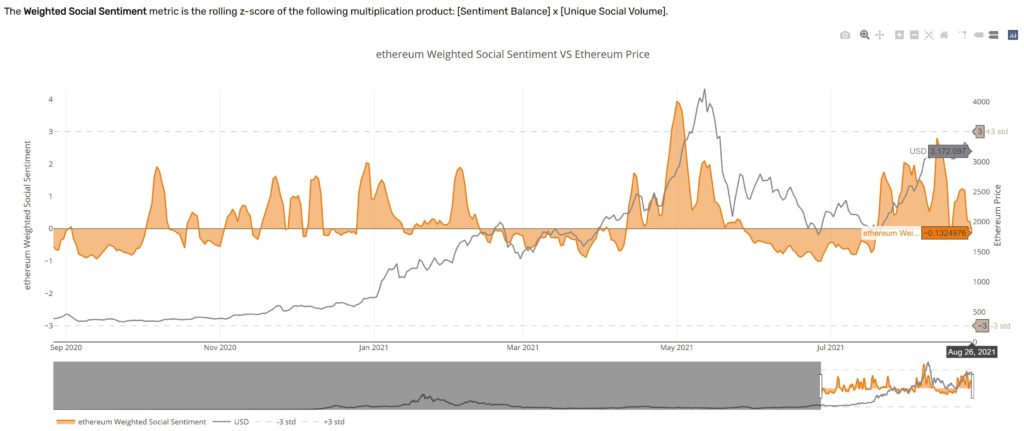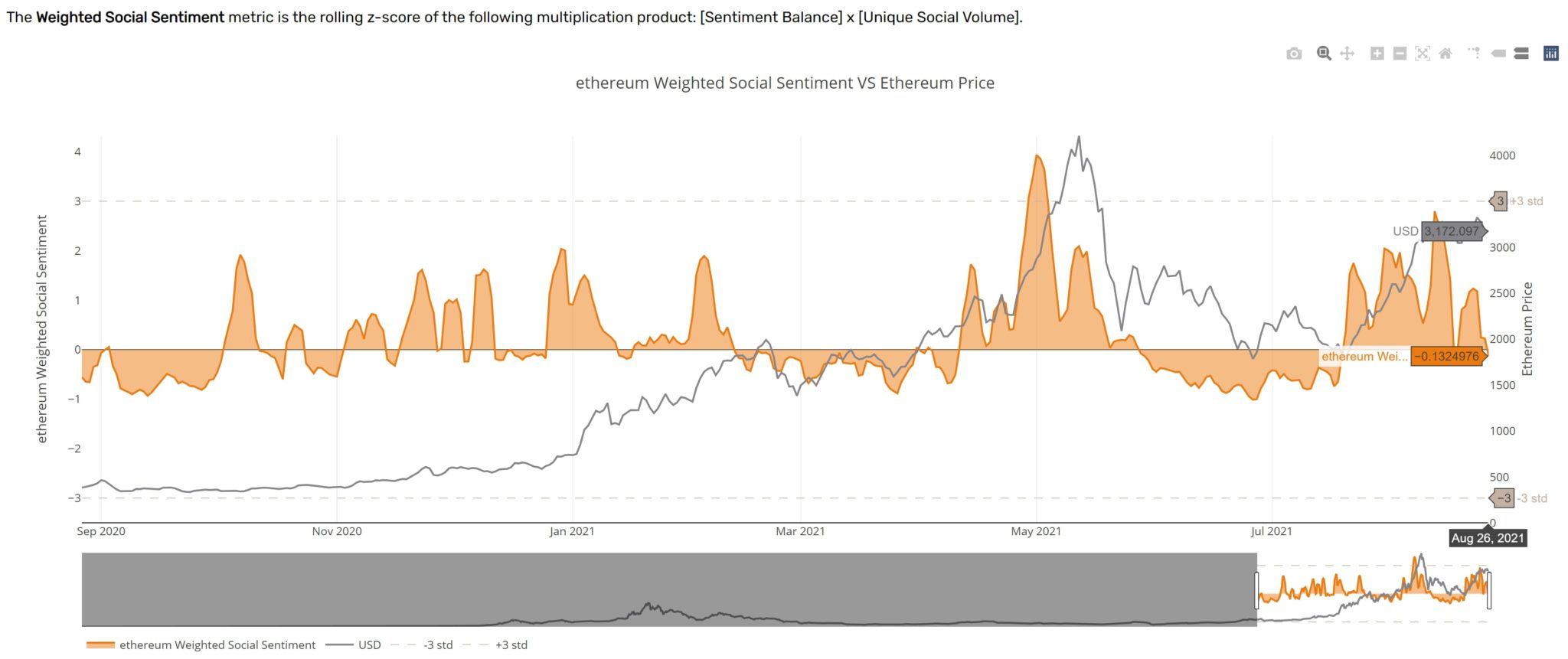 As per the latest charts compiled by the crypto-analytic platform Santiment, Etheruem's weighted social sentiment signalled a sentiment that the crowd has finally aligned towards a negative territory as opposed to the historical averages after a fairly extensive 4-week stretch of Twitter being euphoric.
The analysis noted that an extended dive towards negative territory would be a positive sign that could indicate a potential bottoming of price and the formation of firm support. Hence, this could also serve as a good dip-buying opportunity for the ETH buyers for a subsequent price run-up.
Ethereum vs Other Alts – which one's more risky to hold?
One of the most-anticipated upgrades has been the London hard fork on the Ethereum blockchain. While this gave the entire ETH ecosystem a much-needed push with respect to price and social sentiment, the crypto-asset's trajectory has been "relatively boring compared to the altcoin boom," according to Santiment.
As a matter of fact, several layer one tokens have outpaced the altcoin leader. To top that, one of its biggest rival, Cardano has posted three-digit over the past 30 days. ETH, on the other hand, has posted a modest 41% surge around the same time. But there's more to this. Despite monstrous upswings that Cardano and other crypto-asset witnessed, ETH is far less risky to hold at the present. Santiment noted,
"ETH is less of a risk to hold now compared to something like Cardano or other assets that have been absolutely roaring in the month of August."


To conclude, a short-term pullback seems inevitable but increasing buying opportunity at a crucial support point can do the damage control.