Bitcoin hash rate has seen an incredible rise of more than 93% and is about to reach its ATH in 180EH/s. It's a considerable rise after the hash rate fell by over 50% in May and can result in many opportunities in the market. There are many reasons behind the fall and rise of hash rate that changes the situation for both miners and traders.
According to the latest analysis by Glassnode, the Bitcoin hash rate is currently at 172EH/s. The analysis is posted on Twitter saying:
"#Bitcoin hashrate has almost completely recovered, sitting only 4% below the ATH (7-day moving average basis). Network hashrate fell by over 50% in May following China's ban on #Bitcoin mining. Hashrate has since climbed by 93% from the lows, hitting 172 Exahash/s today."
As mentioned in the tweet, the ban on crypto mining in China that was announced in May had a considerable effect on the status of the Bitcoin hash rate. The hash rate fell from an ATH of 180EH/s to 89EH/s. It was the lowest point for this metric in 2021. Everyone remembers the effect of that falling on the market. But it started to rise since then and climbed about 93%. Experts believe the hash rate can hit an ATH in the coming weeks. 
Bitcoin hash rate is a metric for calculating the amount of processing power in the Bitcoin network. In simple terms, it means more miners are contributing the computing power to keep the network up and running. This metric fluctuates every day. Analysts can't calculate it accurately and just look at the recent market activity to estimate the current hash rate. Anyhow, it's very important for miners and traders.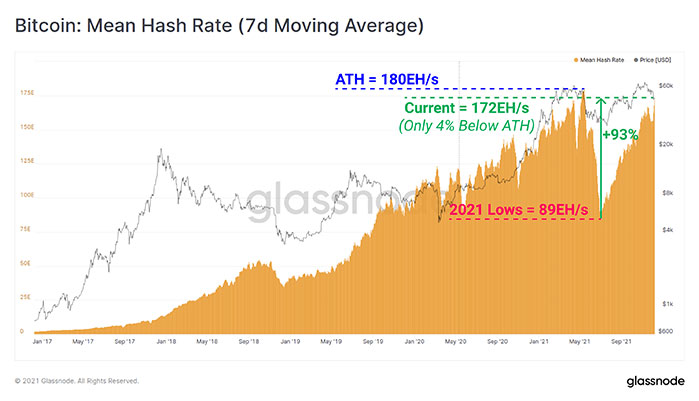 Hash rate is also a metric in the specs of miners. It shows their power to mine Bitcoin and simply their chance to find new blocks. Individual miners calculate and follow the hash rate metric to predict their profitability. Changes that happen to hash rate metric is the result of many factors like new machines being added to the network, miners becoming more powerful, and many more things.
The recent rise in the hash rate chart shows recovery after many Bitcoin miners were shut down in China. It means new miners are joining the network, and it's becoming more decentralized. Besides, the speed of the network increases as more people are contributing to the computing power. After all, the rising hash rate and rising BTC price are somehow related. There are many debates around it, but there are some domino effects between these two metrics.
So, we can expect a price rise for BTC because of the considerable rise and possible new ATHs in the hash rate chart.