DocuSign, the San Francisco-based electronic signature technology and digital transaction management Services Company, has finally launched its trailblazing new service that integrates the Ethereum distributed ledger technology.
The company which has been known to be working on a blockchain integration since 2015 announced on Monday, October 15th that in its fall 2018 products release, its customer base will have the option of recording proof of signature to the blockchain directly.
This option will enable the feature of blockchains that makes it attractive to companies which is immutability of records. DocuSign currently has more than 400,000 paying customers who are poised to benefit from this integration.
The company currently allows only one way of verifying signatures but with the Ethereum (ETH) integration, customers will now have an additional method that is censorship resistant and accessible anytime from anywhere by anyone.
Announcing this new feature through a press release, Ron Hirson, the chief product officer at DocuSign wrote that,
"For customers that opt-in, DocuSign will compute a one-way cryptographic hash fingerprint for every completed transaction, and write the value to the Ethereum blockchain — the most popular blockchain for smart contracts in our view."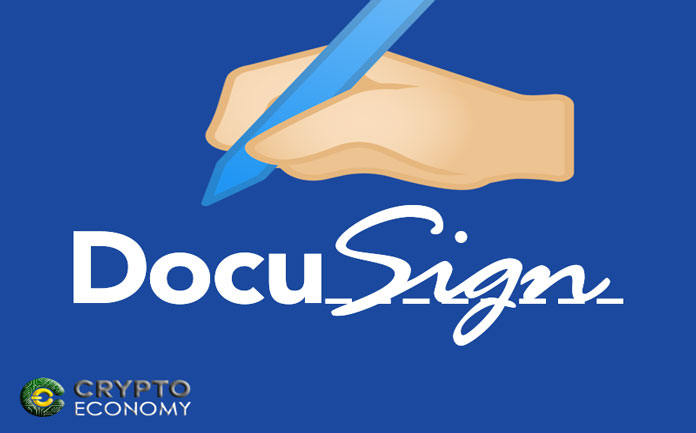 He went into finer details about the functionality of the proposed system saying this about the hash function of the blockchain:
"the hash [function] will act as 'tamper-proof evidence for the transaction' which will 'enable any completed document to be validated independently. And by using the Ethereum blockchain, that third party evidence for a transaction is accessible to anyone.'"
In a blog post on the company's official website, the company wrote that customers who opt to use the blockchain integration feature will have access to the decentralized ecosystem through the 'Manage' option on the product menu both on their website and mobile applications.
The post read "also in 'Manage,' for customers who want a blockchain as part of their System of Agreement, we have a pre-built integration with the Ethereum blockchain, the most popular blockchain for smart contracts."
The integration will be seamless that non-technical users will not be able to notice that they are using the blockchain.
In a previously related development, DocuSign partnered with Visa to launch one of the first public prototypes of a blockchain-based smart contract. This was possible through the Ethereum Enterprise Alliance (EEA) to which both of these companies belong.