Three years down the line and Ethereum's main use is facilitating token trading. This conclusion is based on the recent report released by California-based cryptocurrency trading platform, SFOX which analyzed Ethereum's public dataset of the leading smart contracts on the platform.
SFOX found out that the top 10 smart contracts by transaction volume are mainly comprised of both decentralized and centralized exchanges and ICOs.
The leading smart contract is EtherDelta's smart contract for trading ERC-20 and ERC-721 tokens. EtherDelta is a decentralized cryptocurrency exchange that allows its users to trade tokens. Registering a trading volume of 10,354,398 transactions as of September 24th, 2018 it is the smart contract with the most transactions. Following closely is IDex decentralized cryptocurrency exchange registering 4,590,376 transactions. Combined, the two leading smart contracts have close to 15 million transactions.
Decentralized exchanges allow their users to trade cryptocurrencies without involving a trusted third party. Users can use their private keys to access the platform and perform transactions. Centralized exchanges made significant contributions as well to the Ethereum transactions count.
On the top ten list, there were three smart contracts from two centralized exchanges, namely Bittrex and Poloniex. Poloniex's smart contract is ranked 6th with 1,720,771 transactions while two of Bittrex's smart contracts ranked at 7th and 8th positions with 1,527,197 and 1,501,350 transactions.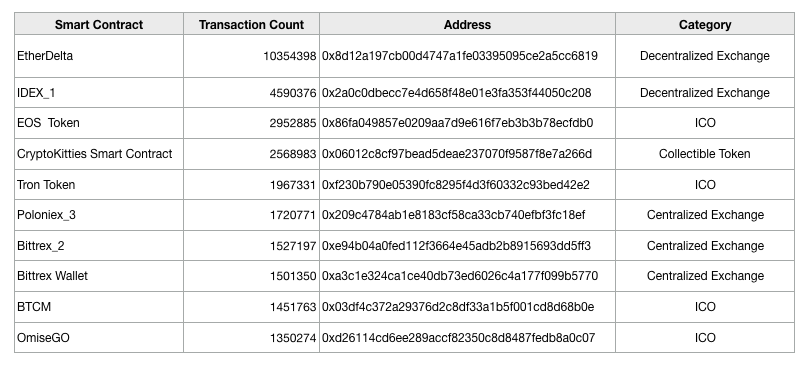 ICOs also contributed significant transactions volume with EOS, Tron, Bitcoinereum, and OmiseGo smart contracts making it to the top ten. Leading this category is EOS's smart contract which came in 3rd overall with 2,952,885 transactions. Tron came in next after EOS and 5th overall with 1.967,331 transactions. Bitcoinereum at 9th place registered 1,451,763 transactions while OmiseGo closed the top ten with 1,350,274 transactions.
The last category represented on this list was the collectibles or non-fungible tokens. CryptoKitties, a viral ERC-721 compliant game allows its users to trade, collect and breed virtual cats. CryptoKitties smart contract came in a 4th place with 2,568,983 transactions making it the most popular decentralized application on the Ethereum platform.
According to these findings, SFOX researchers concluded that:
"usage of Ethereum smart contracts remains typically constricted to exchanging ether, Ethereum-based tokens on exchanges, and creating ERC-20 and ERC-721 tokens."