Ethererum [ETH], the world's largest altcoin, has breached the highly coveted $2,000 after posting five green daily candles on the chart, a trend that was last seen in the first week of January.
After rallying by almost 30% in the past week, Ethereum climbed a new all-time high of over $2,080 according to CoinMarketCap's latest stats. It raked gains of more than 8% in the last 24-hours alone.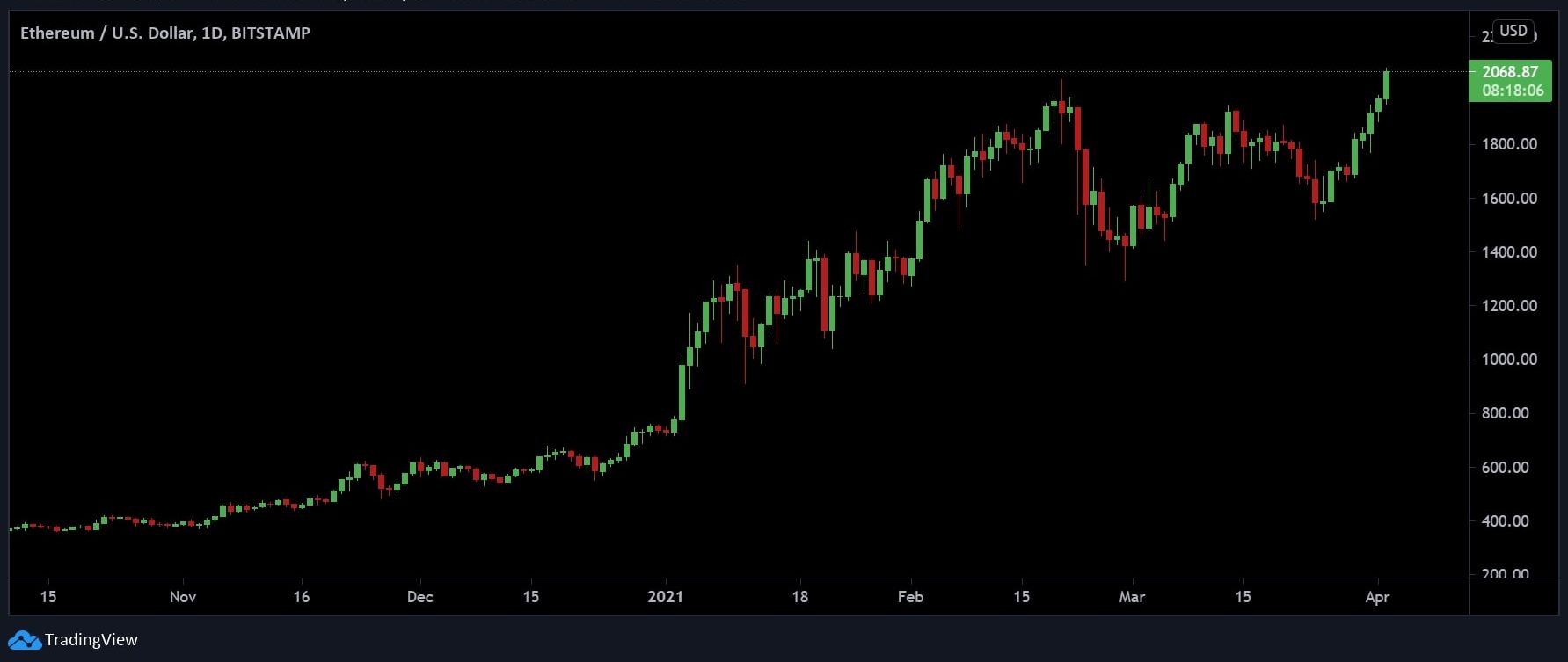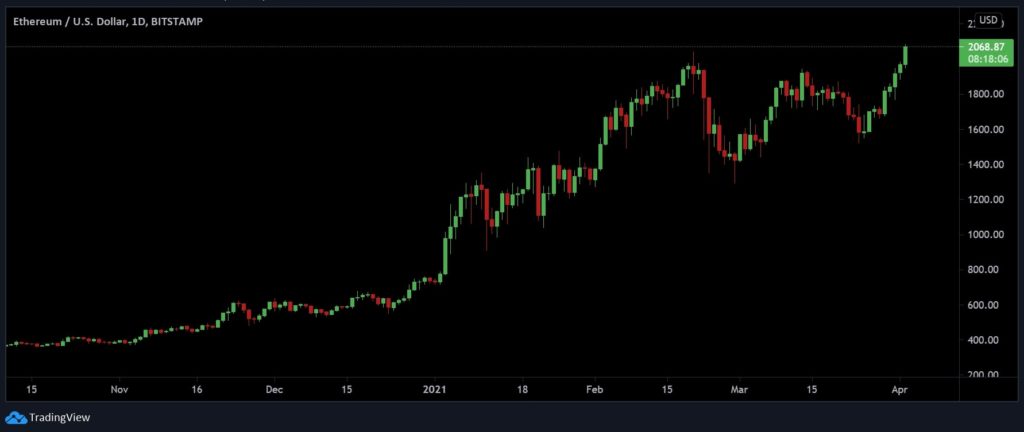 Ethereum first breached above the $2,000 mark was back in February. Following the pullback in the last week of the month, the crypto-asset tested a $1,400 support area before recovering and subsequently entering a consolidation mode.
The continued uptrend was also accompanied by on-chain metrics which flipped positive and strengthened considerably over the course of last month. The week-long positive trend started after ETH cracked the resistance level of $1,933 and this trend steadily changed in favor of the bulls which aided its ATH climb.
The price of Ethereum has nearly tripled this year. It was not just Bitcoin that saw significant mainstream adoption. The second-largest crypto-asset has quickly become the second preferred asset for the institutions that have poured a substantial amount of capital into its market.
What boosted Ethereum's Price Action?
Ethereum had a successful first quarter when the bull season was at its peak. During the same time, the expansive decentralized finance [DeFi] industry also surged to new heights thus catapulting the price of the token along with the market-wide rally.
The second quarter had been relatively less successful as ETH faced stiff competition from proof-of-stake platforms that are more efficient and cheaper. Blockchain such as Cardano, Polkadot, and Solana did eclipse the giant which impeded its growth.
However, the altcoin establishing a peak comes days after payment giant Visa's decision to facilitate crypto-based settlements on the Ethereum blockchain network. This is what popular cryptocurrency investor Ryan Sean Adams had to say about the development that stirred the ETH pot:
"Visa just announced they're using Ethereum as a settlement layer. Ethereum. ETHEREUM. Visa will be paying ETH holders to use the network. Lol, this is so bullish for ETH and this market is still too dumb to understand it. ETH under $2000 is hilarious."
It was not just the spot markets that saw the resumption of a broader uptrend in the Ethereum market. On the derivatives side as well, the options market appeared to be betting big on the second-largest cryptocurrency.
#ETH I disagree with the Term Structure.
I think all the vol risk is in the short-term options here…
We could be like $2,200 by tomorrow pic.twitter.com/ypYvUyMH6i

— GenesisVolatility (@GenesisVol) April 1, 2021
Meanwhile, Bitcoin, on the other hand, has failed to garner bullish momentum and was trading below $60K. It is important to note that, historically, ETH has outperformed BTC every May till date.
---