The Ethereum price is back in green but still held within a broader $300 range with caps at $2k. The last few days' price gains are at on bullish fundamentals, specifically the increasing utility of the Ethereum network regardless of current impediments.
Unlike competing, co-called "Ethereum killers," Ethereum remains the second most valuable smart contracting platform, relentlessly being built and expanding with more dApps running on its base layer than competitors.
For what Ethereum stands for, it is one of the most widely adopted layers whose growth directly pumps its native currency, ETH.
The Visa Confirmation
Accordingly, Ethereum proponents are pumped, confident of upcoming price gains on the ETH pair in the medium term.
Specifically, the eventual confirmation from the world's leading payment processor, Visa, is a shot in the arm, cementing its position as a leader in the space.
In partnership with Crypto.com and Anchorage, a crypto bank, Visa will be settling USDC transactions on-chain. Critics may be worried about high fees, but Visa would by-pass this by batching transactions on a block and therefore mitigating on-chain costs.
From this, Visa's Chief Product Officer Jack Forestell said it marks a milestone in their ability to address the need of Fintechs managing their businesses in stablecoin. Besides, it would be an extension of what they do daily—securing payments.
PayPal to Support ETH Checkout Service
Meanwhile, PayPal now supports the payment of, among other cryptocurrencies, ETH, as per a statement on Mar 30. The crypto checkout service will allow U.S. citizens to pay for goods or services in any of their over 60 million merchants.
Ethereum Price Analysis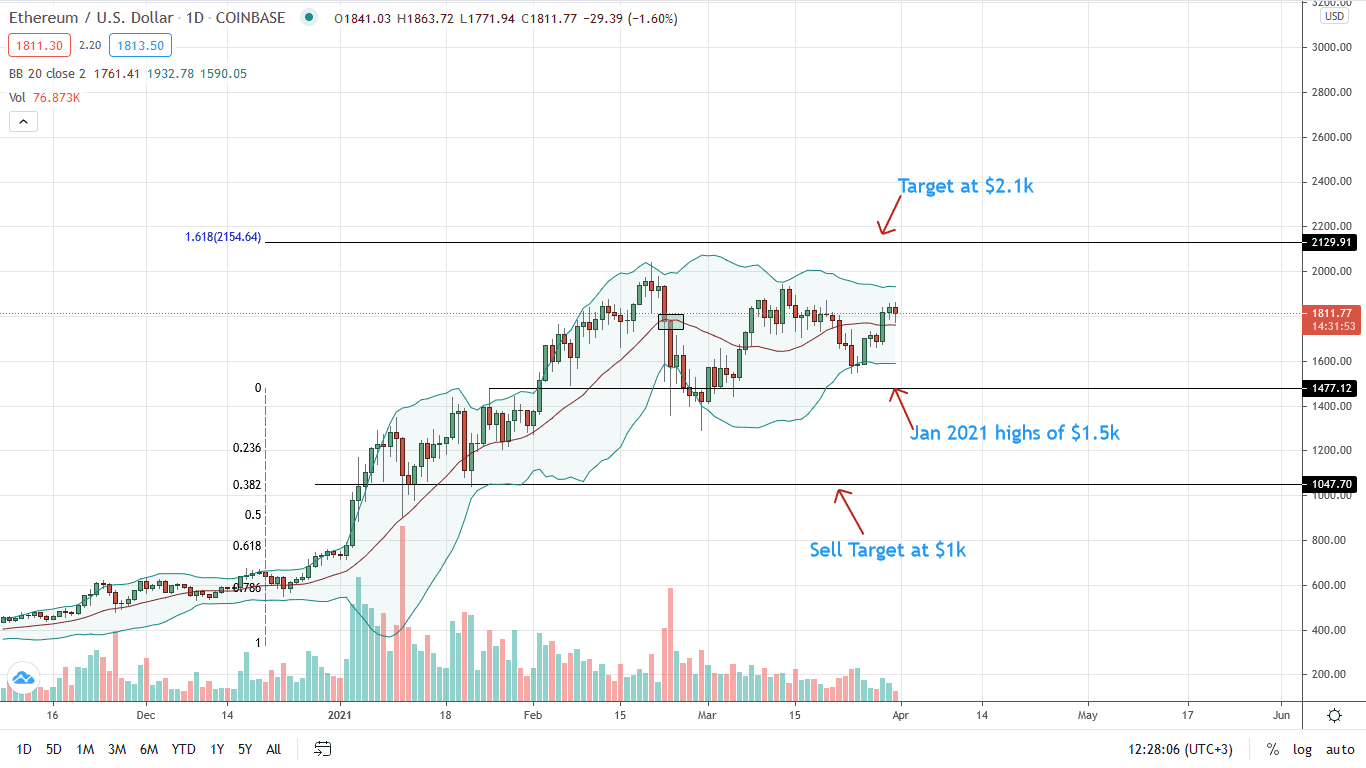 The ETH price is up a massive eight percent, week-to-date as bulls flow back on supportive fundamentals. Although bullish, ETH prices are still held within a larger $300 range with caps at $2k and $1.7k.
From price movements on the daily chart, aggressive traders can buy the dips with targets at $2k in the immediate term. Notably, in the current wave of higher highs, there has been a confirmation of the three-bar bullish reversal pattern of Mar 24-26.
Even still, volumes are relatively low but within range as ETH/USD oscillates within the grasp of late Feb 2021 bears.
As we advance, the path of least resistance will be defined by how prices react at $2k—a round number. A close above this mark opens ETH price to a new all-time high above $2.1k in the medium term.
Chart Courtesy of Trading View
Disclosure: Opinions Expressed Are Not Investment Advice. Do Your Research.
---
If you found this article interesting, here you can find more Ethereum News