Ethereum Classic (ETC) has seen a meteoric rise in the price chart, gaining more than 50% in the last week. This enormous rise can be attributed to a number of factors. Despite the fact that the market has had some positive days in the recent week, the big climb of ETC in price charts has drawn a lot of attention to this coin.
Are there any migrations taking place?
The new increase represents ETC's first and most significant, continuous increase since June 2021. In fact, The impact of last May's fall was so great that the cryptocurrency was unable to recoup its losses.
Unlike the majority of cryptocurrencies, which recovered and achieved new all-time highs in November, Ethereum Classic continued to fall. Green candles have always been followed by red candles, with ETC consolidating over most of the last few months.
That changed this week, with the coin rising from $25.31 on March 14 to $40.91 on March 20. It is presently trading at $38.68.
Ethereum Classic is, in fact, the original Ethereum. The smart contract was compromised in 2016, shortly after the DAO's launch, resulting in the loss of a large number of tokens. As a result, the Ethereum community decided to perform a hard fork in order to reverse the blockchain story at the time of the attack in order to restore investor assets.
However, a segment of the community that valued the immutability of the blockchain disagreed with the decision, and as a result, the outdated blockchain, later called Ethereum Classic, is still in use.
Why is Ethereum Classic going up?
Surprisingly, the primary reason behind the most recent ETC value surge was not the coin itself but rather the use of Ethereum as a substitute.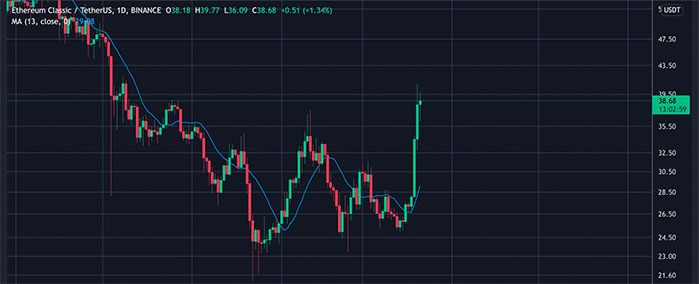 The Ethereum Foundation announced on March 14 that the Kiln testnet had been launched to verify the final milestones for combining the Ethereum 1.0 and 2.0 blockchains.
On March 15, a number of node managers and independent developers stated that they had successfully completed a Kiln consolidation check, marking an important step forward in Ethereum's transition to PoS. It could be bad news for Ethereum PoW miners, who may shift to ETC pools.
From the aforementioned arguments, it is clear that Ethereum Classic's recent development is insecure, owing to a large part of it being a short-term reaction to Ethereum's achievement check of transitioning to Proof-of-Stake.
Many miners are considering transferring their computers from Ethereum pools to Ethereum Classic. Because of the rising demand, it may result in greater price spikes for ETC. However, many analysts believe Ethereum will continue to grow in popularity, and there will be many more reasons for its strong demand. In any case, the Ethereum ecosystem may undergo significant changes as a result of the move to Ethereum 2.0.