Ethereum and crypto prices are currently fragile. Like other assets, ETH is down double digits, sinking below $3k and retesting critical support levels. ETHUSDT is at a precarious position at spot levels and risks plunging, throwing the market into disarray.
Amid dicey price action, Vitalik Buterin, the Ethereum co-founder, is positive that the crypto dump is precisely what's needed. Historically, Vitalik favors technology more than price action and project valuation.
Typical of crypto, the fast-paced nature of tokens and the rise of alternative investments such as NFTs have brought about a wind of exuberance. The resulting splash has seen users pour millions on projects, artificially inflating prices. Therefore, in Vitalik's view, if a crypto winter descends on the sphere, it would rid it of speculative projects and bring back sanity.
In an interview, he said:
"The people who are deep into crypto, and especially building things, a lot of them welcome a bear market. They welcome the bear market because when there are these long periods of prices moving up by huge amounts like it does — it does obviously make many people happy — but it does also tend to invite a lot of very short-term speculative attention."
Ethereum Price Analysis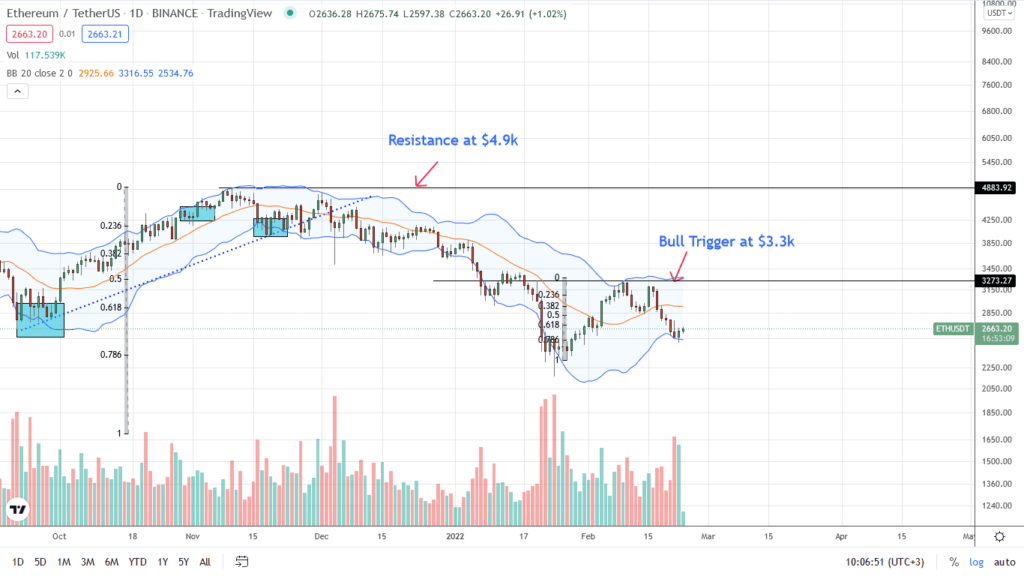 The Ethereum price is back in red after encouraging events in the first half of February. Despite initial confidence that the tide was turning for ETH, losses of early this week have pinned down bulls, reversing gains and swinging price action to favor sellers.
From the ETHUSDT daily chart, bears are in control. Although there are attempts of higher highs, sellers can unload on pullbacks below $2.8k, with the immediate target at $2.3k in the short term, confirming the primary bear trend traced to early December 2021. Notably, the reversal of February 4 gains following sharp losses from the double-top at around $3.3k is a solid endorsement of bears–dashing bulls' hopes.
Still, an unexpected revival from spot rates for a close above $2.8k with increasing trading volumes might offer a reprieve for bulls, thrusting ETH prices to $3.3k in the medium term.
Technical charts courtesy of Trading View
Disclaimer: Opinions expressed are not investment advice. Do your research.
---
If you found this article interesting, here you can find more Ethereum News