The Ethereum price is fluctuating in a tight range, reading from details in the daily chart. Thus far, after posting losses on January 3, the recovery on January 4 is a shot in the arm for bullish traders expecting more in the days to come.
Ethereum Price Shaky
There were concerns that ETH/USDT prices could sink following the bearish engulfing bar of January 3. Fears are on various developments, including talk of Ethereum being overextended. Even so, the sharp recovery on January 4 cements bulls' conviction that the coin could be ready for even more gains in the days and weeks to come.
Fundamentally, Ethereum is actively being developed with support from established technology companies. As the choice platform for launching NFTs and DeFi projects and with even more development to improve throughput via Layer-2 solutions, Ethereum is drawing high-profile partners. In NFTs alone, Visa is interested and acquired items, while Adidas has an NFT metaverse on Ethereum.
ETH to be Ultrasound Money
Factoring in the operations of the EIP-1559, proponents expect a supply shock that will see ETH scarcity rise. In return, this would boost ETH's valuation, shaking off fears of weakness as experienced in late December 2021. Thus far, the ETH burn rate is high, and millions of ETH have thus far been sent to irrecoverable addresses, massively boosting the coin's valuation. More are even confident that Ethereum would replace BTC as ultra-sound money going at the pace at which ETH coins are being pulled from circulation. Once the burning rate surpasses minting, ETH would officially be scarcer than BTC.
Ethereum Price Analysis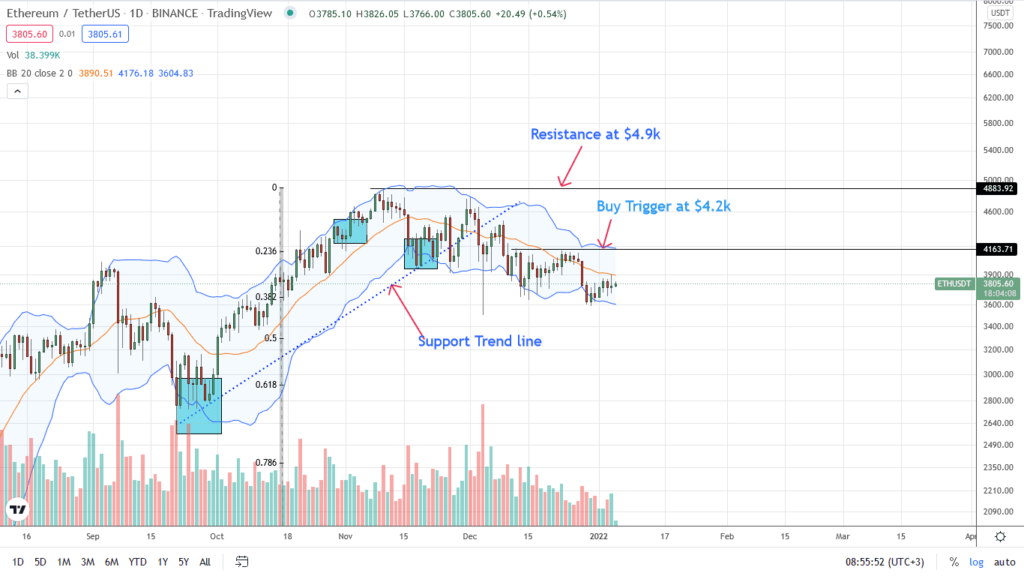 From the development in the daily chart, ETH prices are in a tight trade range. The primary support is around $3.6k, which flashes with the December 4 bear candlestick. The high-volume bear bar still defines the current ETHUSDT price action.
Therefore, despite attempts, the bulls would only pull away from the hands of bears, changing the fortune for ETH holders once there is a decisive close above $4.2k. Ideally, the surge should have high trading volumes and the breakout bar wide range.
Even so, as long as $3.6k holds and bulls take charge, breaking above $3.9k, aggressive ETH traders can load the dips, targeting $4.2k. On the flip side, losses below $3.6k may see ETH tumble to $2.7k—which marks September 2021 lows—in a bear trend continuation confirming losses of December 4.
Technical charts courtesy of Trading View
Disclaimer: Opinions expressed are not investment advice. Do your research.
---
If you found this article interesting, here you can find more Ethereum News