Ethereum prices appear capped at spot rates. However, from the daily chart, ETH has been making a series of higher highs relative to the upper BB–a bullish signal.
The rejection of lower prices on March 15 was another endorsement of the coin's prospect and possibly a base for another leg up towards $2.5k or better in the days to come.
Based on the Ethereum candlestick arrangement, prices appear to be suppressed, but this could quickly change if $2.3k holds strong, acting as a springboard for a close above $2.8k in the days ahead.
Notably, ETH prices are within a descending triangle with visible levels defined by resistance and support trend lines connecting crucial reaction levels of the past three months.
Ethereum as a Store-of-Value Asset
From a fundamental angle, the disarray in Eastern Europe has been disruptive. It could explain the rise of some commodity prices.
These effects have had a ripple effect on the real economy, impacting crypto and investors' interpretation of digital assets. The U.S. FED plans to hike interest rates gradually in 2022.
Even so, considering the destabilization in Ukraine, Jerome Powell of the FED recommends gradually raising interest rates as the central bank delicately balances taming inflation and priming the U.S. economy. Amid this development, Ethereum is emerging as an option for savvy investors.
In the coming months, and factoring in the high burning rate due to EIP-1559, the coin is gradually becoming a store of value asset—ultrasound money. This is positive for ETH investors and would support prices in the long haul.
Ethereum Price Analysis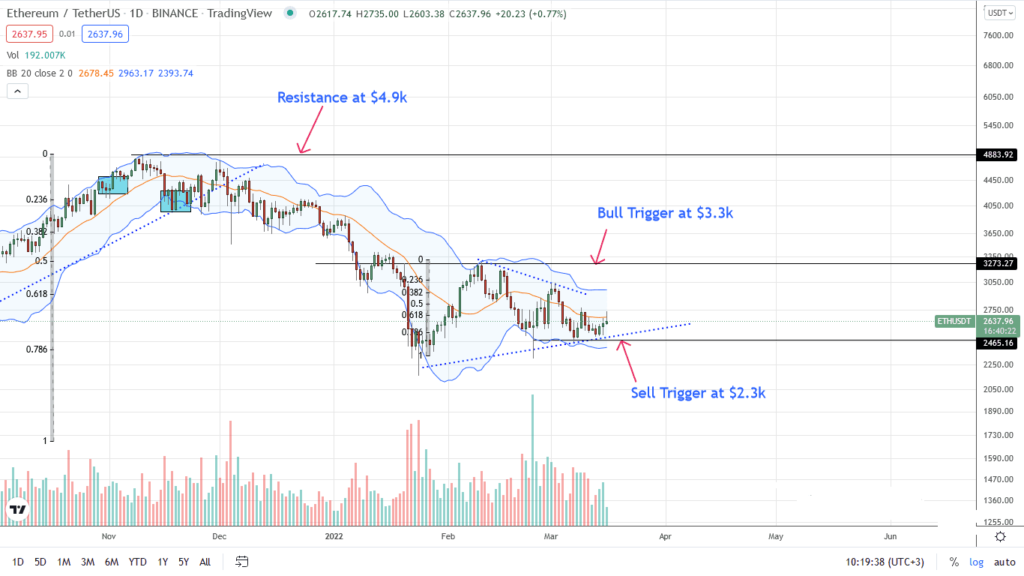 The bounce from the support trend line is a net positive for ETH in the medium term.
Notably, the recovery has relatively high trading volumes resulting in a double bar bullish formation, signaling strength. Based on this formation, aggressive ETH traders can double down on dips above $2.3k, with immediate targets at $2.8k.
Meanwhile, risk-averse traders may wait for more robust recoveries and confirm yesterday's gains above $2.8k before loading, targeting $3k in a bullish continuation pattern. If prices fail to build on March 15 gains, a sell-off below $2.3k unwinding gains may see the coin drop to $2.1k in the medium term, pouring cold water on the current preview.
Technical charts courtesy of Trading View
Disclaimer: Opinions expressed are not investment advice. Do your research.
---
If you found this article interesting, here you can find more Ethereum News