Ethereum.org has declared that the terms ETH 1.0 and ETH 2.0 will no longer be used in their documentation and platforms. This choice was made for a variety of reasons. Ethereum is a protocol that is constantly evolving.
Various teams are working to improve security and decentralization while scaling the protocol to suit global demand. Aside from protocol development, a significant transition in Ethereum has been the abandonment of the terms "Eth1" and "Eth2." Core developers ceased using the terms in late 2021, instead opting for 'execution layer' and 'consensus layer,' respectively. Now, ethereum.org makes the same move, as stated in the Q1 roadmap. Eth1 will be known as the "execution layer," while Eth2 will be known as the "consensus layer." Furthermore, the combination execution and consensus layers are now referred to as "Ethereum."
Ethereum has always had intentions to scale the network in a decentralized manner and transition to proof-of-stake as part of its roadmap. Researchers worked on these projects individually at first, but they were eventually merged into a single roadmap under the "Ethereum 2.0" banner in 2018.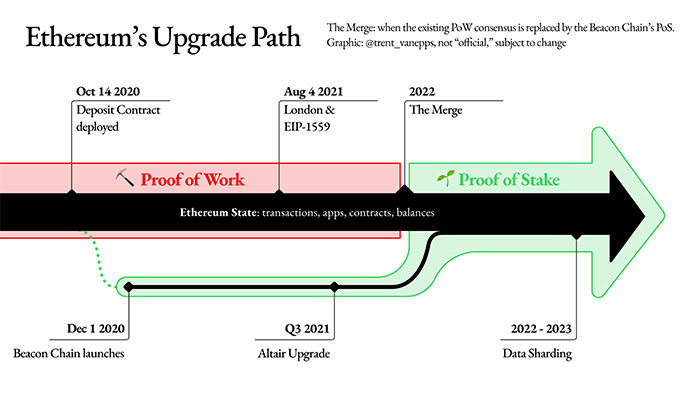 One of the biggest issues with the Eth2 branding was that it generated a faulty mental model for novice Ethereum users. They believe that Eth1 comes first and Eth2 comes second. Or that once Eth2 exists, Eth1 vanishes. Neither of these statements is correct. The new terminology edit prevents all future users from having to navigate this perplexing mental model by deleting Eth2 nomenclature. Furthermore, Ethereum 2.0 has become an inaccurate portrayal of Ethereum's plan as the roadmap has evolved. The use of cautious and precise wording allows material on Ethereum to be comprehended by the widest potential audience.
Ethereum.org says about the next steps of these changes in terminology:
"To many, ethereum.org is seen as a credible source of information maintained by our community. Understandably, many didn't want to shift away from Eth2 terminology until ethereum.org did. We hope that our changes will encourage others to move away from the outdated Eth2 terminology. We hope this updated terminology will bring clarity to eliminate this scam vector and help make the ecosystem safer."
Another crucial factor in this decision is to avoid becoming a victim of fraud. Malicious actors have attempted to deceive consumers by convincing them that they must exchange their ETH for 'ETH2' tokens or that they must move their ETH before the Eth2 upgrade. Furthermore, some staking operators have used the 'ETH2' ticker to represent ETH staked on the Beacon Chain. Because customers of these services do not receive an 'ETH2' token, this could cause some misunderstanding. There is no such thing as an 'ETH2' token; it just symbolizes their part of the stake held by that specific provider.