2022 did not start on a bullish note for the crypto market, including Ethereum [ETH] which lost significant ground throughout January.
Ethereum's uptrend hints were invalidated after a rejection near the $3,350 resistance level. This essentially demonstrates the presence of sellers who are selling into local tops. If the global markets recover and European and US futures manage to register gains, this could pave the way for a market reversal for the crypto market as well which could boost from a spillover effect since it is currently hovering near multi-month lows.
In such a scenario, Ethereum will be able to attract more buyers after a prolonged period of downtrend since mid-November 2021.
After undergoing fresh losses of almost 4% over the past 24-hours, Ether dropped to $3,001. At the time of writing, the world's largest altcoin stood at a market cap of $358.1 billion and a 24-hour trading volume of $11.23 billion.
Death Cross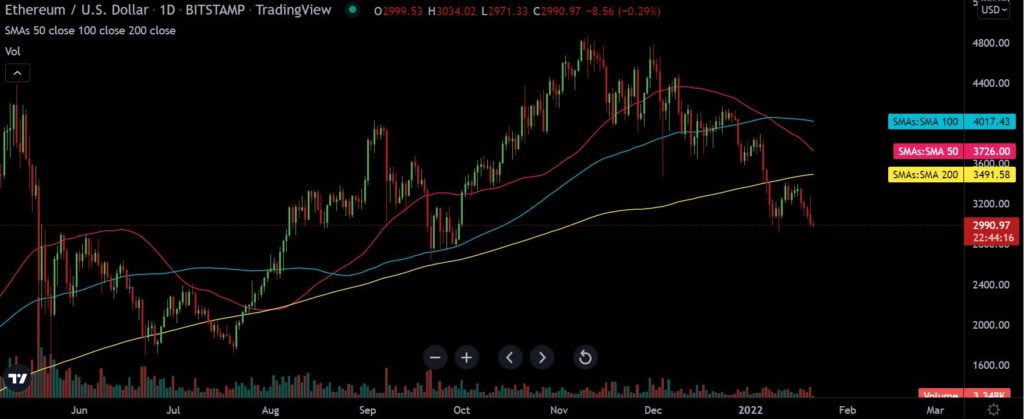 Ethereum's daily picture depicted a potential death cross in the near future with the converging 50 SMA [Pink] and the 200 SMA [Yellow]. Meaning, the price is expected to continue facing bearish conditions and will meet resistance every time it spikes into the simple moving averages.
The low volatility and trading volume in the chart were indicative of an extended period of consolidation.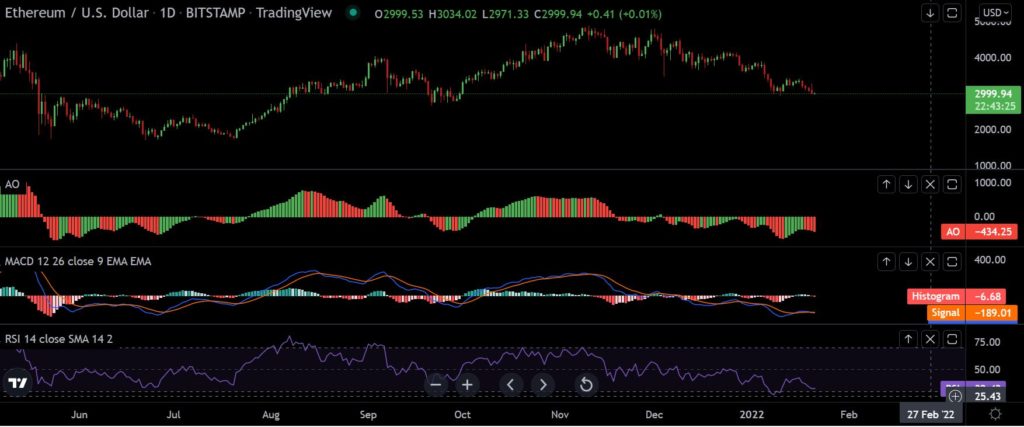 The sentiment switched to bearish momentum as depicted by the red candles of Awesome Oscillator [AO]. The MACD also aligned with the bears after a brief respite. In tandem with the price action, the Relative Strength Index [RSI] headed for the oversold territory after bouncing from it at beginning of the year.
Saving Grace for Ethereum?
Ethereum's main bone of contention has been its high fee structure. However, crypto-analytic platform IntoTheBlock noted that the transaction count of the network has been increasingly losing its correlation with the price action of Ether.
This essentially means that the smart contract platform network and its native crypto are now being utilized regardless of where the price is headed, instead indicating the increasing demand.
Contrastingly, during the 2018 market crash, the fees dropped along with Ethereum's price. ITB's tweet regarding the same read,
"The number of ETH holders continues to grow as it reached 68.34 million addresses, a new all-time high. While the price of Ethereum is still below the ATH, the number of transactions remains near its highs with an increasing number of holders, reflecting the increasing demand."