For Ethereum traders, it has been a depressing few weeks and a discouraging start of the year. While the crypto January barometer read red, there are hints of strength reading from the development in the daily chart.
Noteworthy is the formation of the green bull bar marked with high trading volumes to signal the presence of buyers after days of lower lows. Importantly for ETHUSDT traders, traders are upbeat, arresting the drawdown and re-injecting momentum in the otherwise drab market.
The Ethereum Transition
Thus far, the bull bar of January 11 may indicate how the short-term trend would pan out. However, ETH is green in the long term, backed by solid fundamentals.
The development team is waiting patiently for the transition to proof-of-stake with the merger expected this year. The upgrade would see Ethereum switch off the Proof-of-Work machine for validators who have cumulatively locked away over $29 billion of ETH in the official Eth2 staking address.
Developers are also confident that with the activation of Eth2, Ethereum would scale more quickly, tapping on the encouraging efforts of Layer-2 platforms. Arbitrum continues to lead as an all-purpose Rollups-based layer-2 solution with others like DyDX easing DeFi-related Gas fees.
Ethereum Will Still be King
Therefore, for the current role played by Ethereum and what lies ahead, Joey Krug of Pantera Capital is positive that the pioneer smart contracting network, despite the proliferation of other layer-1 blockchains, would still be dominant in the next few years. While Ethereum processed over $1 trillion in value in 2021, most transactions would still be done on the layer-1 ledger in a decade or two.
Ethereum Price Analysis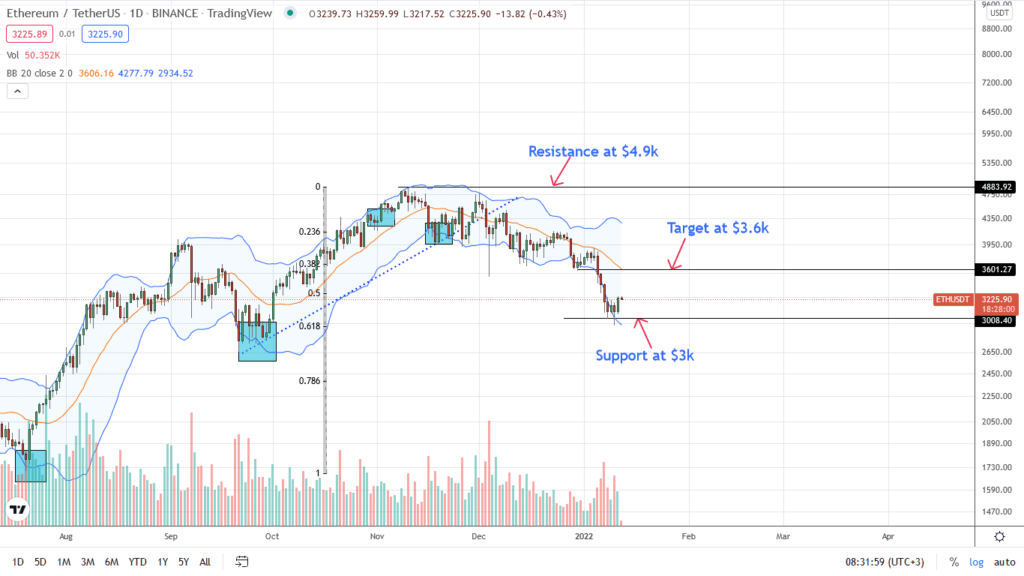 The Ethereum price is up roughly 10 percent from January 2022 lows, bouncing from $3k. From the development in the daily chart, ETH is outperforming the USDT, expanding with rising trading volumes indicating participation.
Although ETHUSDT is technical within a bear breakout pattern, trending below the middle BB, the rejection of bears at around the 61.8 percent Fibonacci retracement level of the H2 2021 trade range with expanding participation is positive for ETH traders.
Accordingly, aggressive traders may find entries to load the dips, aligning with the bullish engulfing pattern of January 11, targeting $3.5k in the short term.
Technical charts courtesy of Trading View
Disclaimer: Opinions expressed are not investment advice. Do your research.
---
If you found this article interesting, here you can find more Ethereum News