After a phenomenal ride, the world's two largest cryptocurrency assets have a long way to go. According to Bloomberg Intelligence analyst Mike McGlone's predictions, Bitcoin [BTC] and Etheruem [ETH] will again establish new highs.
The cryptocurrency market has has a rough start as the collective market cap dropped below $2 trillion. Bitcoin was trading at $41,681 while Ethereum was found to be exchanging hands at $3,172 after double-digit weekly dives. But McGlone is optimistic about the next leg up and fairly confident about the two market leaders hitting new highs. 
While asserting that both the cryptocurrencies have "solid bases to build on," McGlone stated that Bitcoin's price support exiting 2021 was at $30,000, while that of Ethereum stood at $2,000. According to the analyst, these support points appear solid. He expects the two to remain dominant and continue advancing this year as well.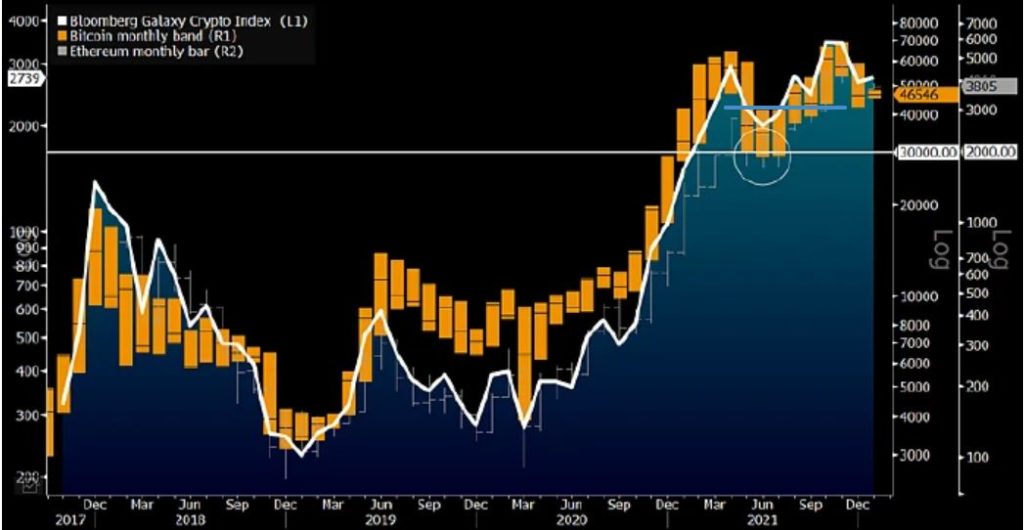 A damaging sell-off resulting in the testing of the aforestated support does not seem likely. However, he believes Bitcoin heading towards $100k and Ethereum climbing to $5,000 is "more probable." He said,
"A risk-off swoon like that of 2020 may put those key supports in play but is unlikely. What's more probable, we think, is Bitcoin heading toward $100,000 and Ethereum breaching $5,000 resistance. A key issue we see is the Federal Reserve, as it faces the greatest inflation in four decades, more inclined to raise interest rates if risk assets continue climbing."
Cryptocurrencies emerge as the riskiest and speculative asset class. Hence, if risk assets slumps, the analyst stated that it "helps the Fed's inflation fight." Subsequently, Bitcoin may rise as a "primary beneficiary" in that situation by transforming as a global reserve asset.
Bitcoin vs Stocks: Who will have the upper hand in 2022?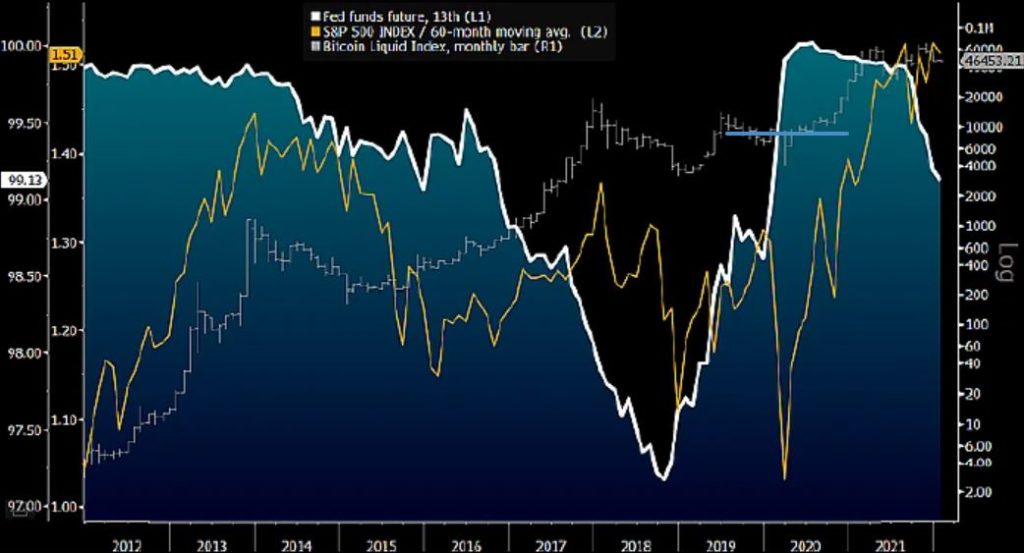 According to the Bloomberg analyst, the king coin will be likely to acquire the "upper hand" versus stocks in 2022. McGlone stated that expectations for the Fed. rate increase this year could back a "win-win scenario" for Bitcoin versus the stock market. And there is a greater chance for the former to ultimately gain an "upper hand." He also cited that Bitcoin's lack of supply elasticity and being in the nascent stage favors an upward bias for its price performance.
Additionally, the analyst also noted that Bitcoin may come out ahead after growth in bond and gold prices provided S&P 500 retreats and lays low for a while.