Ether (ETH) has most recently surged above $3,000 levels for the first time and reached a new All-Time-High (ATH) of $3,163 on Monday, according to CoinMarketCap.
According to the data available on CoinMarketCap, Ether (ETH) is 9.90% up in the last 24-hours. The Ethereum coin is now trading at $3,159 at the time of writing.
With altcoins moving upward, Bitcoin (BTC) is losing its dominance as the crypto market leader. According to the data available, the largest digital currency now accounts for about 47% of the total crypto market value of $2.3 trillion, down from roughly 70% at the start of the year. Number two-ranked ETH is up to 15% and a group of others outside the top few has doubled its share over the same period to 36%.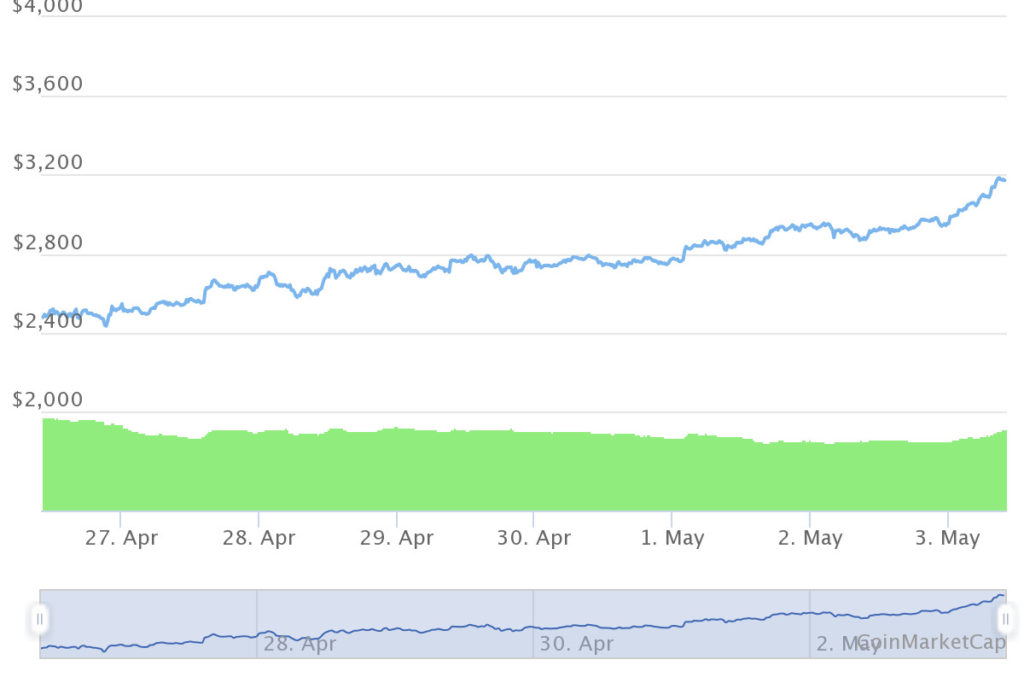 According to experts, it is not only Ethereum but other coins that are also drawing great interest. Ether (ETH), which breached $3,000 for the first time on Monday after quadrupling this year, has also broken away from the world's largest crypto asset. This is evident by the recently published Crypto Economy analysis report that shows that Bitcoin co-relation with Ethereum has plunged to 0.67%.
Bitcoin has witnessed a noticeable decline in its market dominance since the last week of March and has dropped to 48.7% at the time of writing. Bitcoin has yet to recover all the ground it lost after tumbling from a mid-April record of almost $64,863. According to CoinMarketCap, Bitcoin's (BTC) price is $58,734, equivalent to 18.44 Ethereum, at the time of writing.
This scenario suggests that crypto investors are also comfortable with other coins. With that, the crypto industry is growing. Ether is currently occupying the limelight. Ethereum has been surging for quite some time now. Ethereum has just completed its Berlin hard fork at a block height of 12,244,000 which is a crucial software upgrade for the blockchain network. The upgrade incorporates four optimizations aimed at gas efficiency and improved security.
Experts believe that the Berlin upgrade as well as the network's popularity for financial services and crypto collectibles called NFTs are among the factors cited for the rally.
Other cryptocurrencies of the market have also jumped too. The price of Binance Coin is up 3,469% over the past 12 months. Dogecoin now a social-media favorite touted by the likes of Elon Musk, has surged 15,000% to a market value of around $50 billion.
---
If you found this article interesting, here you can find more Ethereum News