Ethereum [ETH] has surged yet again even as the entire cryptocurrency market was trading sideways after Coinbase's big debut on Nasdaq.
The world's largest altcoin has now reached yet another peak all the way to $2,489. It rose by more than 6% over the past day. Ethereum recorded a market cap of $285 billion and a trading volume of $34.63 billion over the last 24-hours.
It has amassed a weekly gains of 21.65% alone.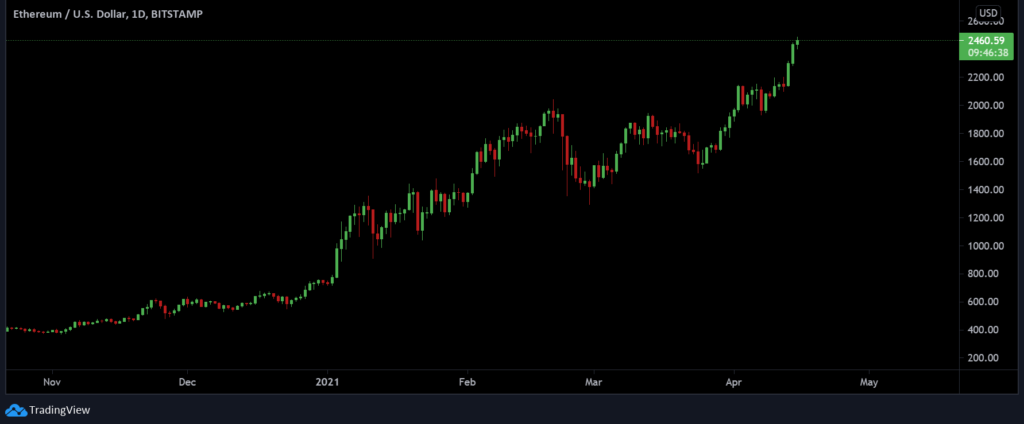 Ethereum has been surging for quite sometime now. It broke the consolidation trend in the first week of April as the market anticipated for the high-profile listing of cryptocurrency exchange, Coinbase on Nasdaq on the 14th of April.
However, there is yet another big reason for the persistent bullish momentum that has prompted the crypto-asset to march to unchartered level near $2.5K. The fresh uptrend was accompanied by the long-awaited Berlin hard fork going live.
Ethereum's [ETH] Berlin Hard Fork
Ethereum has just completed its Berlin hard fork at a block height of 12,244,000 which is a crucial software upgrade for the blockchain network. It involves the incorporation of four Ethereum Improvement Proposals [EIPs].
Following the are four proposals that were confirmed by the ETH community
EIP-2565: This proposal aims to alleviate the perrineal problem of high gas cost for modular exponentiation, which is also called the ModExp function.
EIP-2929: This proposal was put forward by Ethereum co-creator Vitalik Buterin and Martin Swende. This EIP, in fact, is increases gas costs, otherwise known as 'opcodes', in bid to ramp up processing times and limit denial-of-service [DoS] attacks.
EIP-2718: This proposal involves addition of a new transaction type that includes access lists.
EIP-2930: This objective of this EIP is to reduce the risk of broken smart contracts.
It is important to note that the Berlin hard fork does not include the controversial EIP-1559, which intends to bring down the overall supply of the crypto-asset.
In a nutshell, this software upgrade essentially signifies that old Ethereum clients will not be compatible with upgraded ones. This step is one of many on the important route to the coveted ETH 2.0, which is a giant leap from proof of work [PoW] to proof of stake [PoS].
Despite going live, developers and analysts across the world have reporting several unexpected issues with ETH nodes that are managed by the OpenEthereum [OE] client.
Previously known as Parity, OE is responsible for 12% of all nodes of the blockchain. Etherscan acknowledged the problem and It appears that there is a consensus error at block 12244294. And as far as we know it only affects Openethereum Nodes, the core devs are diagnosing the root cause.,
"It appears that there is a consensus error at block 12244294. And as far as we know it only affects Openethereum Nodes, the core devs are diagnosing the root cause."
---
If you found this article interesting, here you can find more Ethereum News