Dogecoin [DOGE] is back at it. As the week ended, the meme coin made a successful attempt to score some fresh gains after the recent crash even as the entire cryptocurrency market bled.
The popular joke currency was highly popularized by the CEO of Tesla and SpaceX, Elon Musk, and other high-profile celebrities such as Shark Tank investor Mark Cuban, Celebrity Chef Guy Fiere, among others.
Its price was speculated to have fizzled out soon after reaching its ATH this week. DOGE crumbled even more as selling pressure intensified across the charts as the week progressed but the market participants remained unfazed.
While Bitcoin remained stagnated below $50,000 followed by the altcoin troupe breaching several psychological support areas, it was Dogecoin that posted rapid recovery. It has been making large moves thanks to the massive hype in the market.
DOGE's market cap even spiked all the way to $50 billion as it briefly surpassed several blue-chip companies and legacy financial institutions such as ING and Barclays as well as Credit Agricole.
At press time, however, DOGE registered a market cap of $34.21 billion and a 24-hour trading volume of $11.64 billion. After spiking by more than 23% over the past day, it was exchanging hands at $0.269.
Dogecoin [DOGE] Technicals Depict Formation of Local Bottom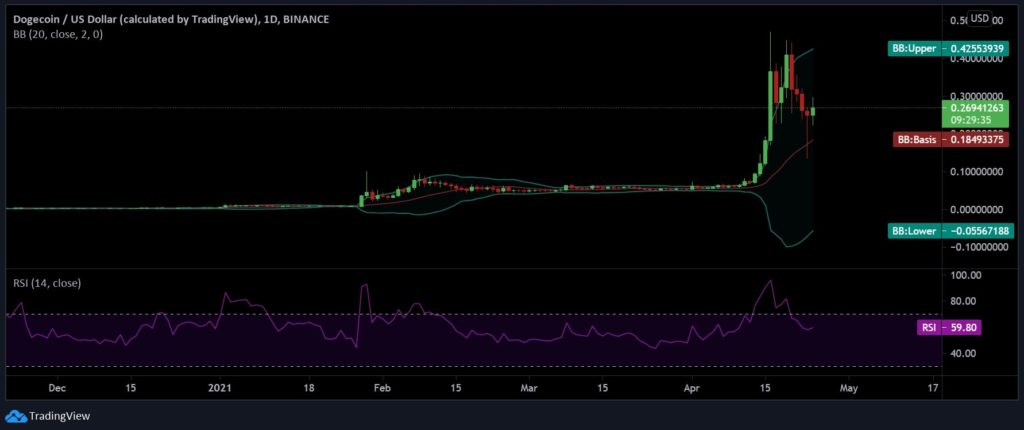 Dogecoin could now witness a period of increased volatility as depicted by the diverging Bollinger Bands. In short, the digital asset could see a sudden shift in its price trend.
The Relative Strength Index [RSI] has maintained its position above the 50-median line despite enduring a steep fall from the overbought conditions. This was suggested that the buying pressure was intact as the price noted an uptick.
This could potentially signify that DOGE has bottomed out after slashing half of its gains and its investors were quick to buy the dip which prompted the fresh uptrend.
The wild swings of the crypto-asset gave rise to potential bubble fears with industry experts calling it blatant market manipulation. Here's what Mike Novogratz, the CEO of Galaxy Digital had to say about the controversial coin.
"This is a retail phenomenon being driven by the fact that [Federal Reserve] Chair Jay Powell is giving money to everybody. There is too much money in the system."
He went on to draw parallels with GameStop and asserted that there is a "crazy excitement" [from] very young investors around meme coins and meme ideas and it's "shocking" to him that GameStop continues to hold any value and called Dogecoin's recent price movement "even more bizarre" in that respect.
He added,
"..These meme coins tap into something in the young, new investor base and it becomes fun. It builds on the momentum and they want to go after the shorts."
---
If you found this article interesting, here you can find more Blockchain and cryptocurrency news