Dogecoin [DOGE] is back at it again. The controversial meme coin might not everyone's favorite but it sure translates self-proclaimed technoking's tweets and yet another major support that could open it to a huge user base.
Dogecoin [DOGE] has jumped by well over 30% in the last 24-hours. The meme coin's price shot up to $0.404, a level that was last seen on the 19th of May. This was a major headway that the digital asset saw in weeks.
At the time of writing, the coin registered a market cap of $54.21 billion and a 24-hour trading volume of $12.06 billion. It had previously outperformed Bitcoin and the rest of the market and has is on a similar trajectory once again.
Dogecoin [DOGE] Daily Price Chart: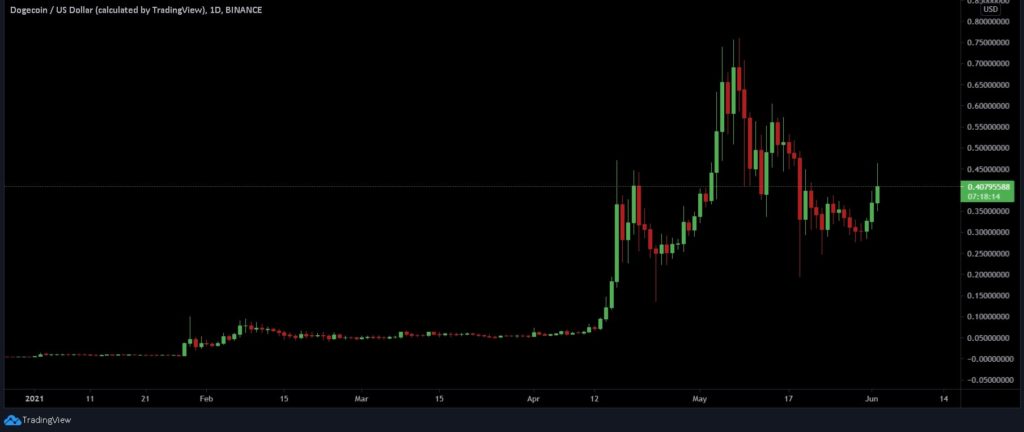 With the latest price action, Dogecoin reclaimed its previous position as the sixth-largest cryptocurrency on the leaderboard. In addition, the cryptocurrency wiped out nearly $20 million worth of bearish leverage in just a matter of few hours.
Following the abrupt appreciation, DOGE also reclaimed the gains it established prior to the crash.
Reason? "Coinbase Effect"
The latest surge came right after Coinasbe exchange's professional-level trading platform, Coinbase Pro announced that it would enable Dogecoin trading on its platform. According to the official press release of the same, Coinbase Pro, stated,
"Starting today, inbound transfers for DOGE are now available in the regions where trading is supported. Traders cannot place orders and no orders will be filled. Trading will begin on or after 9AM PT on Thursday June 3, if liquidity conditions are met."
The overnight spike can very well be attributed to the interesting phenomenon called the "Coinbase Effect."
This effect comes into the picture when the price of a crypto-asset goes on a shoot up after it has been listed on the San Francisco-based Nasdaq-listed platform. While DOGE is not yet available on Coinbase.com or via its consumer mobile apps, the latest development open new avenues for the coin.
Coinbase happens to be one of the biggest cryptocurrency exchanges in the world, which boasts around 60 million verified users and more than $220 billion in assets across its platform. While this can indeed be touted as the primary reason for DOGE's uptrend, there was another reason which sustained the price movement.
The Tesla founder and CEO, Elon Musk's back-to-back tweets in support of the memecoin. The exec's promotion has been instrumental and this timea and the latest tweet did exactly that.
Found this pic of me as a child pic.twitter.com/hUEKluRAdP

— Elon Musk (@elonmusk) June 2, 2021